If your business is expanding or you're in need of a warehouse, finding the right property is critical. Industrial activity is hot, but complications in the overarching CRE sector make the importance of any lease signed right now more heightened.
So, regardless of your situation, it's important to find the right warehouse for your business. Here are some things to keep in mind when searching for a new place to store your inventory.
Define Your Business's Needs
What type of products do you sell, and how much space do you need to store them?
Defining what your business needs is an essential starting point. In terms of products, consider the commodity you're selling. Do you need to stock a variety of items, or will it be just one commodity type?
This is key for several reasons. First, it will designate your space requirements. Your necessary square footage for pallet racking, ceiling height, and spatial layouts will all be heavily influenced by what you're storing. Second, it ensures that your products are stored for maximum safety and efficiency. For example, your warehouse's sprinkler system should depend on the type of commodity you're storing.
Nobody wants a deluge of water on thousands of palleted laptops.
Not only must you accommodate for inventory, but also the size of the workforce. Even further, you must think about working environments. For example, does the warehouse have an office space or do you need to build one? Usually about 10% of a warehouse's square footage is designated for offices. So, consider this will be sufficient, or if you need to renovate. This also goes for common areas and bathrooms? Don't overlook these features.
Knowing how much space is needed for both the commodity and personnel allows you to make educated decisions that ensure smooth operations in the future. And remember – it's always better to be cautious when estimating space, allowing room for expansion.

Once you clearly outline your storage needs, you can move on how to best leverage them within the right market.
Consider the Location of the Warehouse
Is it close to your customers or suppliers, and is it in a safe area?
Location is key when it comes to picking the ideal warehouse. Proximity to your customers and suppliers can impact how quickly products and materials move from point A to point B, so make sure your warehouse is located near major highways and airports for quick delivery. Your business may even require more specific delivery means. This includes rail or barge.
This is especially important because fast service has become a must rather than a competitive edge. Don't risk slowing down your supply chain with a remote warehouse location. Because, consider what you're up against. Major strategic CRE holders like Amazon and Prologis have dominated the industrial sector. For example,
"Prologis global operations encompass approximately 1.2 billion square feet...nearly 3% of all goods produced and sold globally came through a Prologis logistics property in 2022." GlobeST

So, when you're considering your optimal location, look at where the biggest players are positioning themselves. Workforce availability, supply chains, warehousing processes, etc., will all influence your optimal warehouse location. The pressure on sourcing materials and labor should be eased.

Also, never lose sight of the fact that your warehouse is going to be a workplace for some of your team. Put yourself in their shoes and think about how comfortable and convenient facilities would be to work in every day. Taking your team into account can help to reduce the risk of high employee turnover.

Similarly, you should also consider the safety of the area, especially if your warehouse will be staffed 24/7. Part of this early planning stage should include what security measures you'll plan to include. You don't want to suffer a break in or major loss due to theft.
So in that case, consider whether the building has an existing CCTV system in place and how old is it. Does it need to be updated? Your system should be at least 4 K so you can get the clearest picture possible. With updated systems you can zoom in and see faces which may prove critical down the line. So, figure the cost of a proper CCTV system into your CapEx.
Be sure to have a backup cloud storage system or any type of off-site streaming service. If you have CCTV cameras but all the footage is stored on-site, you're just as vulnerable to loss.
Remember, the most successful warehouses often hit that perfect balance between proximity to major transportation hubs and a low-crime environment. Read more about how to select the right warehouse location: What is the Optimal Location for Your Warehouse (6 Considerations).

The Warehouse Touring Checklist
Conducting tours to isolate the best fit for your business.
Taking a tour of different warehouses to find the best fit for your business is essential - like testing out new cars before settling on the one you want to commit to. For instance, you might be attracted by the price tag of a property, but if it's not functional and organized in a way that matches up with the needs of your business then it'll just be hearts and flowers for no reason.
Touring gives you the opportunity to check out the features for yourself. Busy executives can also first cull out options with virtual tours, allowing them to save down on travel time.
Unfortunately, touring warehouses can be extremely overwhelming for corporate tenants. Taking each warehouse's size, layout and even climate into consideration should help you make an informed decision about which one provides the most value for your business. But where do you begin? The list of factors seems endless, from tall ceiling heights and durable floors, to dock doors and HVAC. So, don't lose track, enroll in our free course: the Ultimate Warehouse Tour Free Course and receive the downloadable warehouse checklist today.
Be Prepared to Negotiate the Right Lease
Setting up a defense when negotiating your warehouse lease to land the best price.
Signing a lease or purchase agreement is a big decision and shouldn't be taken lightly. It's important to do your research, read the fine print, understand the terms and conditions of your agreement - and make sure it's something that works for both parties.

Taking the time to adequately weigh all factors before making a decision will ensure that no regrets come later down the line. This is even more pressing since rent rates for warehouses have been steadily increasing according to increasing demand. According to the Commercial Observer,
"Approximately $71.9 billion of transactions closed in the U.S. at an average of about $128 per square foot, in other words, 561.7 million square feet of space."
Industrial activity is poised to grow in value further. So corporate tenants should be prepared to put their best foot forward in negotiation. That's why it's best to arm yourself with a representative who knows the ins and outs of finding and negotiating the optimal warehouse lease.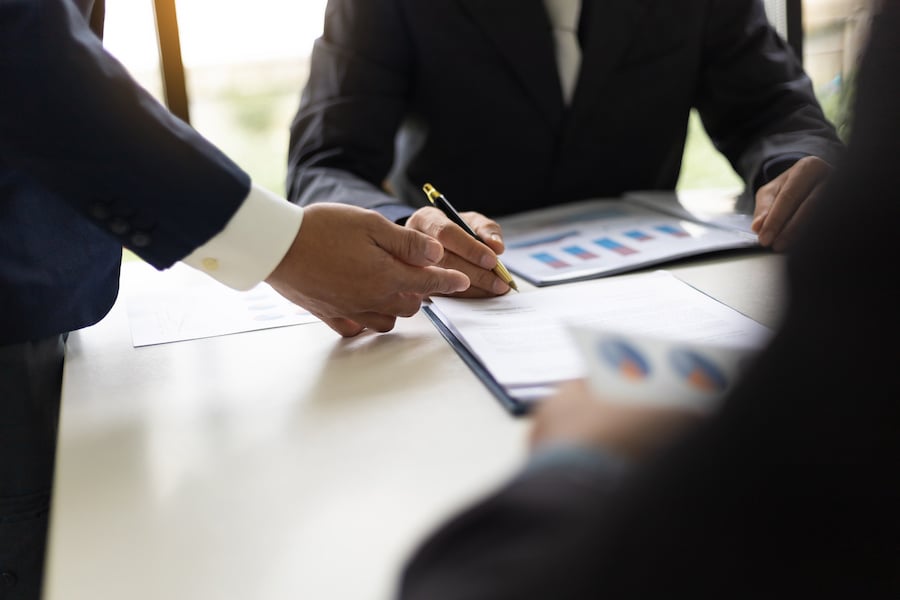 Finding the Right Warehouse with a Tenant Rep
When it comes to choosing a warehouse for your business, there are a few things you need to take into consideration. Define your needs, consider the location, and compare prices between different warehouses. But you don't have to do it alone, and nor should you.
Tenant representatives are essential to negotiating the best warehouse lease for corporate tenants. Having a knowledgeable tenant rep on your side can help ensure that you get the most value for your money when it comes to a new warehouse. They understand the ins and outs of the leasing process, including what it takes to get an optimal lease and how to negotiate terms.

The True Tenant Reps™ at iOptimize Realty® are experts in identifying and conducting due diligence for optimal warehouse properties. We have 30+ years of experience finding the best warehouses for the best price. Now, we want to share the tips and tricks we've developed to empower corporate tenants, whether they work with us or not. We poured our industrial real estate due diligence into the course we listed earlier, so if you didn't sign up for it earlier- now's your chance to do so. You'll also receive a checklist of the 70+ factors you need to consider when touring a warehouse.
If you're ready to talk to a True Tenant Rep™ today, schedule a meeting now.