San Francisco has steadily become the country's epicenter for technological development and progression. Its connection to the science, research, and startup spheres has received acclaim on the global stage as the "Tech Capital of the World."
This sort of attention can only lead to one thing: Grossly elevated expenses.
San Francisco's skyrocketing cost of living has been driving away corporations in a mass exodus. For many, the Bay Area's expenses are no longer worth it as they are finding a home in more sensible, business-friendly cities.
How do we know this? As tenant reps, we are responsible for keeping track of the best locations for commercial real estate. We have noticed that traditional hubs like San Francisco and even New York City are no longer the optimum locations for businesses. Instead, many alternative sites across the country provide excellent working environments with higher degrees of affordability.
Still, moving from San Francisco may not be the wisest choice for everyone. To properly weigh the benefits of San Francisco, we will analyze the city's pros and cons. By fully understanding its strong points and drawbacks, you can make more informed and beneficial decisions for your CRE.
Pros of Being Located in San Francisco
San Francisco is quickly becoming one of the most popular cities in the nation. It acts as a critical point between Californian luxury and cutting-edge tech advancements. So let's take a closer look at the benefits of being in San Francisco.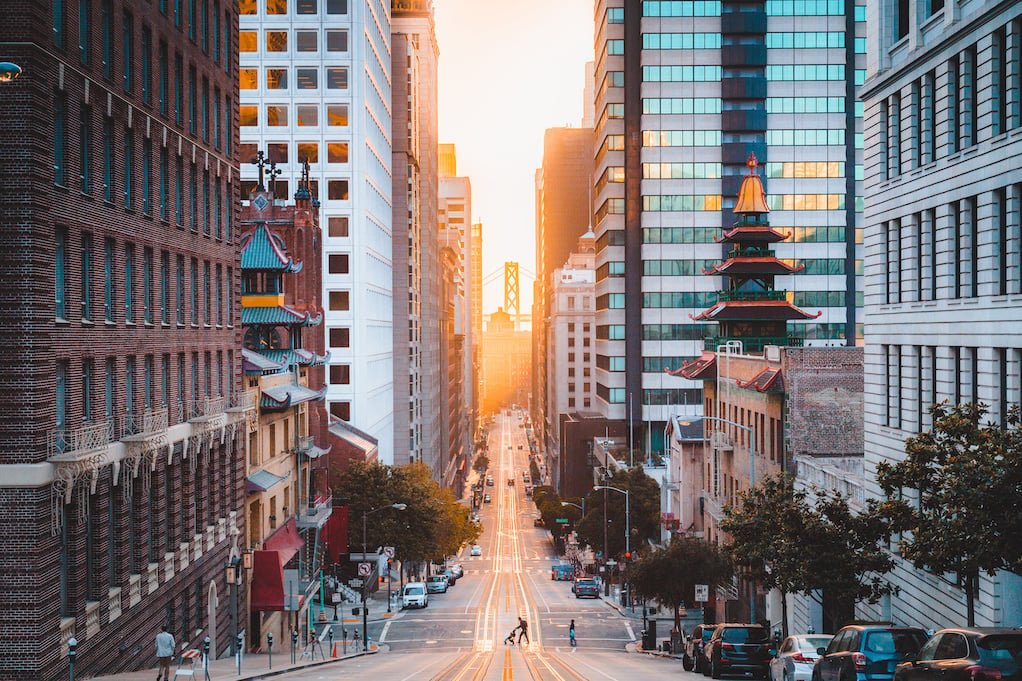 Access to the Biggest Tech Hub in the Country
Keep your friends close and your enemies closer. For tech-focused businesses, a central location in San Francisco can quite literally be an invaluable asset. Not only is it associated with a level of prestige and credibility, but it offers a critical opportunity for Bay Area networking.
When your company relies on the cutting-edge, connection to the advances of your peers and competitors is of the utmost importance. Moving outside of this sphere may limit your ability to stay connected. As a result, you may miss out on the best opportunities for developing tools, inspiration, and talent sourcing.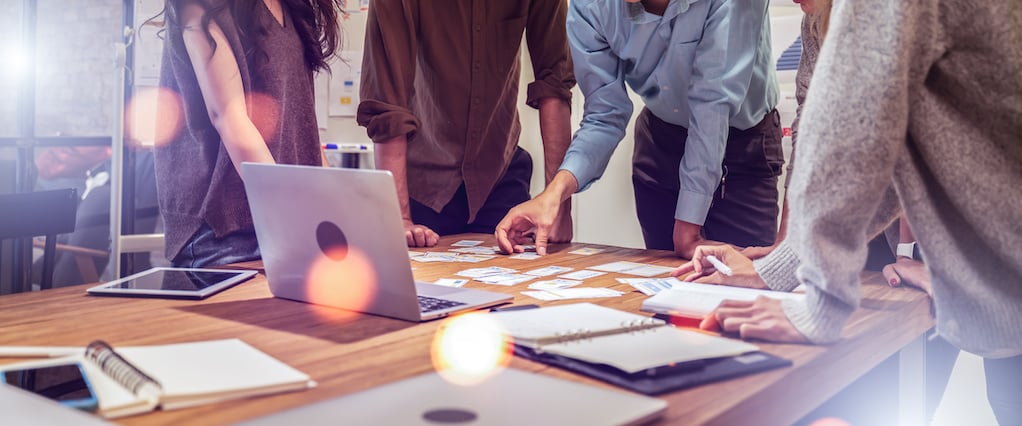 So many companies and startups brave the expenses of San Francisco because it provides access to Silicon Valley's tech community. As a result, you can access the country's best and brightest STEM minds. The San Francisco Bay Area has the most significant concentration of high-tech companies in the United States.
In such a competitive industry, it is critical to source the most skillful talent base possible. These people have found homes in San Francisco, so if you are looking for them, it is best to go straight to the lion's den.
Business and Cultural Environment
San Francisco is an iconic cultural center. Its unique combination of industry, natural beauty, and entrepreneurial drive consistently earn the name of "The Best City in the U.S."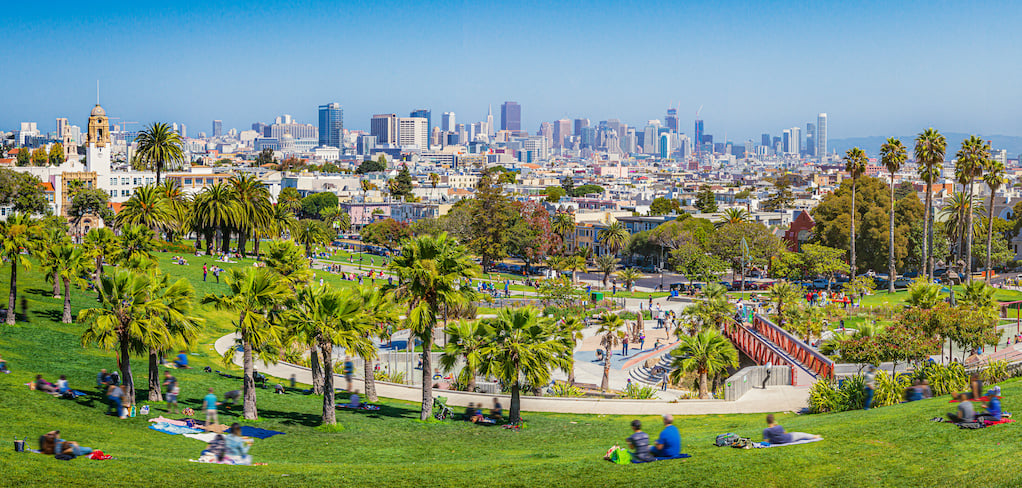 For businesses, there is a lot to benefit from. This is especially true for those looking to be on the cutting-edge of innovation. There are abundant opportunities for souring investor capital, work opportunities, and creative minds. It has all the resources you need to build a great company. In addition, the West Coast will allow you to move away from more traditional business spheres on the east coast. You may find more fluidity and modernization that will empower you to get a leg up on the competition.
For individuals, there is an extremely high quality of life. San Francisco is a cultural and commercial center of the U.S. There is a reason why it is one of the country's top tourist destinations. It provides access to iconic landmarks like the Golden Gate Bridge, stunning natural sceneries, and a connection to vibrant cultural centers and communities.
Cons of Being Located in San Francisco
San Francisco is one of the most robust business environments in the country. What does this mean? It is also one of the most expensive and competitive places to be located. Let's take a closer look at the drawbacks of San Francisco.
High Cost of Living
Remember all of the great things about San Francisco and its business environment? Unfortunately, these features don't come cheap. It is the second most expensive city in the country, only falling behind New York City. The area's high cost of living drives up taxes, payroll, gas, occupancy, and labor costs.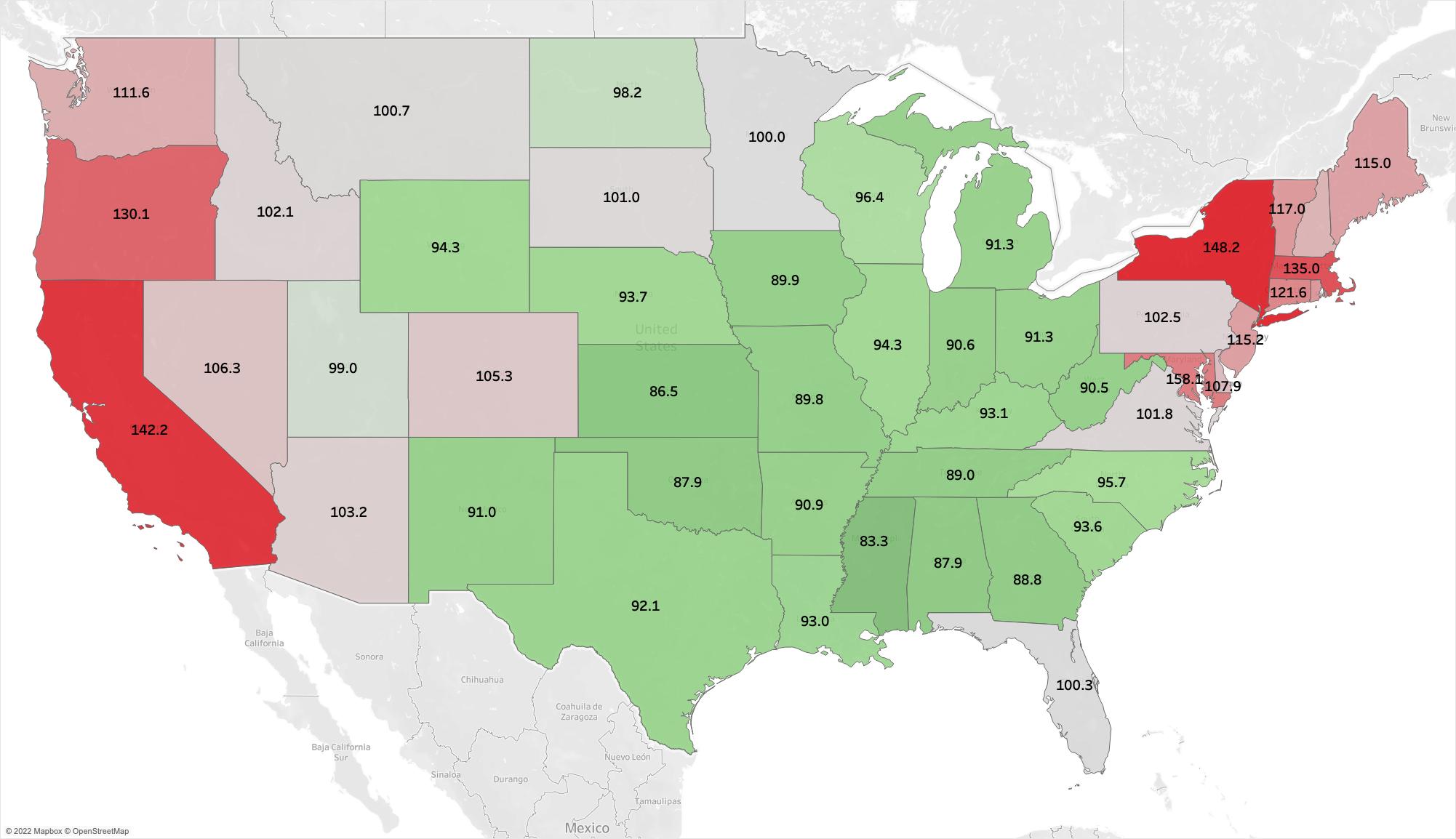 The average cost of living in the country is 100. San Francisco's is nearly double the national average at 194. What does this mean? Elevated expenses for almost every aspect of life.
Expensive Office Rent
Due to the expensive cost of living and high demand, San Francisco also has among the most expensive office rents in the country at $67 per square foot. At the same time, business-friendly cities like Jacksonville, Florida, and Houston, Texas offer Class A office space for $27 and $35 per square foot respectively.
For companies, this means millions of extra CRE dollars over a lease. Whether this is worth it is up to you but let's take a quick look at the potential savings to encounter if you moved 50,000 San Francisco square feet to Jacksonville, Florida.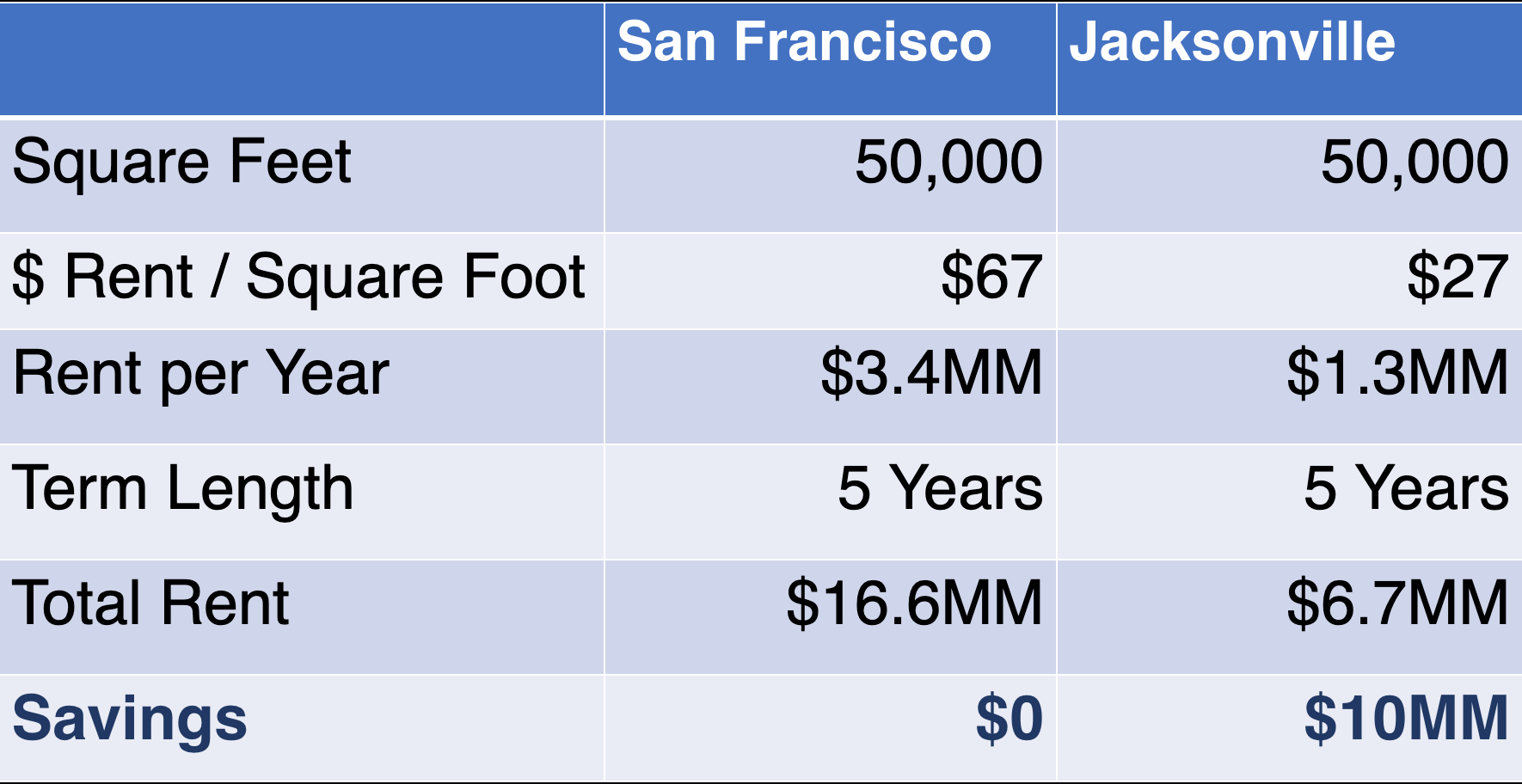 Costly Taxes
California has one of the country's highest corporate income tax rates at 8.84 percent. This figure when considering that there are states that do not require a dime in corporate income tax. As a result, San Francisco's taxes create a logistical nightmare for business profits.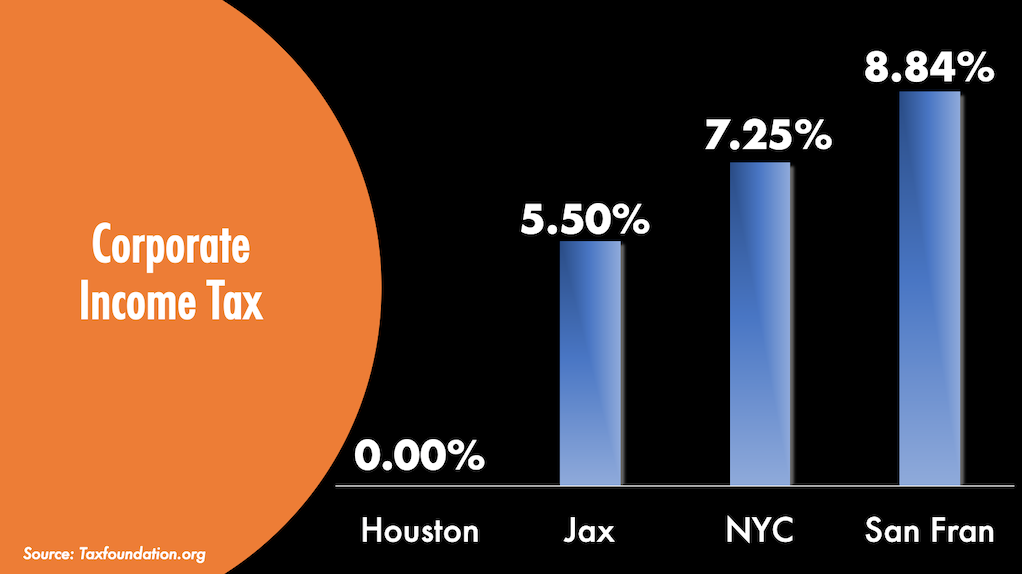 It also has one of the country's highest personal income tax rates at 13.3%. And there is a sales tax rate in San Francisco of 8.62%. Due to San Francisco and California's exorbitant tax rates, it is one of the nation's worst states for business.
Dense Competition
As we discussed, San Francisco is one of the country's most booming metro areas. As its popularity increases, it attracts more and more individuals and businesses.
What does this mean? Not only will it be challenging to attract the best talent and real estate opportunities, but it may be nearly impossible to maintain them. In such a competitive environment, a business must be prepared to offer premier rates to incentivize loyalty.
Even if you do find appropriate offices or commercial spaces, you will have to pay through the nose. It is simply not fiscally responsible to pay for such high demand in a recession.
High Crime
San Francisco is one of America's most crime-ridden cities. Natives brave a 1-in-16 chance of becoming a victim of violent or property crimes. The Hoover Institute puts this figure into perspective...
"Compton, California, the infamous home of drug gang turf wars, and which today remains more dangerous than 90 percent of all US cities, is almost twice as safe as San Francisco."
How is a city that requires such over-the-top wealth to live comfortably associated with such dangerous crime statistics? This question was on top of mind for San Franciscans as they voted out their District Attorney, Chesa Boudin. The recall was an astonishing and desperate effort to hold elected officials accountable and restore order to their progressive, crime-ridden city.
Are San Francisco's Pros Worth the Cons?
The answer is up to you. As we discussed, a San Francisco office is the cornerstone of prestige and credibility in the competitive tech world for some organizations. However, as demand increases by the day, high expenses gradually drive away massive organizations.
Tesla, Oracle, HP, and others have already decided that the Sunshine State's prices are not worth the working environment. Therefore, it is your decision whether you want to join them.
If you are ready to move away from San Francisco, you have options. Innumerable locations across the country provide robust working environments at reasonable prices. As tenant reps, we have our eyes on these business-friendly locations. We can point out how much you stand to save by moving to one of these places. In addition, we can walk you through the process from making the initial decision that your current geography isn't working for you to executing your new lease.