76% of Americans have the option to work hybrid so as offices transition to accommodate online work, the onus is on businesses to adapt or die.
Corporate America has been digital for years now. But the next biggest adjustment is in the conference room. As more employees work remote or hybrid schedules, many of your meeting guests will attend virtually as adaptive technology has made such communication easier than ever. So read on to learn the new must-have features your hybrid-friendly conference room needs. In this article you'll learn:
How and why conference rooms have been forced to adapt

What the evolution of conference layouts looks like

Keeping up to date with technology
High-Tech Conference Rooms
In today's high-tech world, the standard office doesn't cut it anymore. Jobseekers are looking for workplaces that are equipped with the latest and greatest technology. Not only does technology ease workplace responsibilities and increase productivity, but it is also a strong tool to recruit and retain great employees. Think about the kind of high-tech companies that are always getting buzz about their cutting-edge work environments: Google, Meta, Twitter, etc.
They always have long waitlists, and recruiting is extremely competitive. Part of this is because they invest in creating attracting and engaging environments for their team members. They are on the cutting-edge of employee comfort and productivity and the world has taken notice.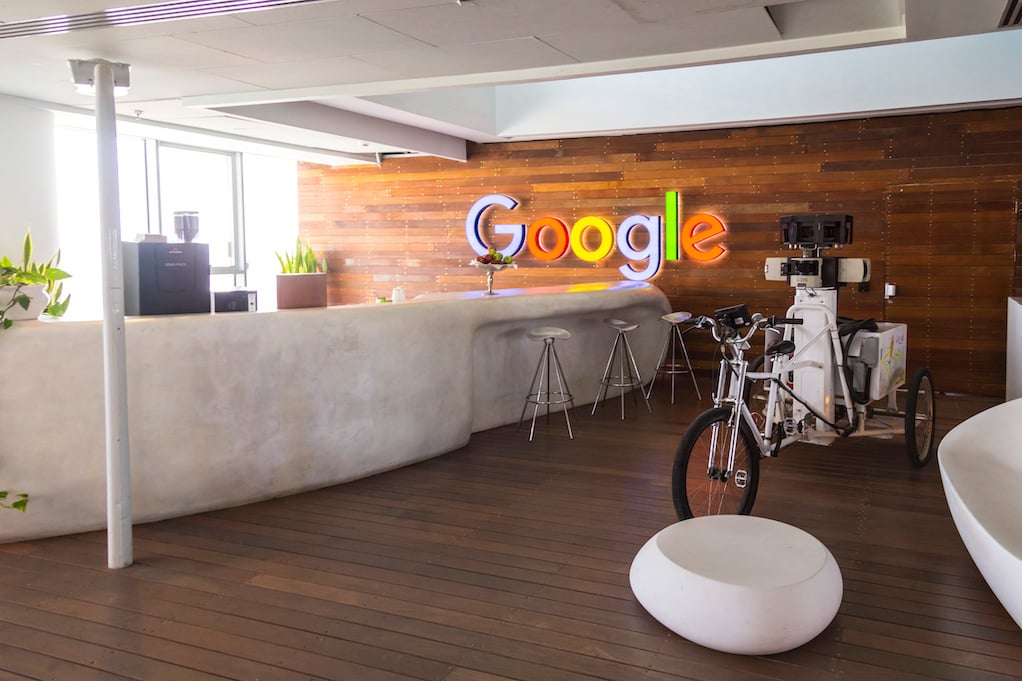 Now, know that you are competing with them in the war for talent. Maintaining outdated tech systems puts you in a position to be outpaced by more forward-thinking, easy-adapting competitors. It also puts you at risk of stalled productivity, burnout, and frustration.
New Conference Room Configuration
Regardless of whether your workplace is partially from home, meetings still need to take place. Now companies are faced with determining the best way is to accommodate both virtual and in-person attendees. Because of this, conference rooms have witnessed significant disruptions in utilization. Whereas every seat used to be filled at the table, according to Propmodo "Eighty percent of the time they (conference room meetings) have less than four people, 30 percent of the time they only have one person."
So, outdated conference room layouts are causing businesses to dramatically waste space. As a result, the traditional large conference room is being transformed into several smaller ones that allow for flexibility. That way they get more use in general, from hosting large meetings to just offering a private place for individuals to collaborate with remote colleagues.
"On the one hand, larger conference rooms are more flexible, but on the other, they can be a waste of space if they are underused. The average utilization of an 8-to-12-person conference room is really low."
Propmodo
Part of Right-sizing your conference room goes beyond tracking the utilization, it then means creating environments that adapt to your new standards of utilization. So beyond trading the size of your conference rooms, be prepared to change the shape. The configuration of your conference room should reflect the need for remote collaboration.
"Because of this, we might see more 'horse-shoe' configurations where cameras are looking across a table rather than down it." Tim Oldman, CEO of Leesman, a workplace survey and assessment firm.
Other modular, novel conference room setups include: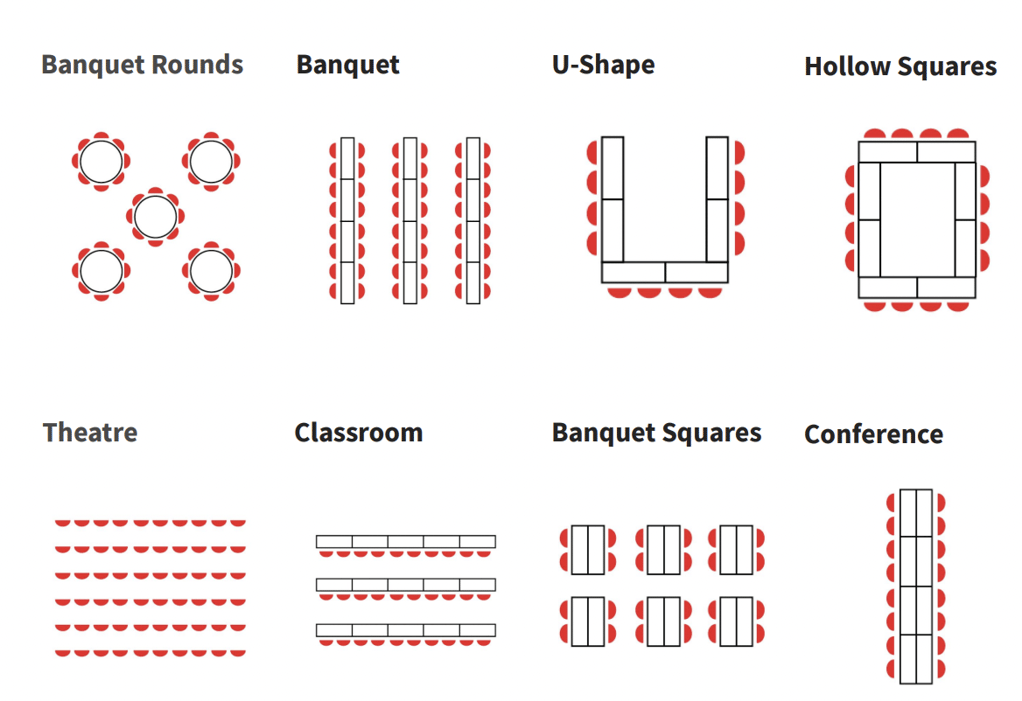 Technology
In prior years, conference rooms only had basic fixtures: table and chairs, TV screen, etc. This outdated setup won't cut it anymore. Equipment needs to support conferences that are largely digitally-based. So, to stay on top of the hybrid-office evolution consider the following features as must-haves:
Equipment for Broadcasting
Meetings will likely be streamed to virtual attendees and you can't risk missing a beat. Conference rooms need to come equipped with high-quality video and audio equipment. Now, know that high-quality video and audio equipment can come at a price. Depending on the degree of sophistication you want, be prepared to shell out upwards of 25 grand for a singular feature.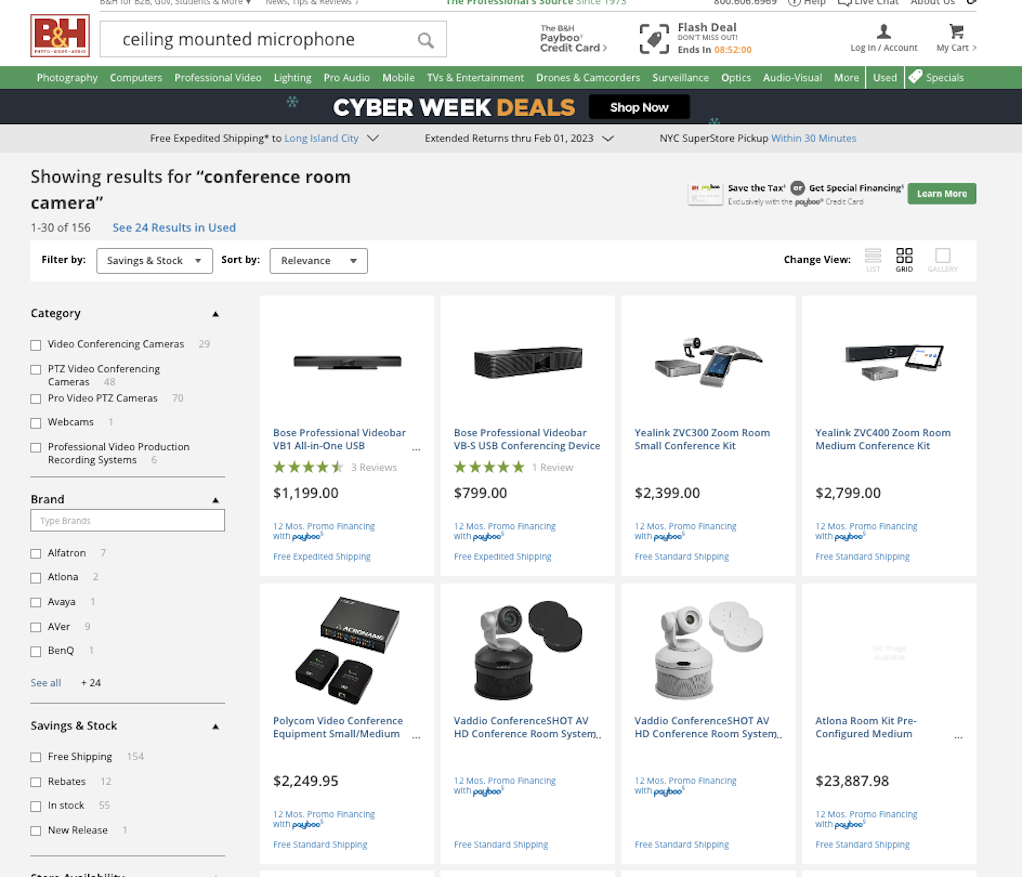 Websites like B&H give tech-friendly professionals an abundance of options.
Again, you can take this to varying levels of geekiness, but the point is that the investment in future-proofing will likely be worth it. But, at the very least, your conference room should include:
Clear and reliable audio

Seamless streaming integration

Easily connect and disconnect from computers

Bluetooth compatibility

Projectors
Video
If you want to retain that in-person collaboration feel, you need the right visual elements. High- quality meeting demands high quality visuals. So, think about starting with a DSLR camera that has USB and HDMI connectivity. According to Airmeet "a camera with an option to stream out the video feed via USB or HDMI is a must."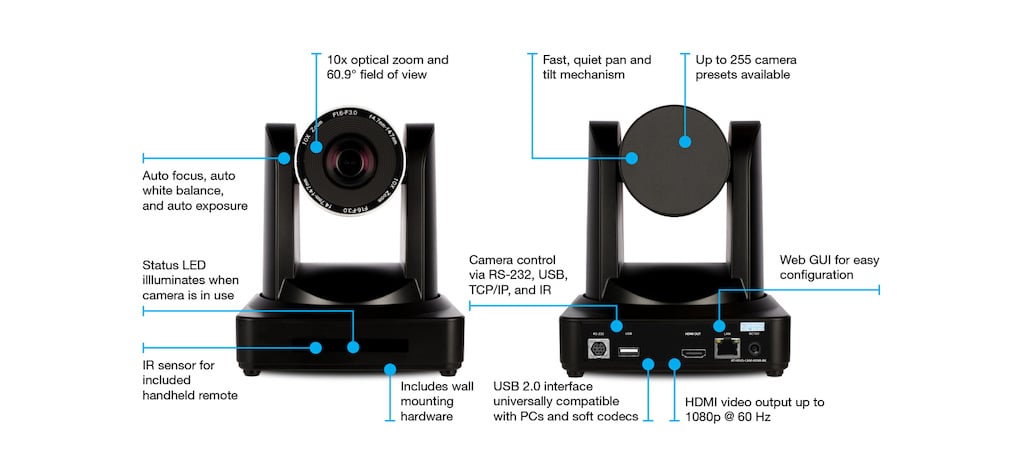 Cameras should enable productivity, not distract. Image source: Atlona
Beyond that, your conference room should be supported by secondary cameras that capture multiple angles. They also serve as a failsafe if your first camera has issues. If you want to go further, you can include 360- degree capturing cameras that can allow remote attendees to feel as though they are in the room, enabling them to shift viewpoint according to focus. Such technology will likely require virtual cameras for screen capturing, etc. Two popular systems are:
"Virtual cameras can help you manage multiple video streams, present different angles, and even use the Chroma key functions to manage your virtual background," according to Airmeet.
Programs like Manycam make online collaboration more efficient.
AI powered cameras also empower hybrid meeting. Systems like the Logitech Sight camera switch between camera views according to conversations to cultivate employee participation.
"In today's hybrid work landscape in which 43% of remote employees report not feeling included, Logitech Sight helps solve the disparity between hybrid teams by giving remote workers an "at the table" experience when meeting with in-office colleagues," according to Businesswire.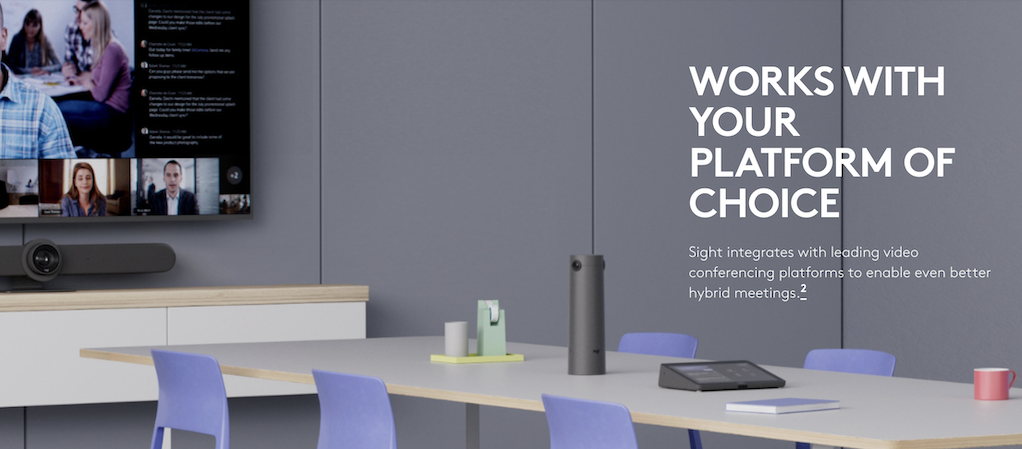 LogicTech Sight, AI empowered camera
Lighting
Another element of getting the right visual is the lighting. Strategically placed lights are the key to brightening up your hybrid meeting. So, consider adding several ring lights throughout your conference rooms. Experts also recommend soft ceiling lights that don't overpower office attendees. Bounce lights are also excellent for deflecting strong, harsh light sources.
Audio
A meeting is nothing without audio. You can't risk gaps in key conversations. Not only with faulty audio discredit you, but it will interrupt your productivity. So, make sure your conference room is equipped with the appropriate speakers. This means not only one device. The space should be outfitted with multiple microphones. For example, audio equipment from Nureva provides as authentic sound as possible with "True full-room coverage. Microphone Mist™ technology fills a space with thousands of virtual microphones so remote participants can hear everyone anywhere in a room."
Then, there are also pop filters that reduce background noise. Such technology reduces white noise and extraneous conversations, making sure attendees can focus on what is important.
All microphones and speakers should also come with Bluetooth capability for easy audio stream connection.
Effective Use
Overall, your conference room should anticipate the needs of your employees before they appear. For example, avoid mishaps with streaming by making sure computers easily adapt to rolling user preferences and different computers.
Also, think about what enhancements would cultivate understanding during a meeting. Virtual whiteboards allow attendees to draw conclusions for visual learning and easy collaboration. The key here is synchronous technology for powerful communication. They give in-person and at-home colleagues the ability for interactive collaboration.
Great options for smart boards include:

The Microsoft Surface Hub 2S
Companies like Microsoft are quickly building on smart technology to ease online collaboration even further. Multiple users can access whiteboard features on multiple devices, seamlessly share screens, access files, and beyond. Whether you are a fan of WFH or not, upping your conference room will make your meetings more efficient.
Other technology allows employees to easily reserve conference spaces. This is especially powerful if you have several smaller, satellite conference rooms. Employees can digitally book rooms from apps or tablets. Modern conference rooms are also being built with density trackers. They measure heat and body movements to inform socially distant coworkers when rooms become too crowded.
Modern Conference Rooms
Do not get outpaced by the technological revolution. Make sure your company remains on the cutting-edge of the evolution of the hybrid workplace.
If your business is looking to renovate according to a hybrid-friendly workplace, you can work with a Tenant Rep. They know how to negotiate with your property owner to possibly receive a new or higher tenant improvement allowance. This also is true if you are looking to relocate to a more modern building that already has these features.
A Tenant Rep can work on your behalf to ensure you get the optimal features, terms, and price in your new space.
At iOptimize Realty®, we are true Tenant Reps with 30+ years of market intelligence. Despite our longevity, we believe it is a critical responsibility of businesses to remain at the forefront. We have identified how critical including modern features in in the offices of our corporate clients. And we can help you benefit the same way. Reach out to learn how a Tenant Rep can help you today.