If you have been tasked with your company's corporate real estate portfolio, it may be wise to consider how you are utilizing your space as an organization.
The market has greatly shifted in the last few years, and along with it, our cultural expectations and practice of using office space have changed. In this switch, you want to adapt to the market rather than hold on to outdated and expensive leasing terms.
You want to ensure that you are not paying for underutilized office space or squeezing employees into a property bursting at its seams.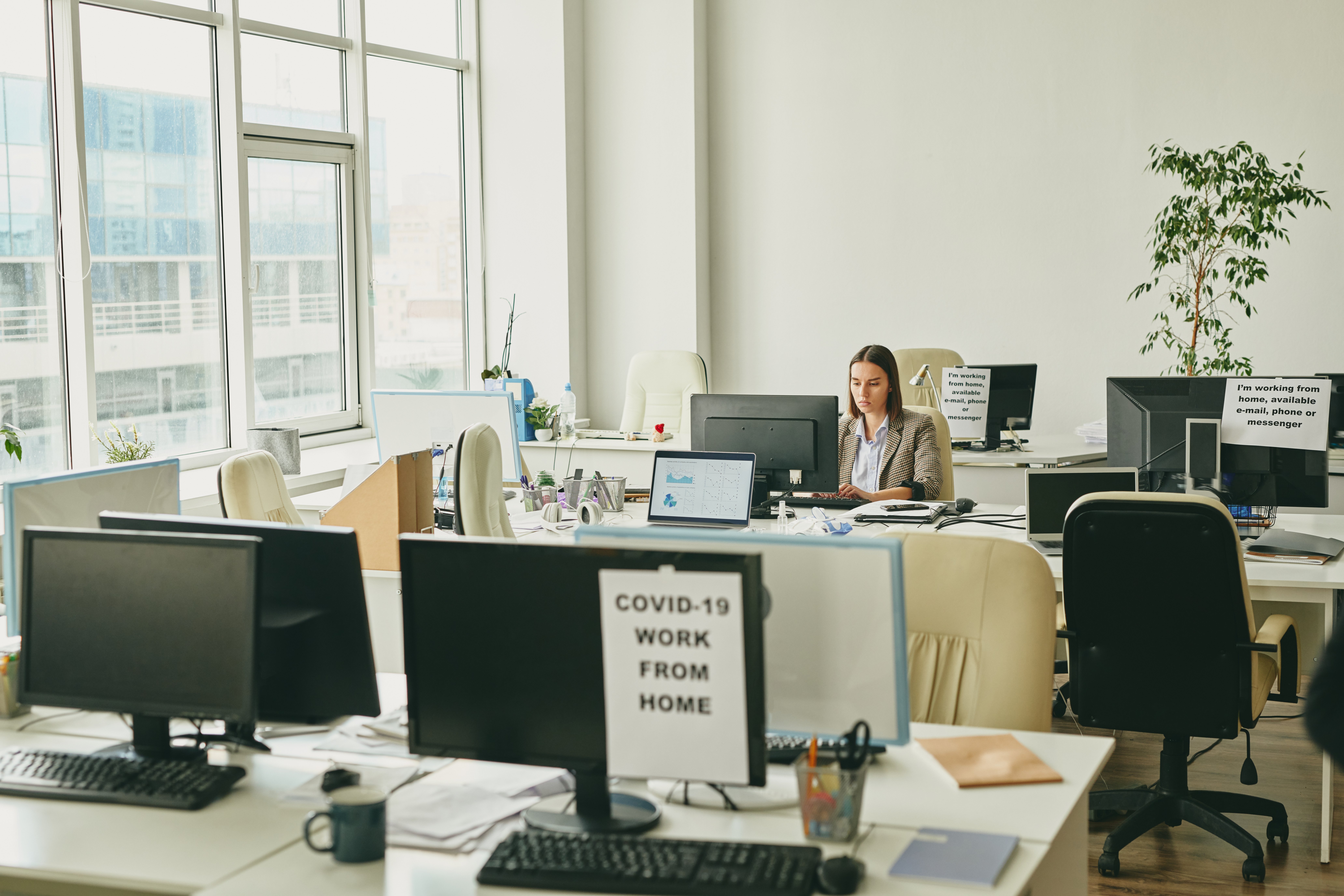 As tenant reps, we have closely watched this shifting market's impact on companies and their real estate decisions. We have experience determining, measuring, and delivering on proper space utilization to expand your company's saving potential. Read on to decide if right-sizing may be an advantageous move for you.
Who Should Right-Size Their Space?
Well- really anyone.
It is safe to say that the market is not the same as it was two years ago. Our eyes have now been opened to how quickly change can occur. Even though remote working existed before the pandemic, the pressure to shift to alternative means of working has been exponentially applied.
Now, if the offices are not empty, many are running with limited capacity. As a result, our expectations of what is necessary for collaboration have been flipped on their head.
Working from home has increased productivity and morale while reducing costs for many organizations. If your company has joined this exodus, it would be beneficial to take a step back, evaluate your future, and reassess your real estate needs.
Is it necessary to have everyone in your office? Have you sent people home with no plans of returning?
Then it may be time for you to consider how you are currently utilizing space in comparison to where there is room for optimization. You may find that there is room for you to greatly reduce costs while increasing employee productivity.
All businesses can benefit from strategically looking at their space utilization to determine if there is a need to expand or downsize.
Right-Sizing Beyond Covid
The pandemic did not initiate the practice of right-sizing, but its benefits have just been made more apparent in the wake of COVID-19. Truly though, at any point in history, companies have analyzed their need for space in conjunction with their current projections for growth.
Companies that can really stand to benefit from right-sizing are organizations with a large enough footprint. Unfortunately, this large footprint is usually associated with an increased potential for wasted space.
If your portfolio contains multiple locations or a large overall footprint, there is more room to under or over-utilize your space. This coincidentally creates a bigger net change when right-sizing. Combat this by undergoing an internal check. Reassess your current needs in conjunction with the bigger picture goals you want to achieve.
Honing in on what is being effectively used and what areas might need improvement can really make a difference in the effective utilization of your company's CRE.
How do you Measure Utilization?
Measuring your utilization is a simple but highly effective step you can take to optimize your corporate real estate portfolio.
So, how does it work?
First, take the number of employees you have at a given location, and multiply it by the square footage necessary for each individual employee. The number you end up with is the amount of usable square feet you need to operate within a building.
Make sure that you pay attention to the outlined usable vs rentable square footage in your lease. Often, leases will be presented in terms of what is rentable- not what is usable. Therefore, you may have less space per employee than you believed because the rentable square feet includes factors like hallways, elevators, and closets.
Understanding The Numbers
Let's say then that you have 100 employees. Often, the necessary square footage per employee averages around 200 square feet. Therefore, your optimal usable space would be 20,000 square feet.
Let's say that in the last two years, 40 of those employees have been working from home- and it is working out great! Now, it is time to cut costs on wasted space. Your optimized utilization would now be 12,000 square feet. That's an additional 8,000 square feet you are paying rent for each month- and worse, it's only getting more expensive!
Now, let's build on this real estate nightmare which is a reality for many companies. You have four cross-national locations where the same situation is more or less taking place. If we keep the same projections, you are not only wasting 8,000 feet, but 32,000 square feet across all of your locations!
That is a significant expense for purely wasted, extra space. As you can see, anyone can benefit from measuring their utilization, but the difference for larger organizations could be staggering.
There is no reason to operate within the metrics of what used to work for your company, you must look at your current needs.
Further Considerations
In this process, you want to be sure that you are accounting for future metrics of growth or down-sizing. Keep in mind that your number of employees may change. You want to account for changes to your personnel in this calculation. Therefore, you do not want to move into a new space with the intent of 100% optimization from this calculation.
You want to leave some space for wiggle room so you don't find yourself in the same situation in several years, in a space that no longer fits your needs.
Finding your optimal space utilization doesn't just end with a calculation. It can mean many different things depending on your company's needs and projections for future performance.
If you have multiple locations, this may mean combining spaces in a particular geographic area. You may benefit from consolidating multiple sites into one, or vice versa depending on your company's unique culture.
Beyond this optimization, you have room to assess what layouts would be most conducive to employee productivity and safety. Perhaps you might want to devote more space for each individual employee to coincide with social distancing edicts.
Often it can be a trial and error process to discover your optimal space utilization and, along with it, which layouts and floor-plans work best for your company, but this simple metric can go a long way.
What Now?
Once you measure your utilization and identify the proper space you need, what do you do? You have a lot of options.
Depending on how much time is left on your lease, you may be able to negotiate its terms to better fit your needs. Your landlord may be willing to change your space if you agree to a longer term in the future.
If this is not an option, you can use the space you do need while subleasing out the extra room to other tenants. Therefore, you will not be in the hole for the entirety of the rent payments.
If all else fails, you can relocate to a new space that better fits your needs. Your tenancy is valuable and landlords are hungry for credit-worthy tenants to fill their spaces.
If you are concerned with the efficiency of your company's real estate portfolio, it may be time to right-size your space. No matter what you decide, measuring your optimization is a highly beneficial process because it forces you to evaluate your company and consider its future projections.
Where Tenant Reps Come In
If you are overwhelmed by the process of right-sizing and subsequently putting it into practice, you may find that you need help. That is where tenant reps come in. They are real estate experts who work to find the most optimal spaces for tenants.
A tenant rep can help you strategically evaluate your properties and where you have room to expand or down-size. Then they will negotiate on your behalf to get you the best deal.
Ready to Talk to a Tenant Rep?
Click the link below for a quick consultation.