The office experience is simply not what it used to be. Since remote work continues to dominate the white-collar industry, office use has been forced to take on a different role.
And this implicates everything else from security measures to optimizing utilization. Businesses now need to confront harsh truths about how their offices help or hurt their ability to entice prospective employees or visitors. In doing so, they need to stay on top of workplace demographics, strike a balance between security and hospitality, and consider how the role of the office has changed.
Your Office's Ability to Recruit and Retain Talent
Office use is more flexible than ever. According to Zippia, "74% of U.S. companies are using or plan to implement a permanent hybrid work model." So, now corporate spaces serve more as a meeting point for face-front collaboration than a compulsory "you get what you get and don't get upset" environment.
The modern-day American has more options when it comes to employment than ever. If they wish to work from home, they can find a position that accommodates that preference. As a result, companies that do insist on the value of physical workspaces need to reorient the use of these spaces to become more appealing.
"Employees are now consumers of these spaces, and they have choice as to where they want to consume these spaces. It's a big paradigm shift from what used to be a captive audience."
Emily Watkins, The Instant Group
To remain competitive in the talent war, businesses are now being urged to consider how they can make their offices more welcoming. Because there has been a great cultural shift. If employees are expected to visit the office, they are expecting to be wooed. It should offer something that people can't get from home and makes the commute worthwhile. The experience should be more akin to a hospitality service than a hamster wheel for the rat race.
Cut and dry: People have higher expectations and businesses need to consider how to make themselves enticing to prospective employees or guests. This means premium amenities, comfortable working spaces, and perhaps most importantly, ease of access.
This has huge implications on the way offices view their security and parking methodology. An office's first point of contact should be as hospitable as possible. Employees don't want to feel like criminals when entering their place of work, but it should still remain extremely secure. So, to make improvements in security, hospitality, and overall utilization we need to look at data to confront where we may be currently failing.
Analyzing and Adapting Workforce Patterns is Critical
Improving workplaces can only be successfully achieved through proper workforce management. This involves analyzing usage patterns and employee preferences.
Businesses are now more than ever investing time and resources to understand what drives the volume of employees and behaviors. This is especially true because the very demographic of the workforce is shifting as another generation stands to inherit the majority.
By 2025 64% of workforce, will be comprised of digital natives.
-Data according to Propmodo
As Gen Z and millennials take over, it's no secret that this group holds their working environments to different standards.
Propmodo asserts that, "Younger workers view the workplace as a resource. A resource that offers the necessary equipment and a greater access to technology than what they can get at home...(they) are more enthusiastic about in-person work and value being at the office more so than their older counterparts, but only if they're showing up to an office that suits their needs. And landlords and occupiers should pay attention, lest they fall behind in the talent war."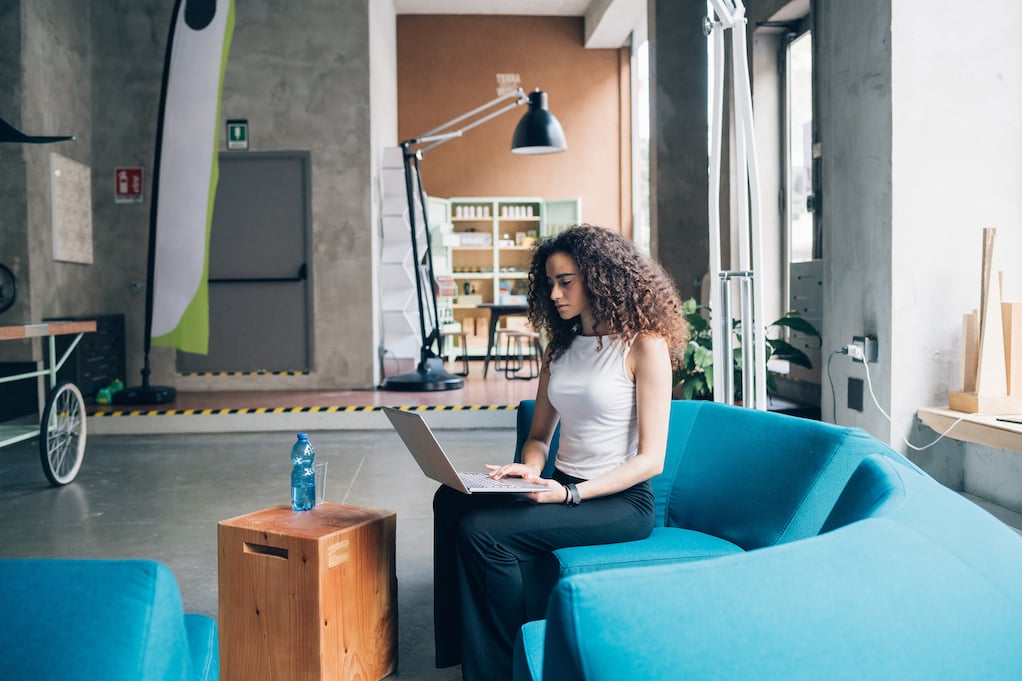 This generation also has different preconceptions about their data being tracked. Older workforces hold different beliefs about privacy. Digital natives are more open to having their whereabouts on display because surveillance is a given in contemporary society. Now, it is poised to be used not only for employer knowledge, but so they're accessible by whomever else needs to find and collaborate with them in person. As a result, utilization data will continue to be monitored and in coming years will likely only become more transparent.
How Security Influences a Welcoming Office
Tracking employees whereabouts for utilization data can be translated into security. This comes back to the point of: How do we create a welcoming office that is safe while also serving the dominant workforce preferences?
"Gen Z is more technologically savvy and incorporates technology more seamlessly into their daily lives, so they expect things like space booking, access control, and amenities to be accessible on their mobile devices."
-Propmodo
So, why should this not be reflected in our office security systems? The future of workplace safety is likely cyber and highly dependent on personal devices and mobile platforms. Contactless technology, especially for security, is sure to further evolve and become a staple in modern offices. Offices of the future are likely to require employees to show company IDs on cell phones for easy access control.
Still, there is the fact that physical security is a predominant consideration. Regardless of the technological revolution, it will not be phased out altogether. This is especially certain because crime rates in major cities continue to rise. As a result, employers need to consider what position they're putting their employees when they require them to come to the office. For example, rising crime is a main determinant why businesses are leaving Chicago. Read more in Fortune 500 Companies are Leaving Illinois: Should You Join Them?
As a result, the role of security personnel or guards will shift with the times. Propmodo predicted that the first point of security contact may be required to be more technologically proficient. As technology evolves, guards will be demanded to become more cyber-savvy. Or, on the other hand, guards would take on more of a patrolling role than being the main determinant behind access.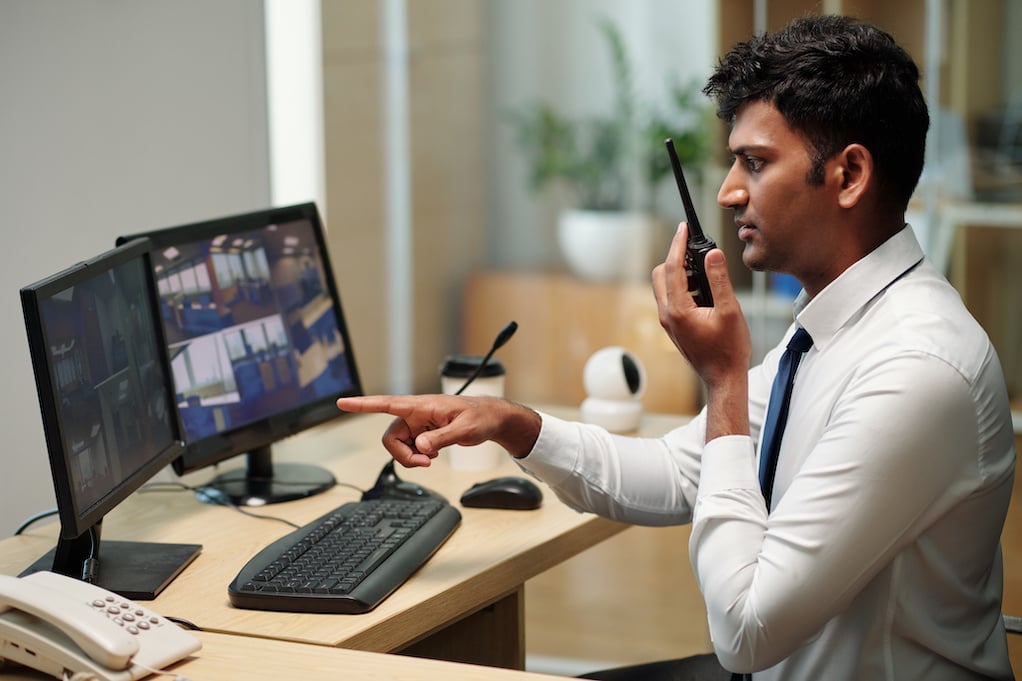 At the end of the day, safety remains a number one concern for offices. It always has been, but now we are dealing with a different world. Consider the risks that employees take working from home. Exactly, they don't really encounter any.
So now, offices have to go above and beyond to not only be secure, but hospitable. Because if visitors don't feel comfortable or welcomed in a particular office, they're unlikely to return.
Creating a Safe and Engaging Workplace
To create an engaging, safe, and technologically adept workplace is a delicate balancing game. As a result, tracking preferred behavior and occupancy is more pressing than ever.
We understand that there are different standards in regard to how the office is used but adapting requires identifying the employee behaviors largely taking place. Landlords and businesses need to pay attention to these trends and adapt their security and parking methodology to create a hospitable yet secure first point of contact for their employees and visitors. Not only will this make them more enticing, but it will place them ahead of the curb of an evolution that is only sure to become more rapid.
To simplify this goal, businesses can work with tenant representatives who can help them navigate these complex issues and find the right solutions to meet their needs. At iOptimize Realty®, we are True Tenant Reps™ with 30+ years of experience finding the optimal solutions for our corporate clients. Whether this means relocating, renovation, renegotiating, or improving your hybrid office's space utilization by Right-sizing, you have a team who can take the load off your CRE decisions.
Right now, many companied adopting hybrid schedules have reduced their overall space utilization. As a result, they are paying for space that no longer has a use. If this sounds familiar, learn how a Tenant Rep can reduce your spending and save you millions on underutilized commercial real estate: What to do with Extra Office Space: A Guide for Corporate Tenants.
Start with a True Tenant Rep™ today.