Are you happy with your office space? No really- are you?
Does it have everything you need? What about everything you want? …Maybe even most of the things you want?
In the current marketplace, tenants have room to be picky. There is no use staying in a building that does not fit your current needs. Even worse is paying money every month on an outdated, expensive lease for this property that's just alright.
Chances are, that if you can imagine your perfect commercial space with ideal features- it is out there somewhere. Just because it's not in your respective neck of the woods, it doesn't mean that you shouldn't consider it as a possibility.
As tenant representatives, we have seen how the market has changed in recent years and how savvy tenants have capitalized on the shift. Tenants have more power than ever to explore the marketplaces that have more to offer in terms of price, tax laws, and quality of life.
Read on to learn why your perfect building may not be the one you're currently in and what you can do to find it. It may be a quick trip over the bridge and into the suburbs, or even across the country.
If you're open-minded in the marketplace, there is no shortage of opportunities for you to improve your commercial real estate portfolio.
Where Should I Begin?
The first step to finding your dream commercial space is admitting that your current building isn't it. Whether you've expanded or downsized in recent years, you need a space that will better fit your current needs.
You have several options. If you are reluctant to move, you can introduce renegotiation of your lease's terms to your landlord. They may be willing to adjust your current space with tenant improvements if you agree to a longer leasing term. Then you may get a space that is more to your liking. Or if they won't concede to an increased allowance for tenant improvements, maybe they will introduce new terms that will work for your business.
If Your Landlord Won't Cooperate
If they are not willing to offer any additives to refine their building into the perfect space for your company, it may be time for you to consider relocating. It will not be so simple to cut and run though. Landlords are usually not very willing to terminate your lease.
Depending on how much longer your lease stands, it may make more financial sense for both of you to payout the price left on your lease. This usually would come from you in the form of a lump sum payment upfront, rather than gradually paying over the time period of your existing lease.
While this may be an expensive cost initially, you may be saving greatly in the long run if you move to an area with lower rent, operating expenses, payroll, taxes, etc.
If your landlord still is unwilling to terminate your leasing agreement, you can always sublease your space. This way, you can receive payments from a new tenant, so you won't be in the hole for all of the costs associated with the property that you do not want.
Where Should I Relocate?
So now that you've decided moving may be right for you, where do you go?

Cost of Living Map, where the national average is 100.
If You Are in a City...
If the space you are leasing is in a city, you probably already know how high rent rates are. If you don't want to go too far, but are still open to moving for savings- your easiest and most efficient option will probably be moving to a nearby suburb.
Other than the obvious benefit of cheaper rent, suburbs can serve your business in multiple ways. First, they are less population-dense than cities. As a result, it is going to be easier for your company to adhere to social distancing edicts.
By similar reasoning, suburbs are going to be overall less stressful to work in. Not only do you have to worry about fewer people and crowded commutes, but there are significantly lower crime rates in suburbs. Moving your company to a suburb could potentially increase the health and safety of your current employees. It also opens up your prospective hiring network to a new talent pool.
You will also save significantly in taxes when moving from a city to a suburb. This goes for costs associated with corporate income tax, property tax, income tax, sales tax, etc.
Overall, moving your business to a suburb is associated with many benefits. While potentially increasing the quality of life of your employees, you are slashing your overheads costs. This scores a win -win for everyone involved!
If You're Tired of "Business- Unfriendly" States...
If you are willing to make a more significant move in pursuit of long-term savings, you may want to consider moving to the sunbelt. This option is going to apply more to those in Northern states who are tired of paying elevated tax rates on, well, everything.
Companies who stand to benefit the most from this move are probably going to be those stationed in our country's cultural capitals: New York and California. Despite being home to business and industry, these states are simply not business-friendly.
On the other hand, the culture and laws of Texas and Florida have been allowing business to flourish. It is no wonder why we are witnessing a mass-corporate migration to the states within the Sun Belt.
So if you still like the idea of working in a city but hate the prices of places like San Francisco and New York City, you have alternatives. Houston, Texas, and Jacksonville, Florida have been the go-to solutions for maintaining a city environment while greatly decreasing the cost of living and operating a business.
Breaking Down the Savings
So what can cities like Houston and Jacksonville offer to Northern transplants?

How about does all of this sound?
Lower Corporate Income Tax

Less Income Taxes for the Top Bracket of Earners

Lower Combined Sales Tax Rates

Reduced Gas Prices

Cheaper Office Rent

Decreased Payroll Costs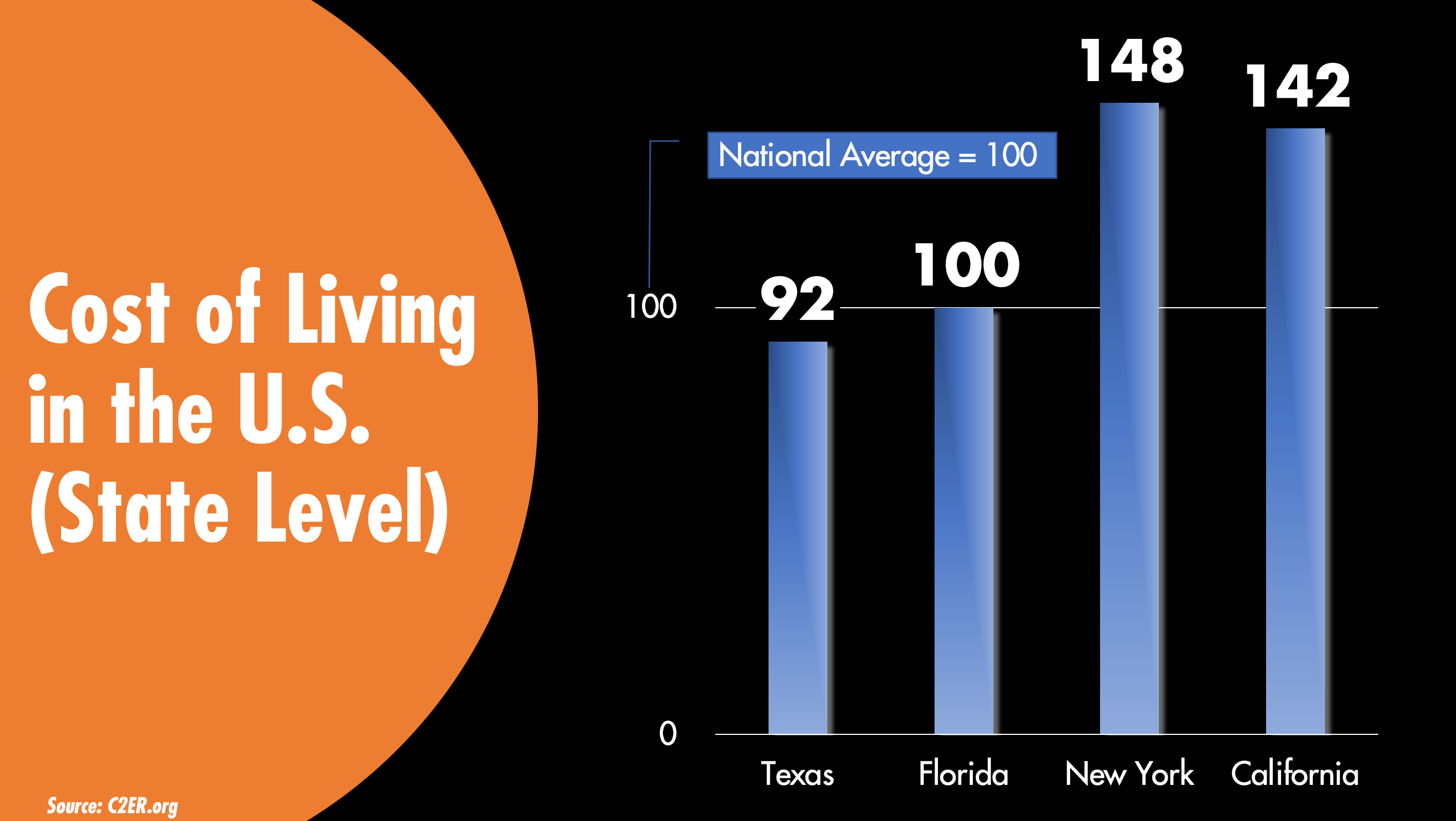 In addition to these obvious financial benefits, those living in the Sun- Belt largely reported an overall higher quality of life. So if you are looking to increase your bottom line in resources and employee morale, you should be looking to business-friendly states.
Economic Incentives
Being open to moving your business to other areas can also create more opportunities for you to save. Often, certain states or regions will offer your company incentives to move there. This usually comes in the form of tax breaks, but there is no shortage of possible bids they will introduce to entice you to move to their area.
Keep in mind that the most efficient way to get the best possible deal is to leverage the prospect of your tenancy against other alternatives. This works in negotiations with landlords, but also amongst states and municipalities. By being open to multiple marketplaces and weighing them against each other, you can create competition for your tenancy on a regional scale.
Doing this will secure your maximum potential for economic incentives- on top of the savings you already may encounter from moving to another area.
What Should Your First Step Be?
There are obviously many factors to consider when you are deciding if you want to relocate your business. Of course, this can quickly become overwhelming especially if you feel out of your comfort zone in real estate. Don't worry. Experts like tenant reps can guide you through every stage of the process. They will weigh the pros and cons of relocating with you in the consideration stage. Then, they will undergo extensive market research to identify where you stand to gain the most by moving. All the while, they will leverage the value of your prospective tenancy to achieve the best terms and savings.
If you think you are ready to take the next step and join the exodus away from business- unfriendly areas, check out this article to learn more!