There's a lot of buzz surrounding commercial real estate tenant representation. Do you really need a Tenant Rep to safeguard your CRE? If so...what kind of broker do you need? And what is the controversy around conflicted brokers?
How do you find the broker that will find you the best properties, features, and terms for the lowest price?
We'll answer those questions, and more so you can cut down the guesswork and be fully informed when making your next real estate decision.
Here's a hint: Not all Tenant Reps are created equally.
First, let's start by talking about Tenant Reps.
What is a Tenant Representative?
Tenant Reps Don't Work for Landlords
Do You Really Need a Tenant Representative?
What is a Tenant Representative?
A Tenant Representative should only represent you, the corporate tenant. So whether real estate is your primary responsibility or you've been thrust into this role, a Tenant Rep is an ally that protects your best interests.
This means that they work for you and your company, not the landlord. They will help you find properties that fit your specific needs and negotiate the best possible lease terms on your behalf.
To save you time, we already have an article on Tenant Reps, learn everything you need to know about commercial Tenant Rep brokers.
Essentially though, Tenant Reps should find you the best properties, features, and prices for your commercial leases.
Negotiating with a representative can save you up to 30%. So, let's see what this would look like on a 50,000-square-foot NYC lease renegotiated by a rep compared to the lease signed without representation.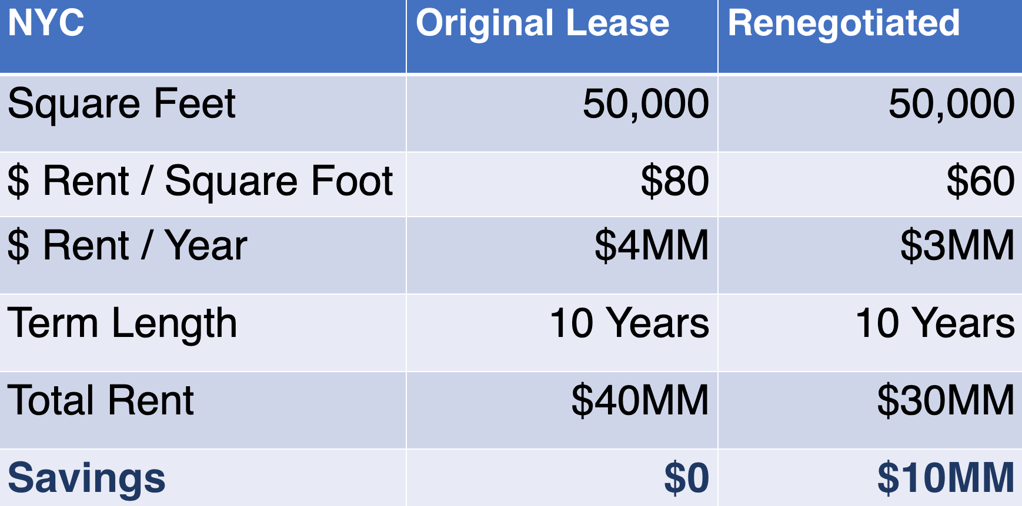 So now you can see how much savings are at stake when working without a True Rep. Even if you make half the savings back- that's still $5 million!
However, the best way to explain how a Tenant Rep can achieve this is to start by telling you what they aren't...
Tenant Reps Do Not Work For Landlords
In theory, this should be a no-brainer. If your Tenant Rep is working for the landlord, they are not looking out for your best interests. The best way to identify whether your broker is conflicted is if they advertise property listings on their site.
Spoiler: They'll be very happy to show you those listings and get you into one of those buildings (whether it is best for you or not).
Conflicted Brokers
Landlord representation and tenant representation are two different things that should be done by two different brokers. You wouldn't want your doctor on the payroll for "Big Tobacco," would you?
Of course not! One broker handling both sides of the deal is so obvious of a conflicting interest that your head will be on the block if anyone questions this deal down the line (and with tens of millions of dollars at stake- they will).
Often, conflicted brokers will attempt to dissuade tenants' fears by claiming that there is a proverbial firewall that separates the tenant broker and landlord broker departments.
While your broker may not work directly with the landlord or their broker, they report to the same chain of command.
Conflicted brokers bring deals muddled by the interests of landlords. Worse, you'll probably miss out on properties, and you'll likely accept most of the landlord's terms because the broker doesn't want to widdle down their own commission.
Conflicted brokers go by many names, including: "Dual agents, designated agencies," etc. But, no matter the terminology, they are all jargoned terms you should avoid at all cost.
Corporate Service Brokers
The term "corporate service brokers" is often used to describe reps belonging to massive companies representing tenants and landlords. While this might not always be a conflict of interest, it typically is.
Corporate services could be a Tenant Rep, but more times than not, it is euphemistic for a brokerage firm (typically a big one) that represents the landlords and like to say they're Tenant Reps too. However, there is an apparent conflict of interest.
So beware of firms that quote "corporate services." They are usually generalists that dabble in everything from retail to industrial real estate. But the bottom line is, that they usually work for landlords. That's not to say that every corporate service broker is conflicted- but more times than not, they have an interest in the landlord's payday.
The Landlord's Broker
Let's break this down. Your landlord is highly sophisticated. Naturally, therefore, they have sophisticated people to represent them. These landlord brokers are thoroughly well-versed in the ins and outs of the real estate world. They will do whatever it takes to get their client, your landlord, the best deal possible. They have a legal fiduciary to get the landlord the highest price and best terms. So, if you're up against one of these guys, you will want someone in your corner who knows what they're doing.
The landlord's broker is only there to drive up prices. Their job is to market the space for the highest possible return. They would be more than happy to get a tenant who doesn't have a rep a "good deal."
The bottom line is: everyone is looking to make money.
So why would you want to enter negotiations unguarded in this environment? Landlords have brokers incentivized to get them the best deal- you should have the same peace of mind.
Do You Really Need a Tenant Representative?
When real estate mistakes could cost your company millions, you don't want that responsibility solely on your head.
Working with a professional who will provide the highest level of service and market knowledge will help you avoid the fate of real estate nightmares.
If you're a tenant and are looking to lease commercial space, the chances are that you will need a Tenant Rep. The process of finding a property and negotiating a lease can be extremely laborious, and if you try to do it on your own, you'll likely leave money on the table.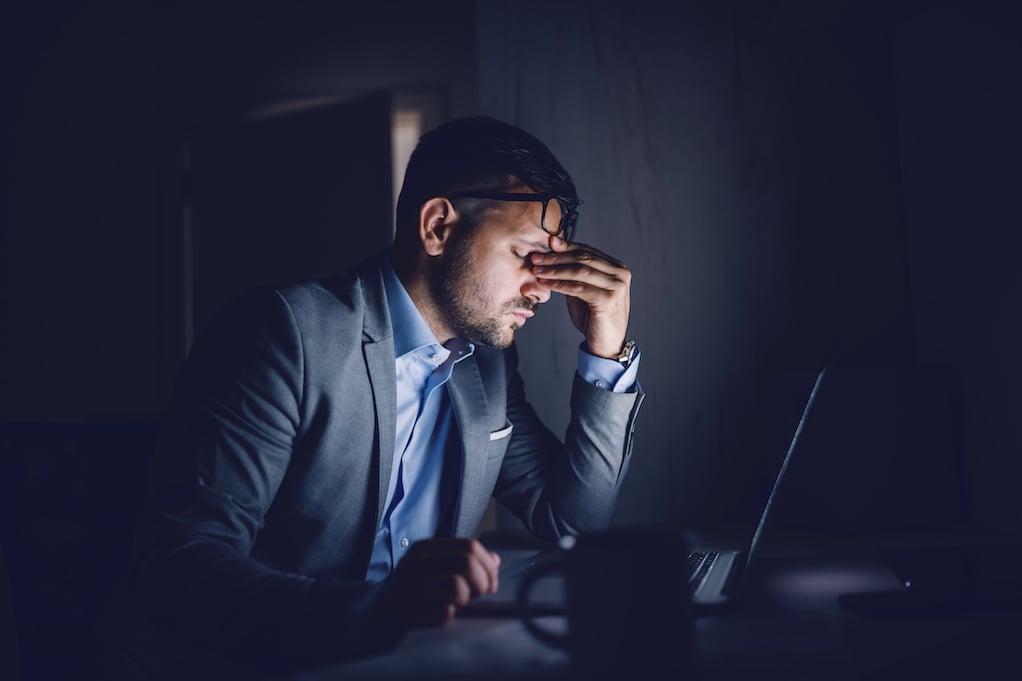 Not only this, but numerous, costly landmines in your lease can blow up in your face. Each clause should be thoroughly analyzed for what is laid out, and what has also been omitted. Of course, this is time-consuming, but by working with a rep, you can save your time and retain your peace of mind as you know a professional is working on your behalf to protect your interests.
This is especially true for renewals. Often, many tenants will assume that the stakes are lower when renegotiating the extension of an existing lease. However, this is where you can get cheated the most (if you don't know what you're doing.) Base rents have likely fallen in your area- but do you know how much? You could miss out on the deal of a lifetime if you're renewing in this market. Your landlord would probably love if you waltzed into a renewal alone.
The CCIM Institute explains it best, "When it comes to lease renewals, many in the industry wonder why tenants would hire professionals to represent their interests. The answer is straightforward: When tenants do not go to the marketplace to fully determine whether the renewal terms and conditions are competitive, they almost always lose. Knowledgeable landlords keep pace with the marketplace and fully appreciate the financial rewards to the property owner when tenants enter lease renewal negotiations without a broker and without bringing alternative locations into competitive play."
A True Tenant Rep Broker
Tenant reps could be critical to the success of your commercial real estate, but they are not created equally.
In order to get the best possible outcome for your lease, you need to hire a true tenant representation broker. By only considering your interests, they will be able to:
Find you 3-4 times the number of suitable sites

Let you focus on your day job

Connect you to the professionals you need

Help you avoid costly mistakes

Honestly compare all suitable sites

Thoroughly analyze lease terms

Conduct negotiations with your landlord, far beyond just rent
At iOptimize Realty®, we are Tenant Reps with over three decades over experience solely representing corporate tenants. Our unparalleled and un-conflicted service, has saved our corporate clients hundreds of millions of CRE dollars. And savings have never been more important than they are now. Learn how a Tenant Rep can save you big during the recession.
If you're ready to cut through the noise and talk to a Tenant Rep yourself, schedule a meeting today.