When it comes to running a successful warehouse, the dock doors and loading system are integral features. Not only do they need to be secure, durable and energy efficient but also conducive for easy operation.
Because your products or inventory just survived the journey to your facility, why risk damage now? So, learn the considerations corporate tenants need to ensure that their goods are safely and conveniently handled upon entry to your warehouse.
Your Warehouse's Loading Docks
The loading dock is an essential component of your warehouse that needs to be efficient, secure and reliable. It's the entrance or exit point for goods that are being loaded or unloaded from trucks and vans, making it a critical element of production, ingress, and egress.
Highly efficient loading docks maximize the flow of goods in and out of the warehouse, ensuring that customers are served quickly and efficiently. The wrong loading dock system can result in delays, higher labor costs, lost business opportunities and customer dissatisfaction.
But, truthfully, there's a lot of factors to keep in mind when looking for your next warehouse space. So if you're beginning your warehouse search or touring, don't risk being unprepared. Learn the 70+ considerations corporate tenants need to find the optimal warehouse space for the best price in the free course below.
There are four major types of loading docks, each with their own pros and cons:
1. Flush Loading Dock
2. Enclosed Loading Dock
3. Open Loading Dock
4. Sawtooth Loading Dock
Flush Loading Docks
Flush docks are the most common type. They act as an opening within the warehouse wall that is usually equipped with bumpers.
Open Loading Docks
Open docks are also for outdoor use, but they are often seen with a canopy or roof. However, they are not seen as often as flushed docks.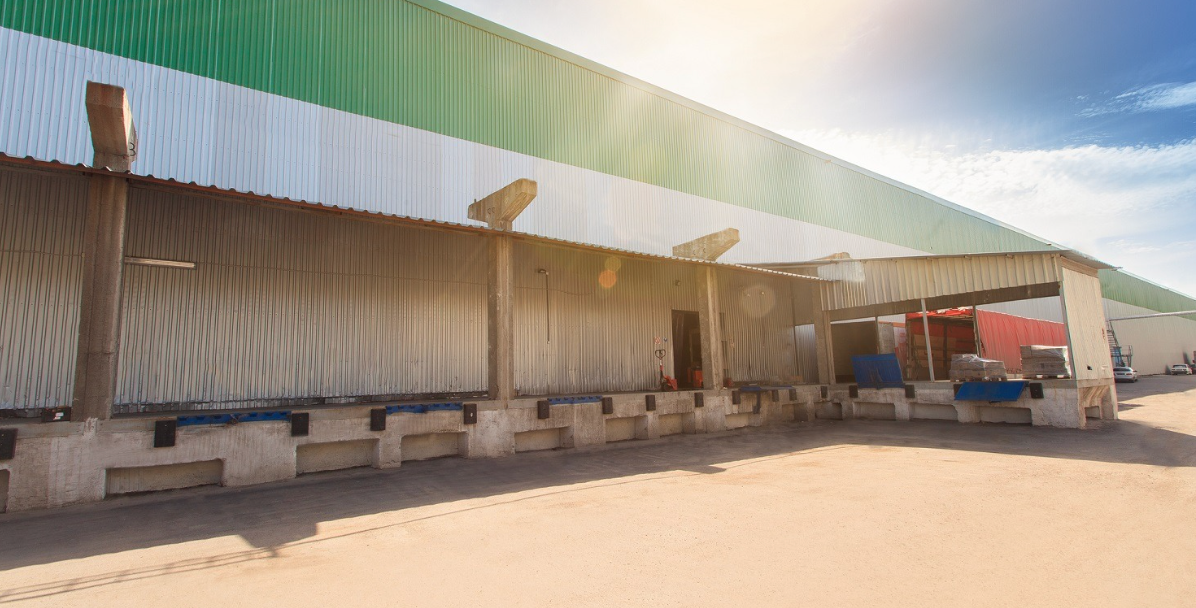 Enclosed Loading Docks
Enclosed docks are within the warehouse and good for temperature-sensitive equipment, but they require ventilation to get rid of the enclosed truck exhaust. As such, they are not as common.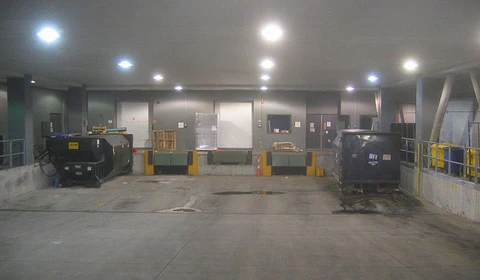 Sawtooth Loading Docks
Also rarely seen are sawtooth docks, which are usually present when outdoor maneuvering space for trucks is limited. It allows them to park at an angle but comes with the disadvantage of poor space utilization.
Dock Doors
For warehouses to be successful, it's essential that they have the right type of loading dock door for their needs. There are four types:
1. High Speed Dock Doors
2. Rolling Dock Doors
3. Sectional Dock Doors
4. Knockout Dock Doors
High Speed Dock Doors
High Speed Dock Doors are ideal for warehouses, manufacturing plants and other commercial facilities that need their dock doors to open and close quickly. Unlike traditional dock doors, these high-speed models are made of durable, lightweight fabric materials such as vinyl which allow them to open and close at extremely high speeds - up to 150 inches per second. This speed makes them the perfect choice for busy warehouses, as it can save time and help improve efficiency.
High speed dock doors are also, often more aesthetically pleasing than other types of dock doors which makes them a great choice for customer-facing industrial applications. They are designed to be durable and secure with an assortment of locking mechanisms to provide maximum security for your facility.
Learn how to find The Right Location for Your Warehouse.
Rolling Dock Doors
Rolling Dock Doors are one of the most popular types of dock door for warehouses and other commercial facilities. Lightweight and easy to install, these doors consist of several panels that roll up or to the side when opened. They can also be made from aluminum or steel depending on your needs.
Unlike High-Speed Dock Doors, Rolling Dock Doors are not as fast or secure. However, they do offer the greatest ability to meet a variety of height limitations, making them ideal for warehouses with limited space. Additionally, they can be fitted with insulation and weather seals to increase energy efficiency in your facility.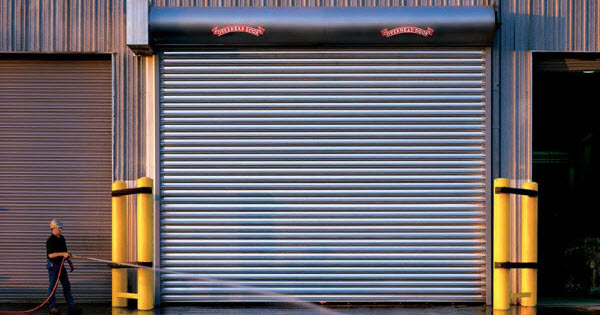 Finally, Rolling Dock Doors are also relatively inexpensive compared to other types of dock doors, making them a cost-effective solution.
Sectional Dock Doors
Sectional Dock Doors, otherwise known as paneled dock doors, are a popular choice for warehouses. They are constructed from several panels that open vertically, creating a secure seal when closed and allowing for easy passage when opened. This makes them ideal for larger industrial spaces as they are built to handle heavy use and require less upkeep.

Sectional Dock Doors offer the security and insulation of high-speed dock doors but with the low-maintenance convenience of rolling dock doors. Unlike traditional rolling models, this type is made from several sections that move up and down in tracks.
These sections are typically comprised of heavy-duty steel, aluminum or vinyl which makes them extremely durable and reliable even with repeat use.
These dock doors also come with a variety of door openers which can be controlled remotely to make opening and closing your warehouse easy and efficient. Plus, they require little maintenance and can be easily insulated to increase energy efficiency.

Overall, Sectional Dock Doors are an ideal choice for those looking for a secure, low-maintenance and energy-efficient dock door that is also easy to operate.
Learn how to Find and Negotiate Your Best Warehouse Lease.
Knockout Dock Doors
Knock Out Dock Doors are the most durable type of dock door out there, offering superior resilience to impact. They are essentially modified sectional dock doors that can flex on contact and quickly recover in case of an accident. Normally, they're easy to pop back into place and continue functioning properly with minimal effort.
Knock Out Dock Doors are an optimal choice for those looking for maximum durability, as they offer the quickest recovery time in case of a collision or impact. They also come with heavy-duty construction materials such as steel and aluminum that make them incredibly secure and reliable even under repeat use.
Overall, Knock Out Dock Doors provide the most in terms of durability and security, offering quick recovery times and maximum protection from impact. Plus, their heavy-duty construction materials make them reliable even with frequent use, while their aesthetic appeal makes them an attractive option for many businesses.
Dock Levelers
Dock levelers are a fundamental warehouse staple. Because, even if you handpick the type of dock door, it will be useless if the truck doesn't match up to its height.
When you are transitioning goods from trailers to your facility, you want it to be as level as possible. Leaving room for error is a liability that will not only damage your efficiency and goods, but possibly critically injure your team.
The right levelers streamline production time, while reducing hazards. They bridge the trailer and warehouse for a safe transfer of goods. When determining the right leveler, you must take into account the height differential, or the difference between the highest truck height and the dock height.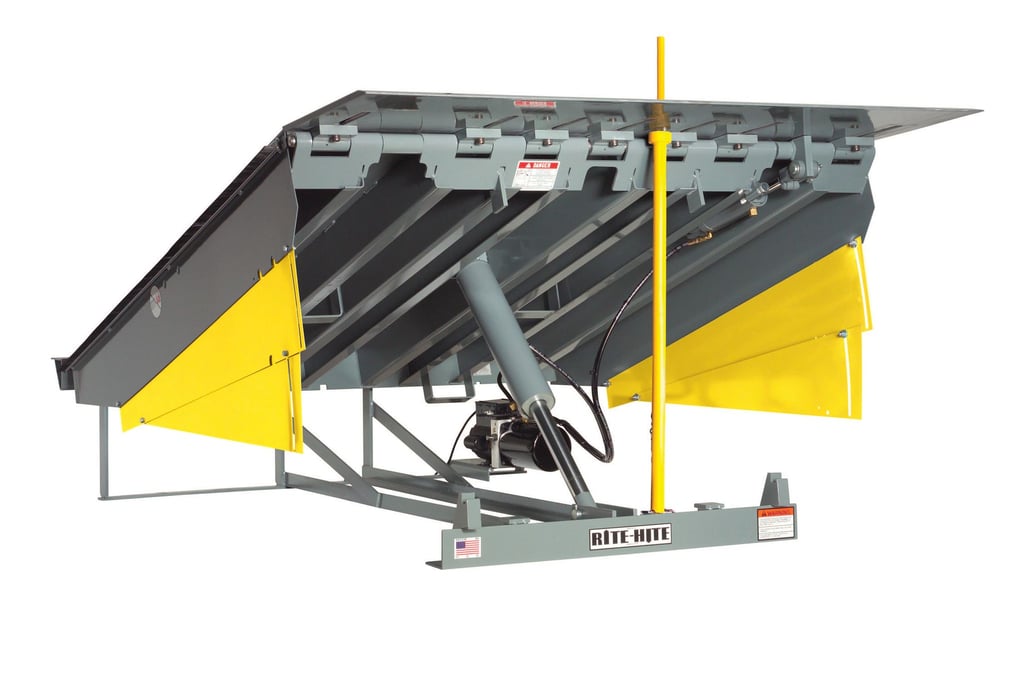 Standard dock height in US is 48." Most freight carriers will service this height. Levelers can then accommodate 12" above and below existing dock height.
Levelers can typically withstand 25,000 to 80,000 lbs of weight.
Other Must-Have Safety Features
Beyond the concerns we already discussed, there are several other features to take into account. While this brief list is by no means exhaustive, it outlines other considerations that prove critical to safe and efficient production.
Dock Bumpers
Dock bumpers are designed to provide a layer of protection between the loading dock and any equipment, walls, vehicles, or trailers that come into contact with it. Made from heavy-duty rubber, they are designed to absorb impact and minimize damage to both the dock and anything that comes into contact with it.
These safety devices are also incredibly versatile, making them ideal for both warehouses with limited space and large industrial applications. Their flexibility allows them to fit a variety of heights and can be easily customized with insulation and weather seals to increase their energy efficiency.
Dock Lips
Dock lips are an essential safety device for loading docks, providing a physical barrier between the platform and the edge of the dock. This allows forklifts to safely transport items over the lip without driving over the edge, preventing accidents and damage to both personnel and equipment.
Plus, dock lips are designed to automatically disappear when the leveler descends onto a truck, making it easy and safe to depart from the loading dock.
Dock Lights
Dock lights provide bright illumination for operators who need to work in dark areas. This ensures that employees and equipment can move around safely and helps to reduce the risk of accidents or injuries.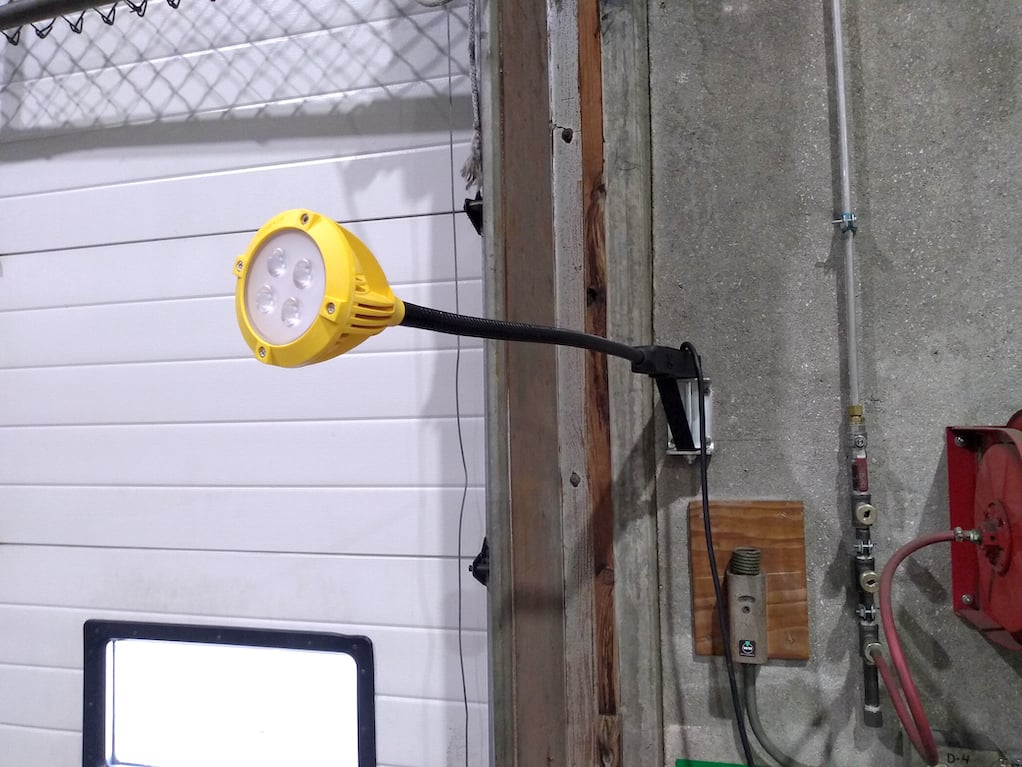 These lights typically come with a variety of features, such as adjustable heads and swivel arms, variable wattage, and motion sensors that activate the lights when someone enters the area. Additionally, waterproof seals and shatterproof glass ensure that these lights can perform even in wet or hazardous conditions.
Overall, dock lights provide a bright and secure lighting solution for warehouses, ensuring operators can function without harm, despite poor conditions. These lights are also highly durable and energy efficient, making them a great long-term investment for any warehouse.
Find Warehouse Solutions with a Tenant Rep
When it comes to warehouse docks, safety should be the top priority. Installing dock doors, bumpers, lips, lights, etc. can help ensure that your products are safely handled upon entry into the facility and reduce the risk of accidents or injuries for personnel.
But, beyond concerns about efficient entries and exits, there's a lot of other factors included to secure the right warehouse for your business' needs. Luckily, you don't need to balance these factors alone. Having a knowledgeable Tenant Rep on your side can help ensure that you get the most value for your money when it comes to a new warehouse.
Because, before you can select the right warehouse, you need to know what you're looking for. The list of factors seems endless, from proper ceiling heights and durable floors, to dock doors and HVAC. So, don't lose track.
As True Tenant Reps™ at iOptimize Realty®, we have 30+ years of experience finding the best properties, terms, and prices for our corporate clients. Our market knowledge equips us to leverage your requirements against each property's features to land the space that is the optimal fit for your business. Now, we want to share the tips and tricks we've developed to empower corporate tenants. We poured our industrial real estate due diligence into the free course below. By watching, you'll learn every consideration you need to make sure you get the right warehouse for the best price.
Talk to a True Tenant Rep™ at iOptimize Realty® today.