Northerners have always flocked to the Sunshine State's attractive environment. However, in recent years, the state has observed a different type of migration.
Rather than providing respite for snowbirds escaping winter months, Florida is becoming a haven for corporations looking to avoid expensive taxes and unfavorable business regulations. So, while your Grandma still may fly down to her condo from November to April, her neighbors may look different. Big names like Goldman Sachs, Citadel, Arch Investments, and Blackstone have already made the move, becoming Florida transplants and bringing thousands of jobs and opportunities.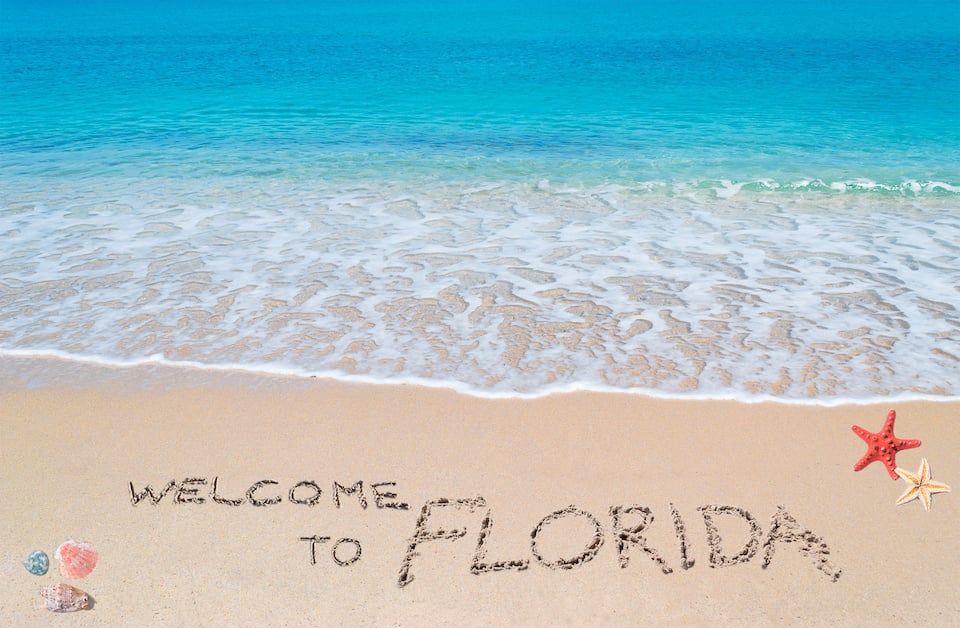 How do we know this? As tenant reps, it Is our responsibility to stay on top of cutting-edge CRE trends. We have noticed a significant move away from business-unfriendly cities like New York and San Francisco to the sun-belt. Companies benefit from a higher quality of life at lower costs in this region. We have observed how much our corporate clients could save by relocating to a business-friendly state like Florida.
However, just like any location, Florida isn't perfect, and it may not provide the same opportunities as traditional business hubs like NYC. Therefore, it may not be in your best interest to relocate your company to Florida. So, to be able to make that decision for yourself, we will go through both the positives and negatives of locating your commercial real estate in Florida. In doing so, you'll understand the full implications of relocating and be able to make more informed decisions for your CRE.
Pros of Locating Your Business in Florida
Cons of Locating Your Business in Florida
Pros of a Florida Corporate Relocation
There is a reason why over 300 financial services companies have moved to Florida.
Its favorable business climate and reasonable expenses have classified the state as "The Wall Street of the South."
Let's take a closer look at the reasons why it's earned this reputation.
Pro-Business Climate and Regulations
Florida adopts a starkly pro-business environment. The government encourages corporate relocations to the state by maintaining regulations that stimulate business growth. In this goal, their taxation rates remain highly reasonable.
5.5% Corporate Income Tax

No Personal Income Tax

No Estate/ Inheritance/ Gift Tax
These statistics are more impressive when compared to NYC and San Francisco, which are cities driving businesses away: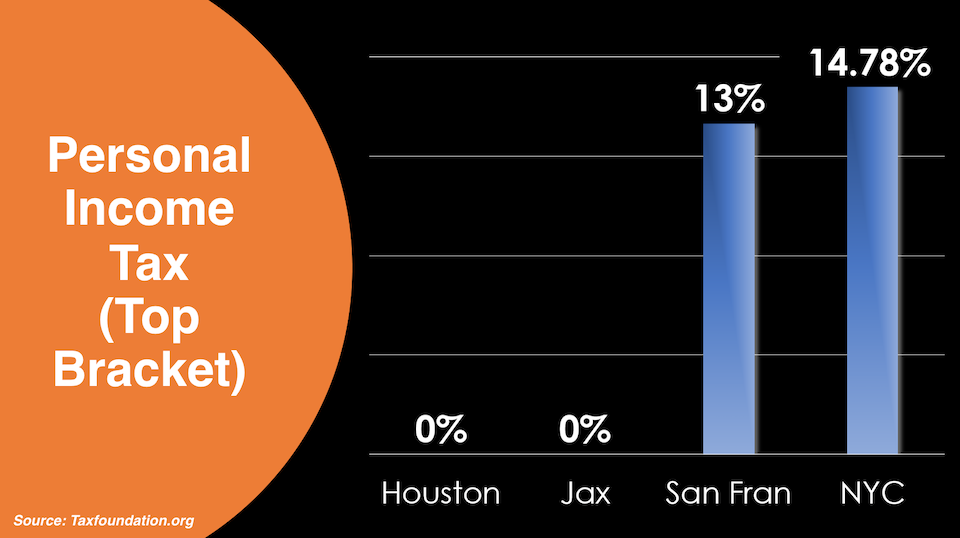 Jacksonville, Florida and Houston, Texas are two premier business-friendly cities. Observe how starkly their personal income tax rates differ from business-unfriendly cities.
Businesses are not the only parties traveling to Florida. The state maintains a robust year-round tourism industry. In addition, there are multiple tourist centers and cities throughout the state, so no matter where you are in Florida, you have the opportunity to translate consumer dollars into corporate revenue.
Florida's low cost of living also supports the business-friendly climate. In areas with lower living costs, the dollar carries more spending power. Consumers have more of an ability to stimulate local economies when typical goods and services cost less.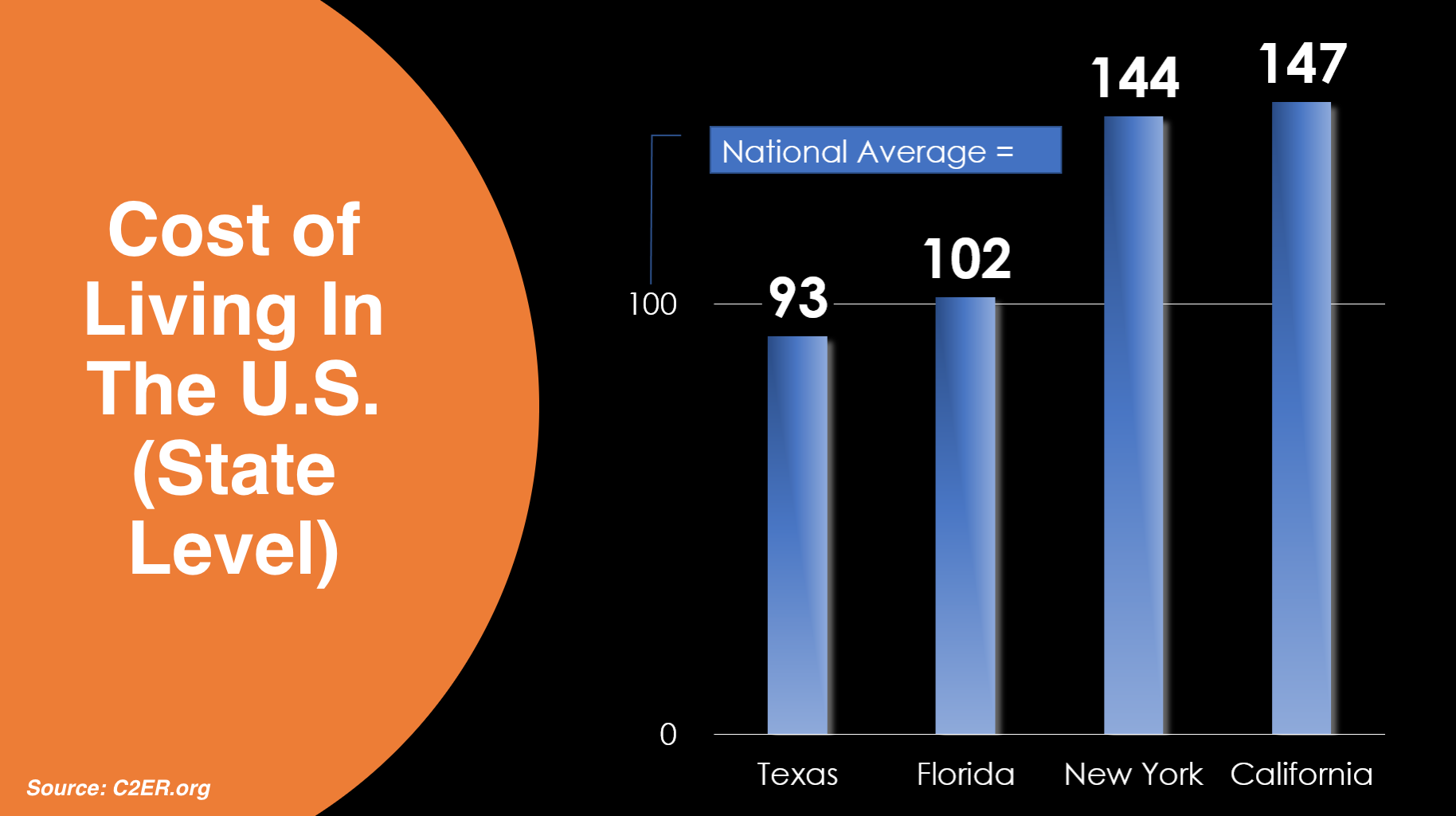 The Cost of Living in business-friendly states, Florida and Texas, remain close to the national average. Conversely, New York and California's expenses are nearly 1.5 times more expensive than living costs for the average American.
As you can see, multiple Florida is far more affordable than other popular business states like New York and California. Accordingly, you will have more freedom to spend as overhead expenses will be less.
Affordable Office Rents
Florida's overall low living cost has implications on every transaction within the state. The low cost to work and live generally translates into more affordable real estate. This is especially true for commercial properties.
Even though there has been an influx of companies in the state, office rents have remained extremely low. Florida boasts inexpensive office and industrial rents throughout the state. Companies could potentially save millions by moving their corporate spaces to Florida.
Let's do an exercise to fully understand how much money you could be leaving on the table by occupying space in business-unfriendly areas.
If you have 50,000 square feet of Class A office space in New York City, it will cost you $20 million over five years. Let's compare this to a business-friendly Florida city, Jacksonville. There you can still get 50,000 square feet of office space, but it will cost you millions less.
Jacksonville is a popular city in Florida in which many corporations are finding a home due to attractive Class A office rent rates. By moving your commercial space out of NYC and to a city like Jacksonville, your company could save millions over the term of a lease.
Growing Corporate Presence
The growing corporate presence in Florida is establishing a business powerhouse. As a result, more companies are feeling comfortable undergoing the move. Connections are being forged rapidly as household names like Goldman Sachs have already found footing in Florida. As a result, there is potentially less risk for organizations looking to move now because pioneering companies have shown that relocations can be successful.
Corporate presence is strengthened by Florida's secondary education institutions and access to talent. The state hosts many top universities. As a result, there are abundant opportunities for you to expand your skilled workforce. In addition, since the cost of living remains low, payroll costs remain reasonable.
Amazing Weather
There is no way we could have gotten away without mentioning the weather on a list of Florida's best attributes. Why else would thousands of New Yorkers fly South every year?
While NYC's average February temperature is 35 degrees, Florida's rests around 70. The climate remains warm and appealing year-round.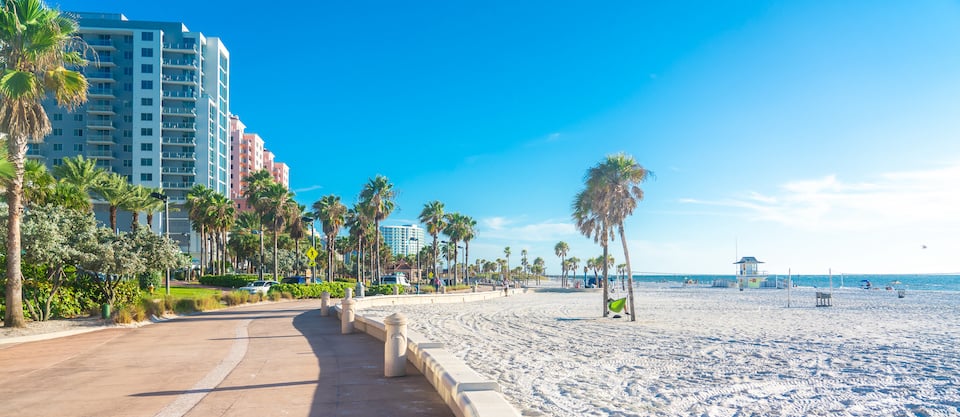 Its sunny days and miles of coastline make for a higher quality of life for your employees.
Cons of a Corporate Relocation to Florida
While Florida is turning out to be a premier location for businesses seeking corporate-friendly regulations and prices, it definitely isn't perfect. So let's take a closer look at why you may want to rethink packing your bags.
Possible Isolation
Many fear that a move away from traditional business centers may harm their competitive edge. For companies that remain in New York, this is a possible reason for staying. They are concerned that abandoning the rat race for sunny Florida will affect their productivity and ability to compete.
Even when companies do relocate to Florida, they usually retain a presence in their origin city. The connectivity of more established business hubs is why many companies refuse to leave (at least in part).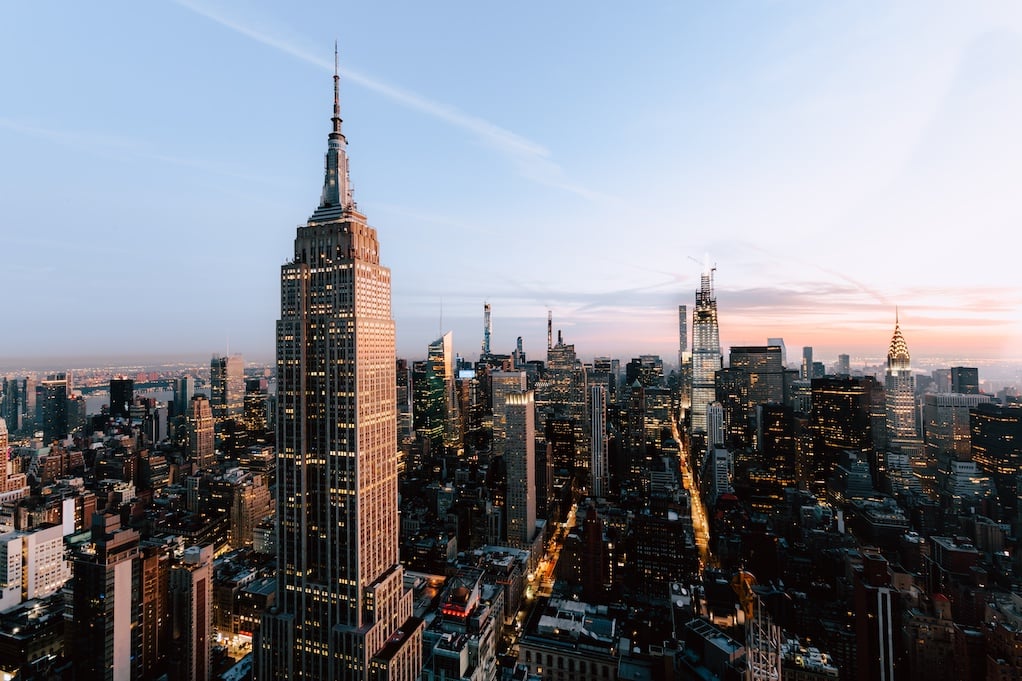 Similarly, there is the risk of falling out of touch. Cultural centers like California and New York have their pulse on trends. Moving away may impact the efficiency at which you pick up and capitalize on new movements and opportunities.
Culture Shock
Florida has a unique culture, and this culture has its own reputation. Don't expect the practices and behaviors of New York to carry over right away.
You may experience dramatic differences in every part of life, from politics to standards of politeness. The South is also known for being slower than cities in the North, so expect to exercise your patience. Unfortunately, this may spill over into longer commute times. Florida is ranked among the top states for rush-hour traffic congestion. Traffic is also worsened by the tourism and abundance of sports arenas and stadiums.
For some, adjusting to the climate of Florida can be a significant concern. The weather is notorious for being humid and unpredictable. So be sure to pack your summer clothes, coats, and everything in between.
Risk of Temporary Opportunity
NYC and other similar have and always will be epicenters of finance, culture, etc. The push to Florida has been a more recent phenomenon. While it may allow for gains initially, the CRE trend may eventually be known as a fad.
Many fear that the Florida corporate migration is a very here-and-now opportunity.
While COVID opened our eyes to more possibilities for productive corporate spaces, some think we may soon return to traditional working models.
However, the corporate relocation is likely not a fad. Many businesses have found that they can save significantly in overhead costs and don't want to return. Just be aware that jumping on opportunities is always associated with some degree of risk that it won't bring on long-term, stable gains.
Regardless, more companies have moved to Florida than ever before. As a result, demand for commercial space is growing. Prices remain stable, but there is always the chance that you have missed the window for the lowest possible rent prices.
So, if you haven't looked into a Florida relocation yet, make sure you aren't missing the opportunity to do so entirely.
Where are the Best Cities in Florida for Relocations?
As we discussed, Florida isn't perfect, but its business environment establishes the state as a hotspot for financial success. If you find that the pros outweigh the cons, you also have a lot of options for attractive cities in Florida.
Depending on your organization and culture, you may find that one city suits you better than another. Regardless, prices remain stable across the state, and there is something for everyone.
Curious about where the best cities are? Check out this article to learn about the top 4 business-friendly Florida cities!