Everyone is packing up their businesses and moving South. To where?
Florida.
The industry of the business-friendly state has been booming in recent years as Fortune 500 companies rush to open headquarters or satellite locations within its limits.
Whether you want to take advantage of this mass-corporate move to the sunshine state is up to you. But, if you are tired of cities with expensive rent, taxes, and cost of living- you should consider relocating (and Florida is a premier location to do so).
How do we know this? As tenant reps, we always have our eyes on hot spots for business relocation. We have witnessed how Florida has been strengthening its reputation as a business-friendly state and how our corporate clients are rushing to get prime Florida real estate.
The state provides numerous hubs for relocating companies, so read on to learn the top cities you should consider, including:
Why Relocate Your Business to Florida?
In recent years, the battleground state has had an immense significant cultural and political impact. Its quality of life and regulations have caused thousands of Americans to seek refuge within its limits. In fact, Florida has been steadily climbing the rankings of the most populated states and currently falls behind only California and Texas.
Not only has it pulled major finance and technology names, including Goldman Sachs, Nucleus Research, Goldman Sachs, and Argo AI- but it is becoming a hotbed for billionaires.
Although the migration to Florida began years ago, it accelerated during the COVID-19 epidemic. As businesses increasingly rely on remote means, many corporate professionals no longer feel the need to be physically concentrated in traditional hubs like New York City and Silicon Valley.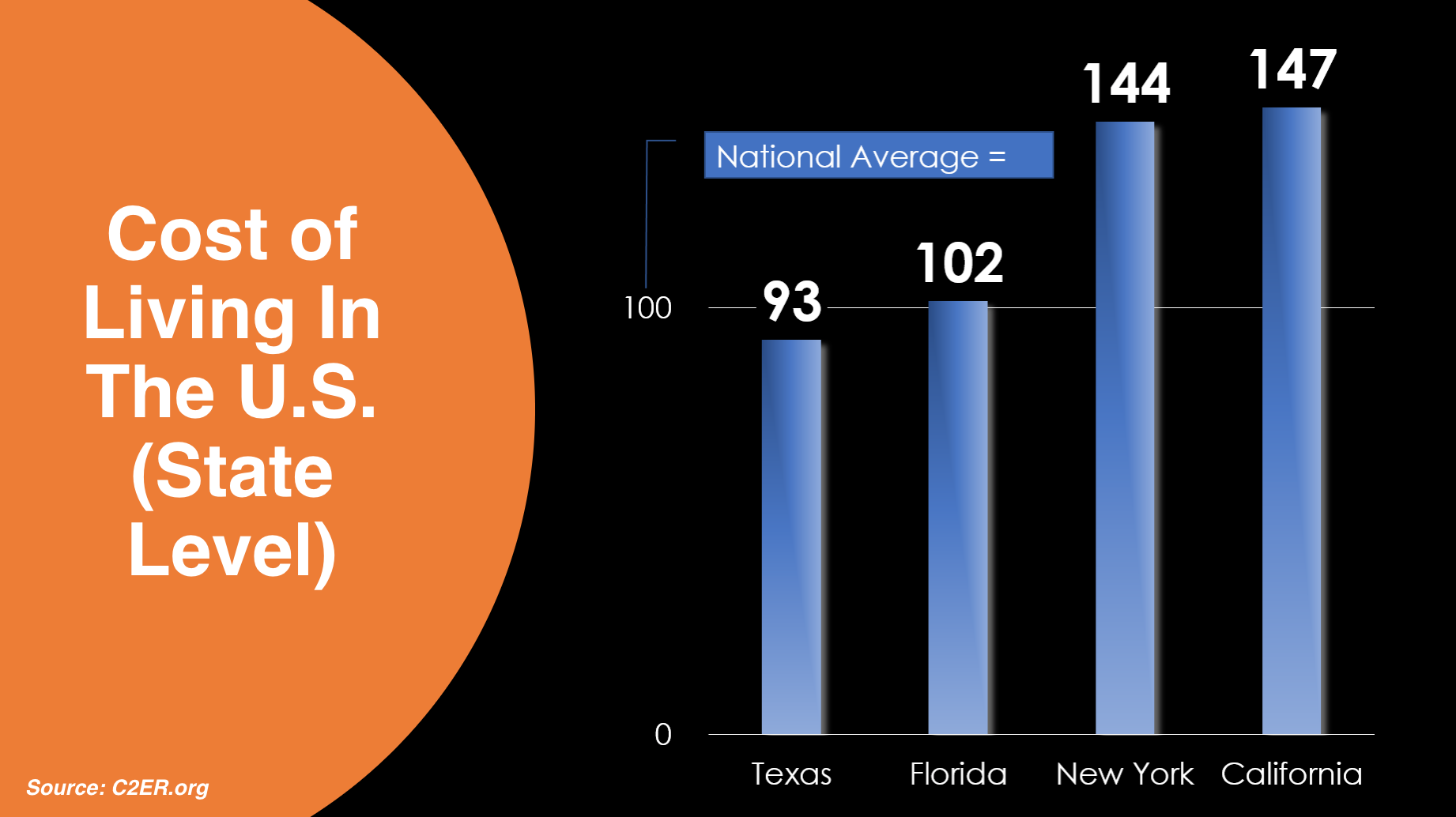 Florida's reasonable living cost in comparison to other business hubs
Florida presents a higher quality of life for individuals, favorable tax structures, lower cost of living, and welcoming government regulations. The state adopts a "hospitality mentality" when recruiting businesses. As such, it presents the perfect environment for companies looking to relocate.
Now, let's dive into the choice Florida cities for corporate relocation.
1. Tampa
The Tampa Bay area consistently earns a spot among the most business-friendly metropolitan regions. In addition, it has experienced booming growth in recent years in terms of population and industry, ranking as one of the best cities for start-ups in 2022.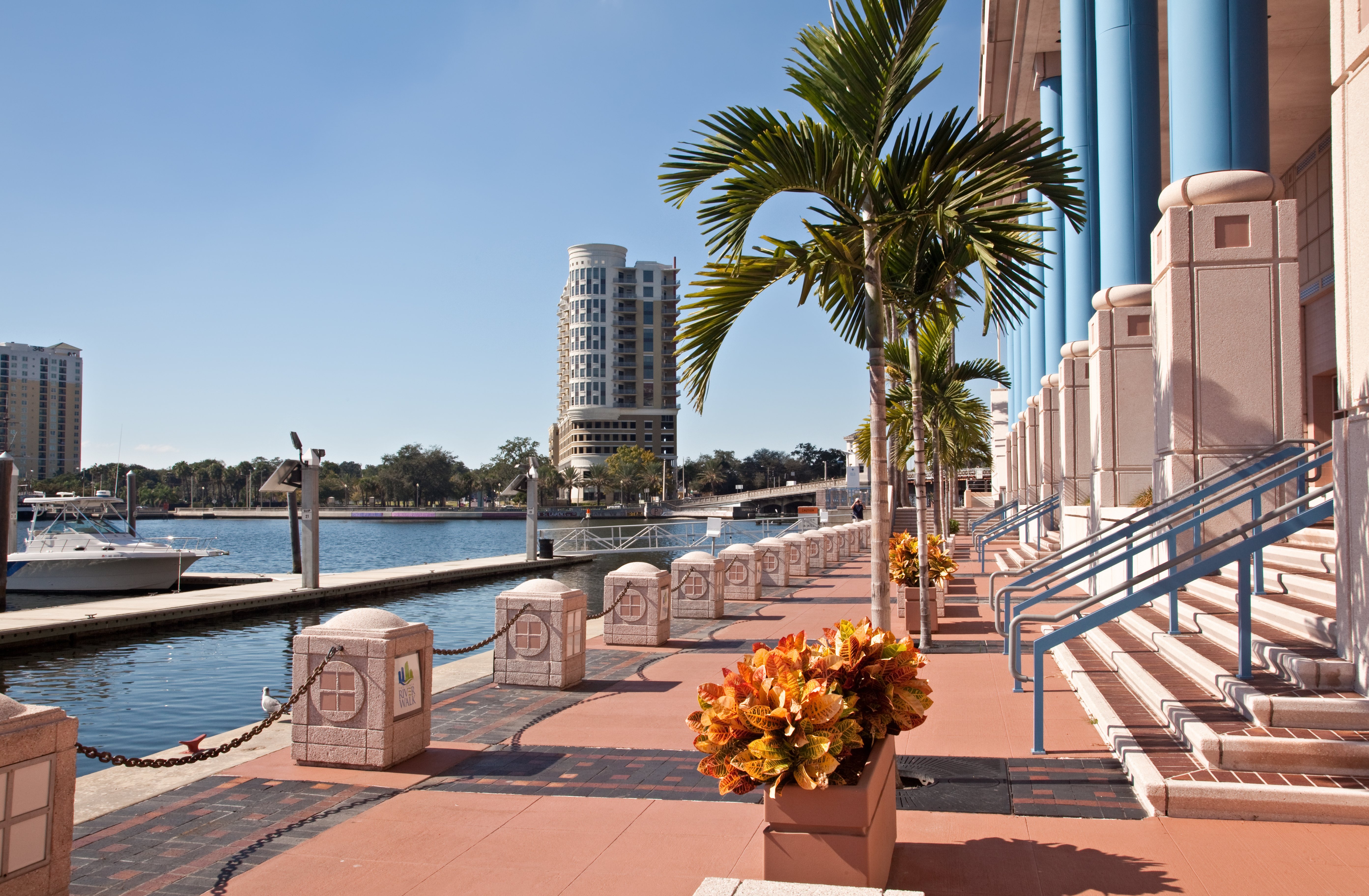 The sunny, warm weather and lack of income tax have caused professionals from all over the country to rush to Tampa's Gulf Coast. It offers miles of scenic walkways, recreational facilities, and three of TripAdvisor's Top 5 beaches.
Despite its allure, the cost of living remains extremely reasonable, at 94.6, under the national average of 100. It also performs exceedingly well in terms of critical business factors. Labor costs, office space availability, rent prices, and corporate taxes contribute to Tampa's striking business-friendly reputation.
Also unique to Tampa is the availability of an educated workforce. There are many colleges and technical schools in the area, including the University of Tampa and the University of South Florida.
Tampa is also a premier location for female entrepreneurs. The city boasts numerous programs that support female entrepreneurs in building successful businesses.
Let's look at the numbers that make Tampa so enticing to corporate America.
Corporate Income Tax – 5.5%

County Sales Tax – 1.5%

Personal Income Tax – 0%

Estate/ Inheritance Tax – 0%

Cost of Living – 94.6

Price per square foot for Class A Office Space – $33
2.
Fort Lauderdale
In recent years, Fort Lauderdale has become one of the fastest-growing markets for global trade. It boasts easy access to international markets and claims Florida's most diverse and largest labor force.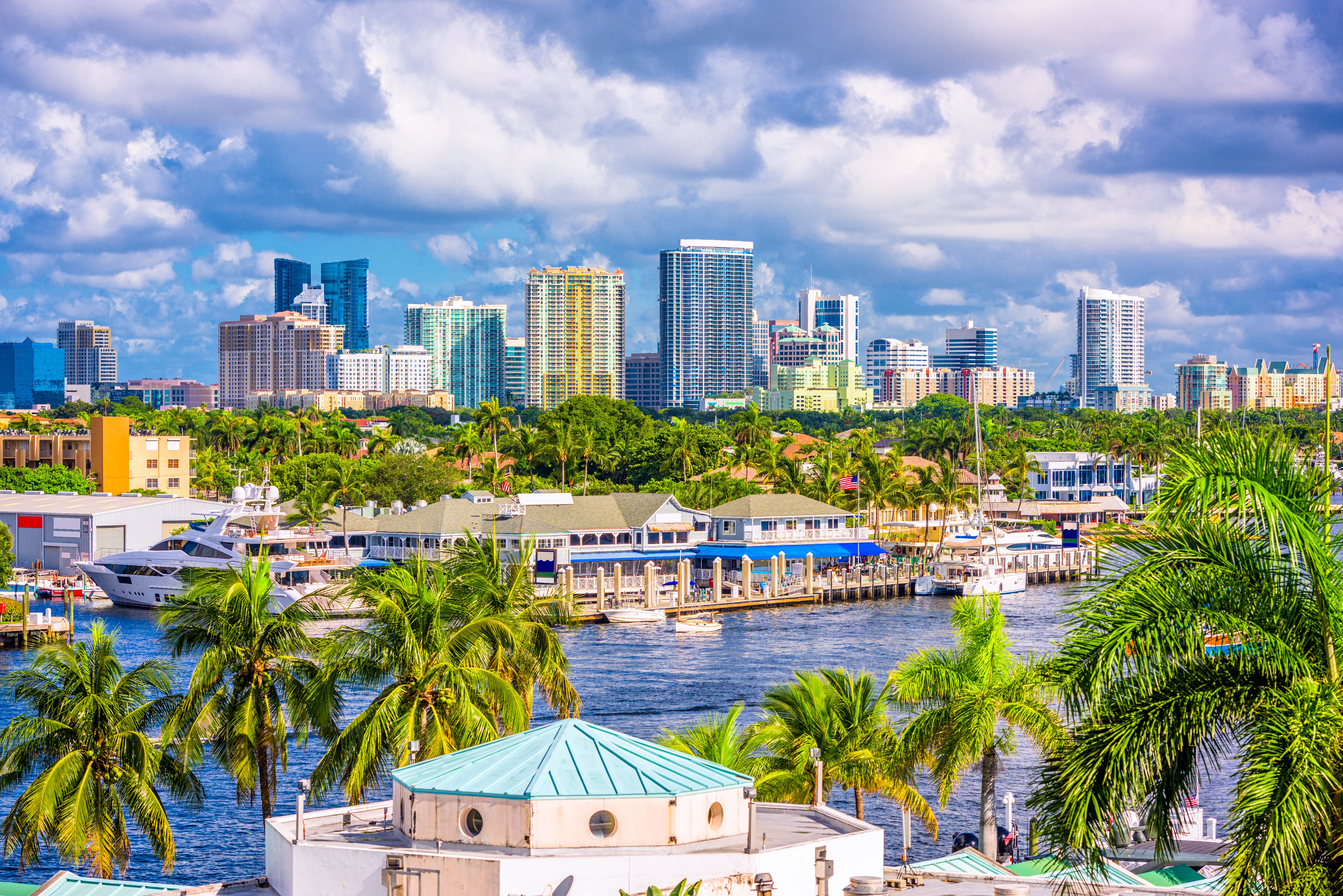 Fort Lauderdale is also a premier source behind South Florida's reputation as the "Internet Coast." The region is home to over 6,000 high-tech firms, including AT&T and Citrix Systems. Software, international trade, financial services, and tourism make up the bulk of Fort Lauderdale's industry.
Not only is the city of Fort Lauderdale an ideal home for businesses, but its quality of life makes it an inviting location for residents.
The city has a world-famous beachfront with four miles of publicly accessible coastline, with inviting shops, sidewalk cafes, and exciting entertainment venues.
Let's take a closer look at the numbers that make Tampa so enticing to corporate America.
Corporate Income Tax – 5.5%

County Sales Tax – 1%

Personal Income Tax – 0%

Estate/ Inheritance Tax – 0%

Cost of Living – 120.8

Price per square foot for Class A Office Space – $45
3. Jacksonville
Jacksonville provides an ideal business climate for companies looking to relocate. The largest city in the US is characterized by easy access to travel, stunning scenery, and a booming job market. Lovingly referred to as "Jax," by locals, its diverse economy is predominantly compromised of financial services, transportation and logistics, health and biomedical sciences, manufacturing, IT, and defense contracting.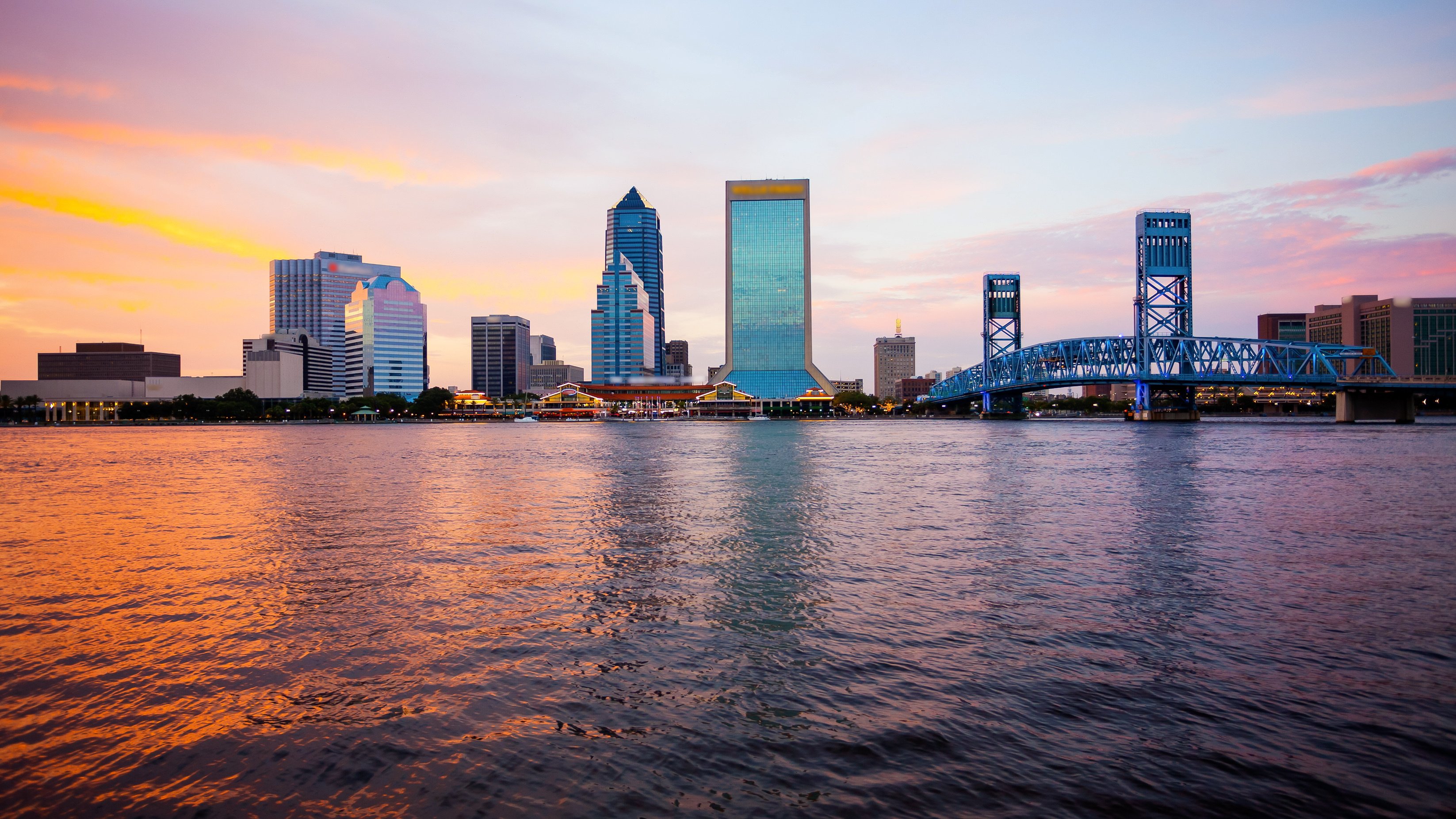 As people all over the country clamor to move to Florida, many have found a home in South Florida. Unfortunately, as the demand has increased, so have the prices. In contrast, Jacksonville has provided consistent low prices, making it an excellent opportunity for businesses looking to cut costs by moving to Florida.
Not only is its environment a desirable location for businesses, but its natural features boost the quality of life of those who call it home. For example, Jacksonville provides more waterfront than any city in the US, with 27 miles of coastline. It is also a hotspot for outdoor recreation, with everything from boardwalks and retail to dining and nightlife.
Let's take a closer look at why businesses are rushing to get a spot in Jacksonville:
Corporate Income Tax – 5.5%

County Sales Tax – 1.5%

Personal Income Tax – 0%

Estate/ Inheritance Tax – 0%

Cost of Living – 94.3

Price per square foot for Class A Office Space – $25
4. Orlando
There is a lot more to learn about Orlando than Disney. The city's development-friendly local government fosters the growth of existing businesses and entrepreneurs alike. Its population density, access to resources, and reasonable business costs consistently rank it as one of the top cities for business in the country.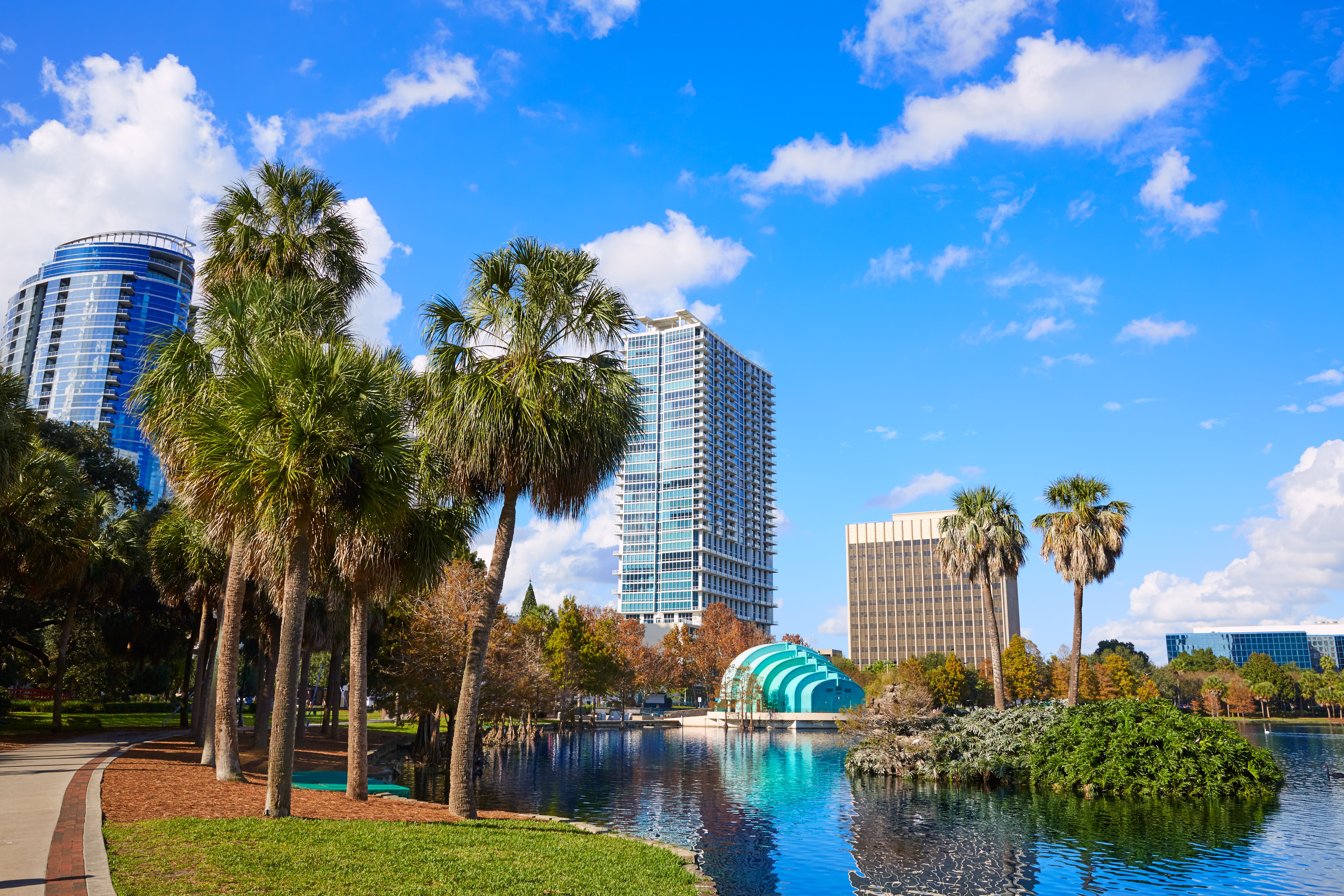 Orlando is also the host to a wide range of well-performing industries, including tourism, advanced manufacturing, biotech, aerospace, defense, and simulation. More than 30 post-secondary institutions support these areas of focus.
A business location in Orlando will come along with access to a strong and stable labor pool.
Relocating to Orlando also promises financial and lifestyle perks. One of the "top cities of the future," Orlando has a strong quality of life characterized by skyscrapers, entertainment centers, retail, parks, and lakes.
We know that Orlando provides a strong community for businesses and individuals alike, but let's look at the data that has companies clamoring to get a spot in the city.
Corporate Income Tax – 5.5%

County Sales Tax – 0.5%

Personal Income Tax – 0%

Estate/ Inheritance Tax – 0%

Cost of Living – 99.3

Price per square foot for Class A Office Space – $28
How a Tenant Rep Can Ease Your Florida Relocation
As you know, there are many moving parts in corporate relocation. The process can seem extremely overwhelming, from scouting viable properties and market research to negotiations with landlords.
That is where tenant reps come in. As real estate professionals with over three decades of experience assisting our corporate clients with their moves, we have the procedure down to a science.
We can help you throughout every stage. And as professionals who only represent tenants, you can be assured that only your interests will be acted on.