If you are looking for the best spots for your commercial real estate, you're likely bombarded with options. It could seem like there are so many business hotspots and appealing metro areas that it's impossible to choose.
One of these impressive cities is Boston, which maintains a small-town feel while having access to our country's best and brightest.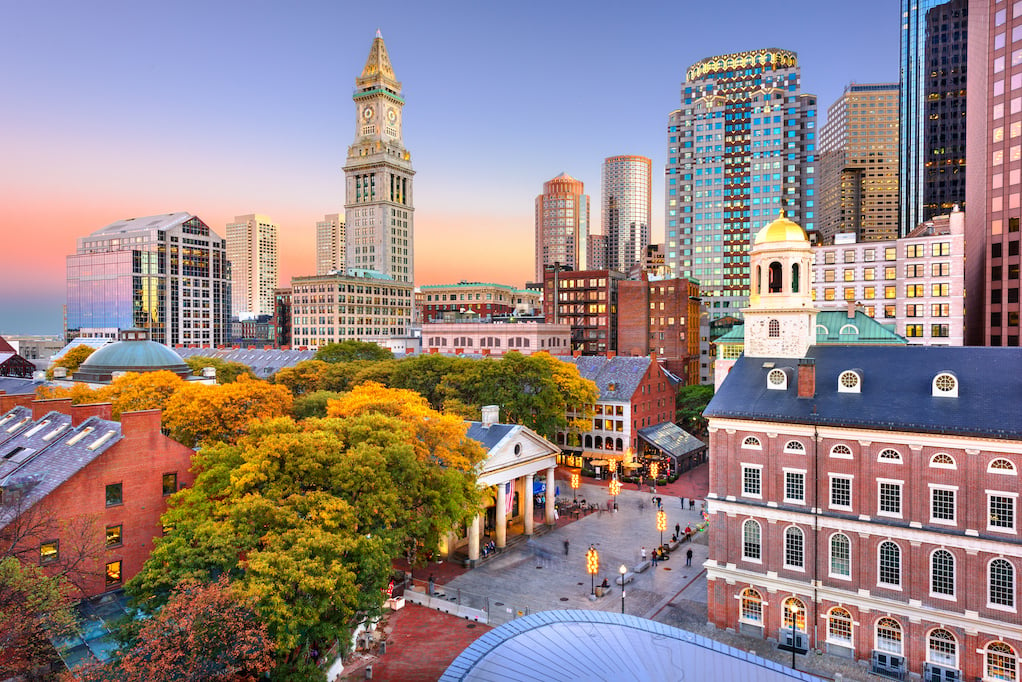 But have you considered the full implications of locating your business in Boston? While giving you access to a unique financial sphere and attractive cultural features, its business environment is competitive, expensive, and hampered by extensive regulations.
How do we know this? As tenant reps, we have been thoroughly analyzing the country's most popular cities and regions for business to help our corporate clients find the best properties with optimal features. Of course, geography is a central concern in this pursuit. So if you are interested in learning more about Boston's influence on your business and commercial real estate, read on. We will outline the positives and negatives of locating your company in Boston, so you can make more informed decisions for your CRE.
Pros of Locating Your Business in Boston
There are numerous reasons why so many companies have found success in Boston. Let's take a closer look at the specifics here.
World-Class Talent Sourcing
One of Boston's truly unique benefits is its access to talent. It is among the top 10 most academic cities in the world.
When most people think about Boston's schools, Harvard may be the first thing to come to mind. But, while Boston is home to our nation's most prestigious secondary institution, its access to academia doesn't end there. There are over 100 colleges and universities in the Boston Metro area. Some of the top names in education, including MIT, Tufts, Northeastern, and Boston College, are all within the area.
Due to the allure of Boston's education, hundreds of thousands of college students flood the city. In fact, the state of Massachusetts has the highest concentration of Bachelor's and Master's degrees.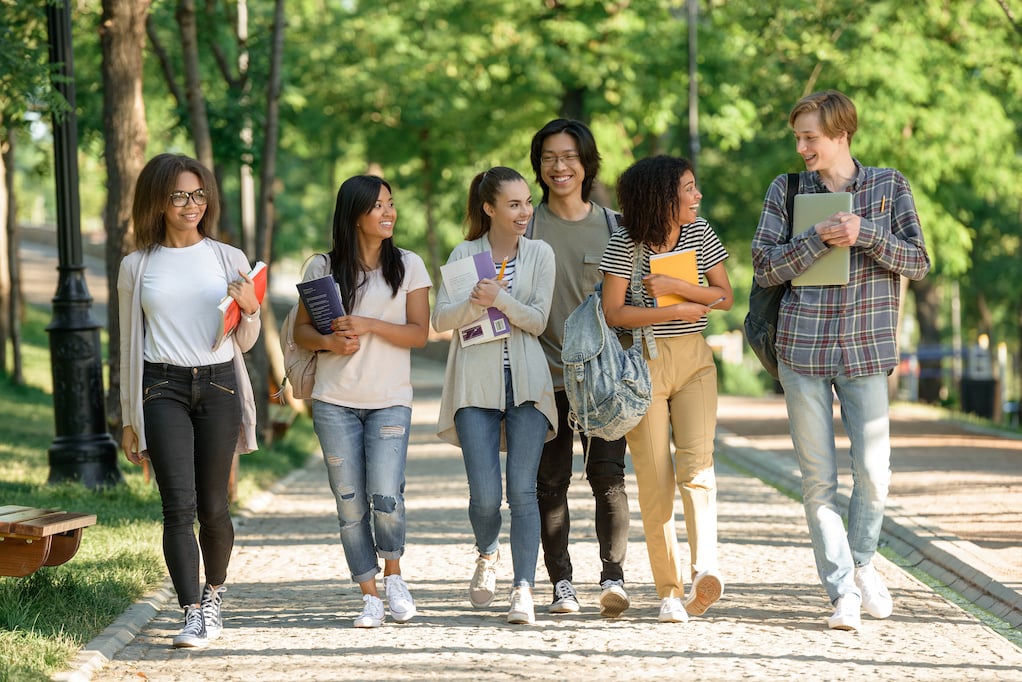 This creates an immense degree of social capital for Boston businesses. Not only this, but it also makes for a corporate recruiter's dream. Boston is an epicenter of world-class, highly educated talent.
Strong Business Sphere
As one of our nation's first cities, Boston remains a central tourist location. Since its revolutionary roots, it has persisted as a hotspot for education and culture. As a result, Boston maintains a vibrant and diverse economy that promotes local stimulation.
Many startups and tech-based businesses have found footing in Boston's environment. Due to its talent specialization, capital, population density, connectivity, and cultural statistics- Boston has earned a spot among the top cities for startups. According to the Boston Business Journal...
"Boston earned the top spot by having a clear emphasis on next generation tech companies specializing in education, energy and healthcare industries."
Boston and its neighboring city Cambridge are the sources of incredible tech influence. They provided the perfect balance of factors and intellectual capital to develop both Facebook and Microsoft.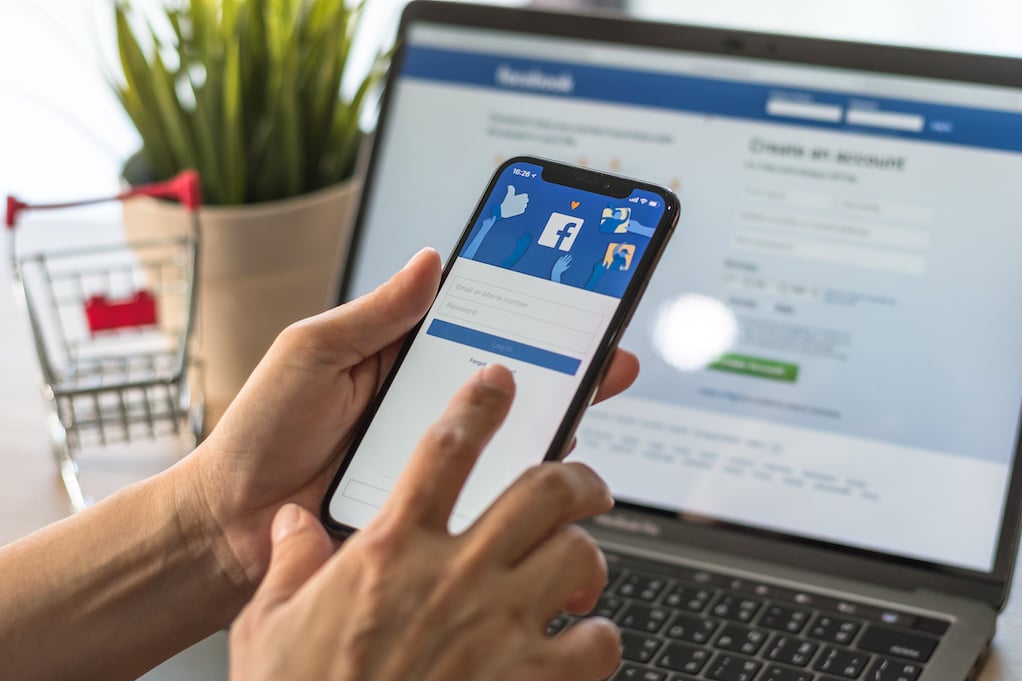 Boston's business environment has established itself as a force to be reckoned with. As a result, billions of investor dollars are circulating the Boston financial sphere.
According to Underscore.vc a Boston-based venture capital firm, the city provides...
"An intersection between academic, technological, and healthcare excellence, Boston is a breeding ground for collaboration in its purest forms through cross-disciplinary efforts. (As a result,) Boston is fostering industries that will define humanity and boast the most noteworthy advancements in the near future."
While it possesses an impressive financial sphere, Boston also maintains a small-town feel. The city's residents benefit from a higher quality of life as Boston is one of our country's most walkable cities.
Overall, Boston's business environment boasts many positives for any business.
Cons

of Locating Your Business in Boston
While Boston boasts an impressive working environment, it is not perfect. Let's go through why you may want to reconsider locating your business in Boston.
Expensive Cost of Living
Boston is one of the country's most expensive cities. With a cost-of-living metric of 160, it follows only New York City and San Francisco in terms of overall prices. When the average cost of living in the US is 100, Boston is subject to over 1.5 times the expenses. While Boston is an attractive location for businesses, it doesn't come cheap. It is among the top 1% of expensive cities in the world.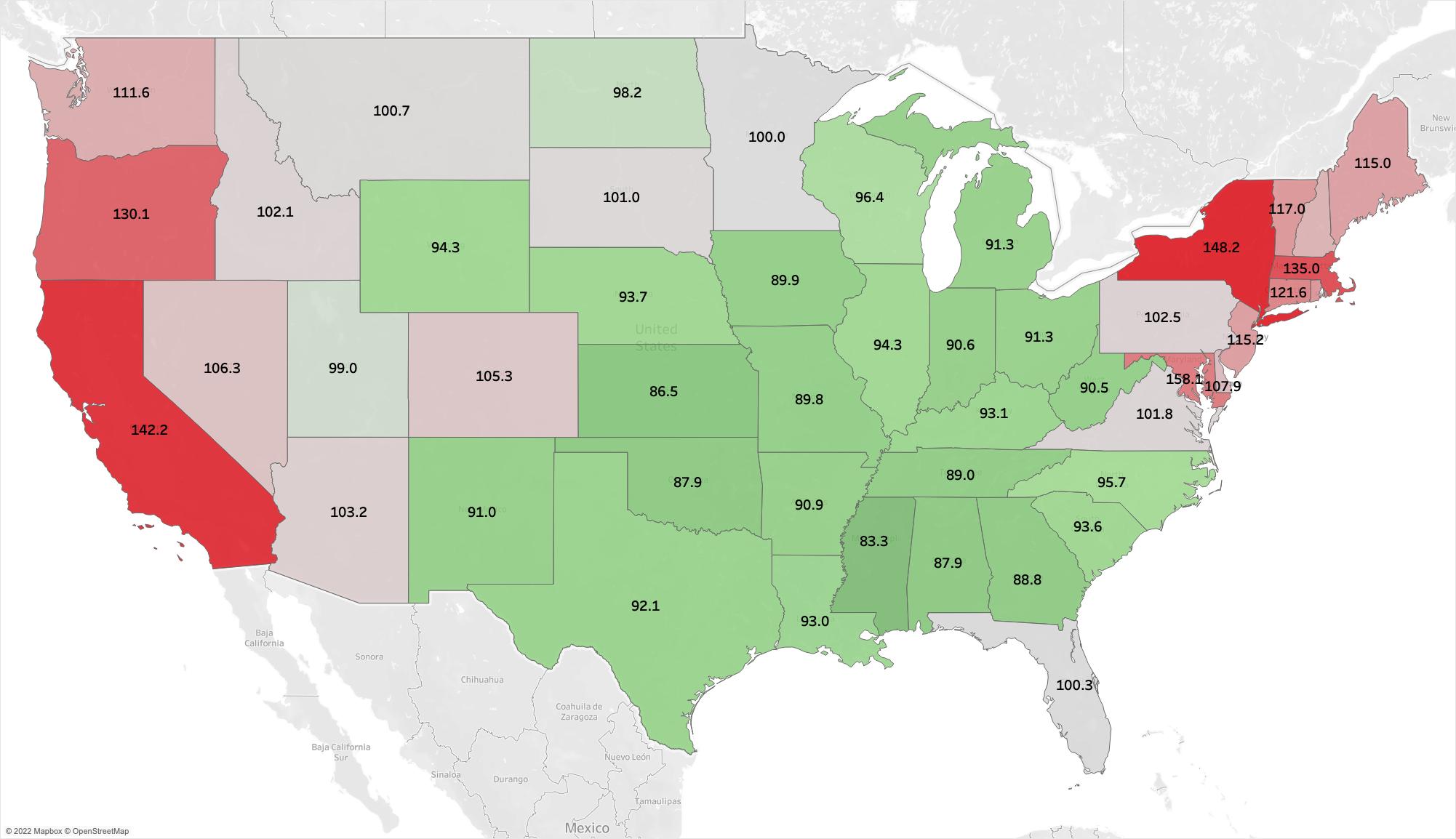 State-level cost of living across the U.S. where the national average is 100.
These prices are reflected in the commercial real estate rates. As a result, businesses looking for affordable office space are better off setting their sights on a more business-friendly region. Class A office space goes for almost $60 per square foot.
To put this in perspective, you can find Class A office space for much cheaper in business-friendly states like Texas or Florida. Going rates for one square foot of Class A office are only $34 in Houston and $27 in Jacksonville.
To fully understand how much money you could be losing by locating your business in Boston, let's compare the savings you would encounter over five years if you were to move your Boston headquarters to more reasonably priced Jacksonville.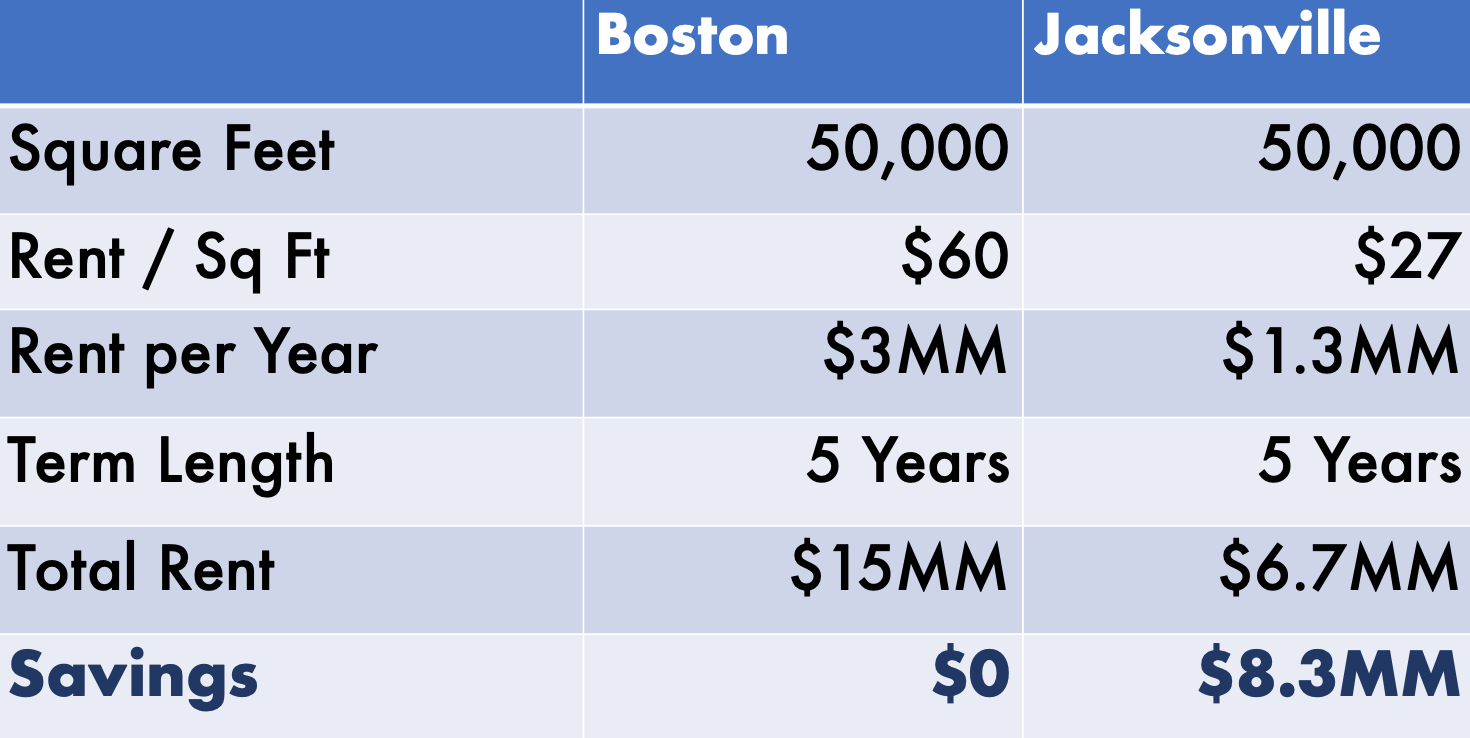 Massachusetts is Business-Unfriendly
Massachusetts is renowned for complicating business ventures. The state's regulations and tax rates make it an extremely challenging location for corporate success.
Out of the 50 states, Massachusetts was recently ranked among the worst for business by our country's top CEOs. High taxes, more substantial regulatory burdens, and excessive living costs were the reasoning.
Massachusetts, though, is only the tip of the iceberg as most of the Northeast does not provide a welcoming environment for businesses. Nearby states like Connecticut, New York, and New Jersey further perpetuate the region's anti-business culture and reputation.
Complicated record-keeping, complex tax filing systems, and numerous regulations make the region a prospective nightmare for companies.
Environmental Standards
In recent years, the political climate of Massachusetts and Boston has created new standards for buildings to comply with. Boston is the first US city to require a green building standard for large-scale municipal projects.
Buildings must be planned, constructed, designed, and managed in adherence to the city's standards to reduce greenhouse gases. Article 37 is the edict that requires environmental compliance. What does this mean for office or retail projects? There are specific requirements that must be met for the city to sanction approval. They must meet at least one "high-value" requirement out of the following:
Provide shuttle service to public transport

Implement a parking cash-out program for employees utilizing public transport

Fifty percent transit pass subsidy for all on-site employees
In addition, four "basic" requirements must be met from the following list:
Provide garage occupancy information by installing electric monitors

Pre-tax payroll deduction and distribution for T passes for on-site employees

Provide covered secured bicycle storage with changing/ showering facilities for at least 5% of occupants

Provide on-site ATM and direct deposit of paychecks

Provide preferential parking spaces for carpools

Provide preferential parking for alternative fuel or high-efficiency vehicles

Provide on-site electric charging plug-in stations
Tenants should be aware of how these requirements will influence their CRE budget. Landlords may attempt to push through any extra costs from compliance to tenants. As a result, if you are not careful, Boston real estate will be even more expensive than it already is.
Taxes
In terms of taxes, it only gets worse. Massachusetts currently has an 8% corporate income tax rate, a 5.1% personal income tax rate, and a 6.25% sales tax rate.
The 8% corporate income tax may not seem too unreasonable, but numerous states in the country do not tack on any tax for corporate income. As a result, corporations could save millions in taxes alone by moving from Boston to one of these states.
Should You Locate Your Business in Boston?
While Boston provides numerous advantages to its companies, the city's environment is not necessarily perfect for commercial success. Boston is one of this country's cultural centers. However, this prestige comes at a price. Overhead expenses are multiplied in Boston due to the expensive cost of living. Similarly, it is challenging to find Class A office space at a reasonable price.
So it is up to you to decide whether Boston's pros are worth the cons. For some organizations, it could provide the perfect environment. However, others may be more suited to other business-friendly states and cities.
No matter what you decide, a tenant rep can help you find your optimal real estate solutions. By working with our corporate clients for over three decades, we have the process of finding commercial space down to a science. As a result, we can help you not only with the geography of your business but direct you to optimize space utilization, leasing alternatives, and beyond.
If you do decide that relocating is in your best interest, but Boston isn't- you have options!