It's no secret that the United States is experiencing a mass migration. People are moving all over the country in search of better opportunities. Why is this happening? Through the pandemic, people became more mobile. First, the increasing lifestyle flexibility from remote work gave Americans more freedom. Second, the divide between states that encouraged business growth and challenged growth worsened. As a result, the newfound freedom allowed Americans moved to these "business-friendly states." And there are a couple of reasons why these regions are more sensible for finances (and beyond):
Much lower taxes

Better quality of life

Less strict regulations

Lower crime

More favorable weather
These moves are longstanding as people look harder at the potential locations for laying down roots. According to address-change-request data from the United States Postal Service, "permanent address change requests jumped 3.3% to over 10.2 million between 2019 and 2020. 2021 saw similar results."
So, think about how this applies to your Commercial Real Estate (CRE).
This information is gathered from the United Van Lines National Movers Study. It is essential if you're a business looking to recruit talent. Keep reading to discover which states are losing the most people and why you should be wary of placing yourself there.


Why Should Businesses Pay Attention to Moving Trends
A better question would be: why wouldn't they??
The market is in favor of the job seeker right now. With low unemployment and increased demand for workplace flexibility, corporations are paying more attention to methods that will make themselves more competitive recruiters. A major way to do this is to get ahead of relocation trends and position yourself where talent bases are. (And beware of dying locations marked by dwindling demand.)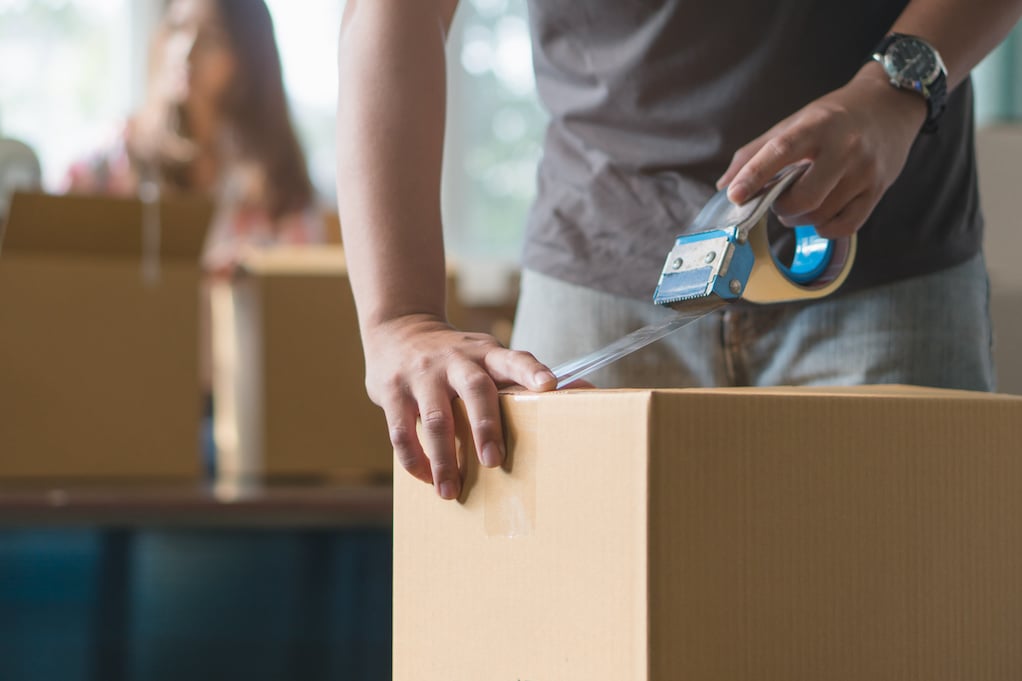 It's also key to remember that most states on the list are encountering population deficits as the outbound moves outnumber the inbound. Moreover, the conditions that are actively driving people away are longstanding and not likely to change within the next few years.
Many of these states have earned a spot on the list for multiple years and should bear a red flag for businesses thinking about where to place their properties.
1. New Jersey
New Jersey tops the list of states with the most outbound migration. Out of all moves the state experienced, 71 percent were leaving. Yikes!
Maybe New Jersey's tax environment will shed some light on why its people are clamoring to get out. The income tax for the state's top earners is 10.75%. The Garden State also hosts the highest corporate income tax in the country at 11.5%, with companies observing steep increases in this metric since 2017.
However, the costly tax rates don't end there. New Jerseyans also suffer from expensive sales, estate, and inheritance taxes. Want to hear something scary? According to Bloomberg,
The average resident of New Jersey will fork out more than $930,000 in taxes in their lifetime
With these metrics, it's no secret why Jersey was also named the worst state for business for four years in a row- survey by Wallethub.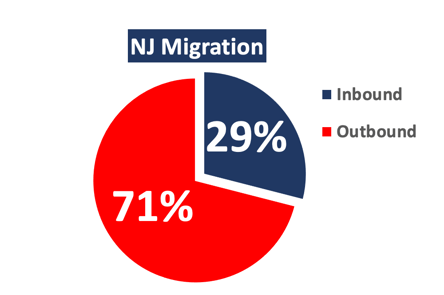 2. Illinois
Illinois has been witnessing a significant population decline for years. With 67% of moves outbound, those leaving have quality of life concerns, including crime, traffic, and weather. However, it goes deeper. For the quality of life, the tax rates are extreme. Like Jersey, the tax rates are a main impetus for leaving. Illinois' hub, Chicago, has the second highest combined sales tax rate in the country at 10.25%. Illinois also levies extremely expensive property taxes forcing its citizens away from property ownership.
The state of Illinois also carries hundreds of billions in outstanding debt. As a result, the taxes will not likely decrease any time soon. But beyond the taxes, Chicago is not safe. The city has the wost crime rates it ever has- and that's saying something. Fears of criminal outbursts are driving away businesses, locals, and tourists alike!
Illinois also consistently earns a spot on the list of the worst states for business. (11 years in a row). It may as well wave a red flag and scream "Stay away!"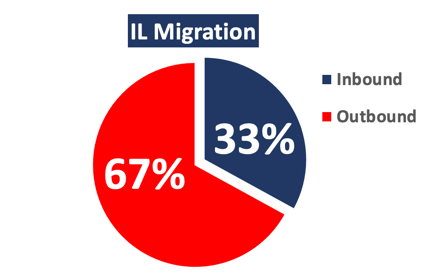 3. New York
The state is notorious for extreme expenses and strict regulations. Despite being one of our country's epicenters of business and culture, citizens are rushing to get away. New York experienced 63% outbound migration in 2021.

The cost of living is not sustainable for most Americans, forcing them to search for greener (and more affordable) pastures. And why shouldn't they? Anyone who has been to New York or Manhattan lately was hit in the face with grossly inflated expenses. Oh, and there's the crime.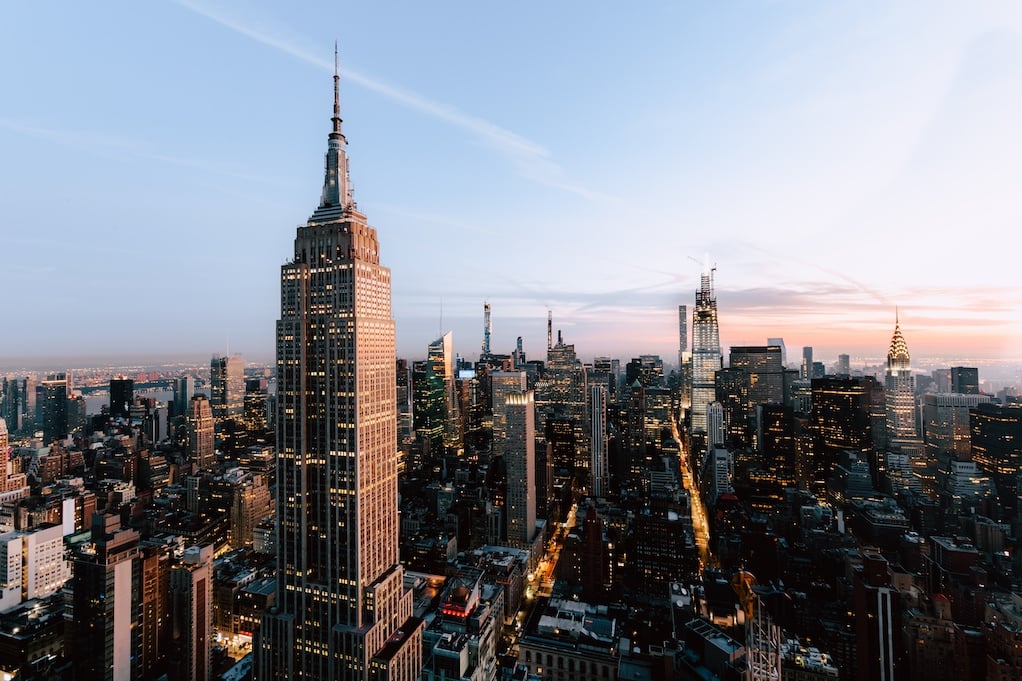 Oh and if it wasn't bad enough that it's not safe, good luck finding affordable living. In NY's unofficial capital, Manhattan where average home prices in 2020 were $2.2 million. For comparison, this is almost ten times more expensive than average home prices in Texas. In Texas you get beautiful weather year-round, low taxes, and easier regulations (not to mention, safety) all for a fraction of the price of New York!

With average monthly rents in Manhattan topping $5,000, it's no wonder New Yorkers are moving quickly. Unfortunately, this is not an isolated phenomenon. People are no longer willing to put up with outrageous overhead anymore (and with good reason).
4. Connecticut
More bad news for the tri-state area! Connecticut is fourth on the list with 60% outbound migration. The state has seen significant relocations since COVID, but truthfully, it has been experiencing a population decline since 2011. This is in part due to outbound migration but also declining birth rates.
With most leaving for better job opportunities or to be closer to family, taxes certainly don't help. Connecticut residents are subject to a collective burden of 12.6% when various state and local taxes are considered. In a lifetime, this will cost the average person $805,000.
The population in Connecticut is also changing. According to the Connecticut commission for economic growth and stability "the state has been losing disproportionate numbers of high-earners and entrepreneurs and they're largely being replaced by unskilled workers."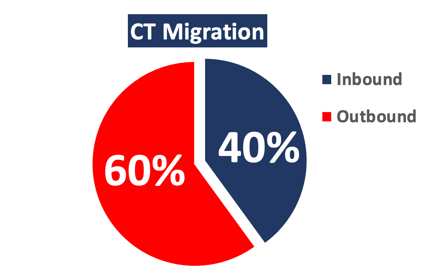 5. California
The moves out of California should come as no secret. Like NY, California is notorious for its unreasonable prices. The cost of living requirements are unlivable for many Americans, at nearly 1.5 times the national average. As a result, California is slowly and surely driving away its natives and corporations with skyrocketing expenses.
Despite the allure of cities like LA, San Francisco, and San Diego, 59% of Californian moves were outbound. This reveals that the tide is turning. Areas that used to draw in talent bases are now pushing them away at exponential rates.
It's not only the outrageous living costs and taxes making the state unlivable. The state is becoming crime-ridden, and those braving the changing environment are fed up. San Franciscan citizens were so frustrated by dangerous crime and homelessness that they recalled their District Attorney!
On top of the crime, how about wildfires? Why would anyone in their right mind want to pay such expenses for all that mess! Of course more people are leaving than entering.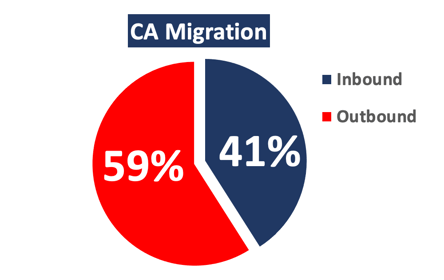 6.

Massachusetts
Like many states on this list, outward migration is nothing new. Massachusetts has been actively losing residents for the last 20 years. And the people leaving represent a significant loss of wealth. According to the Boston Herald,
"Massachusetts has seen a net loss of $20 billion to other states, especially New Hampshire and Florida where taxes are much lower."
What does this say about how populations are changing? We aren't talking a few people leaving- we're talking $20 billion of people leaving.
Why- how about taxes, extreme cost of living, expensive gas? The taxes in Massachusetts are so severe that average citizens will pay $827,000 in taxes over a lifetime.
For corporations? Massachusetts is accused of being anti-business. But, like in New York and California, the significant concern is the cost of living. Massachusetts' capital Boston is among the top 1% most expensive cities in the world!
Relocating out of States with Outbound Moves
What do most of these states have in common? Many host at least one major metropolitan area. This points to a greater trend away from cities towards the suburbs. This is likely due to a combination of high taxes, cost of living, and crime rates. Consider how this trend toward the suburbs will affect opportunities to improve your commercial real estate.
Americans no longer want to put up with high prices and tax rates for densely packed cities.
This is largely a byproduct of "COVID-19's impact on domestic migration patterns, with 2021 bringing an acceleration of moves to smaller, midsized towns and cities," Michael Stoll, an economist and public policy professor at the University of California, said in a written statement.
"We're seeing this not only occur because of Americans' desire to leave high density areas due to risk of infection, but also due to the transformation of how we're able to work, with more flexibility to work remote."
Businesses should be aware of these moving trends as they will have an increasingly difficult time recruiting top talent from these areas. The landscape is changing. Areas that used to be focal points are now driving away people and businesses in droves.
If you're looking to relocate or shift your CRE, think about what would best improve your bottom line. As Tenant Reps, iOptimize Realty® has noticed the trend towards business-friendly states. We have seen how our corporate clients can save tens of millions by moving to areas more sustainable for financial growth.
Want to learn how? Talk to a Tenant Rep today.
Considering moving some or all of your business operations? Here are The Top States for Business.