It may be time to rethink your commercial real estate.
Your geography is critical to the success of your CRE projects. So, if you're in the wrong location, your CRE is actively losing you money, robbing you of access to new talent pools, and limiting your overall growth.
As Tenant Reps, we have seen how critical the right location is to individual properties and entire portfolios. Not only this- but we have noticed how much our corporate clients can save by overhauling their CRE and relocating to more financially sensible areas. This is especially true if you're currently located in one of the worst states for business.
So, if your business has one or multiple locations in Massachusetts- we have good and bad news for you.
The bad news? You're in a state that challenges corporate growth in numerous ways…but the good news? By relocating, you could potentially save millions and greatly improve your bottom line.
We're not advocating for anyone to move out of Massachusetts- just giving the considerations everyone should beware of before making CRE decisions for their geography.
So let's take a look at the business environment surrounding Mass and decide whether it's worth it…..
Massachusett's Business Environment
The Wealth Migration out of Massachusetts
Business Moves out of Massachusetts
Is Massachusetts Right for Your Business?
Massachusett's Business Environment
Let's start by laying the groundwork. Massachusetts and its cultural center, Boston, are one of the country's top hubs. With a secondary education system that puts other states to shame, it is definitely somewhere you want to be if you are looking for new, fresh, and educated talent.
Among adults 25 or older, 44.5% have a bachelor's degree or higher. This talent pool is also historically innovative. Facebook and other startups have been built from the ground up in Boston.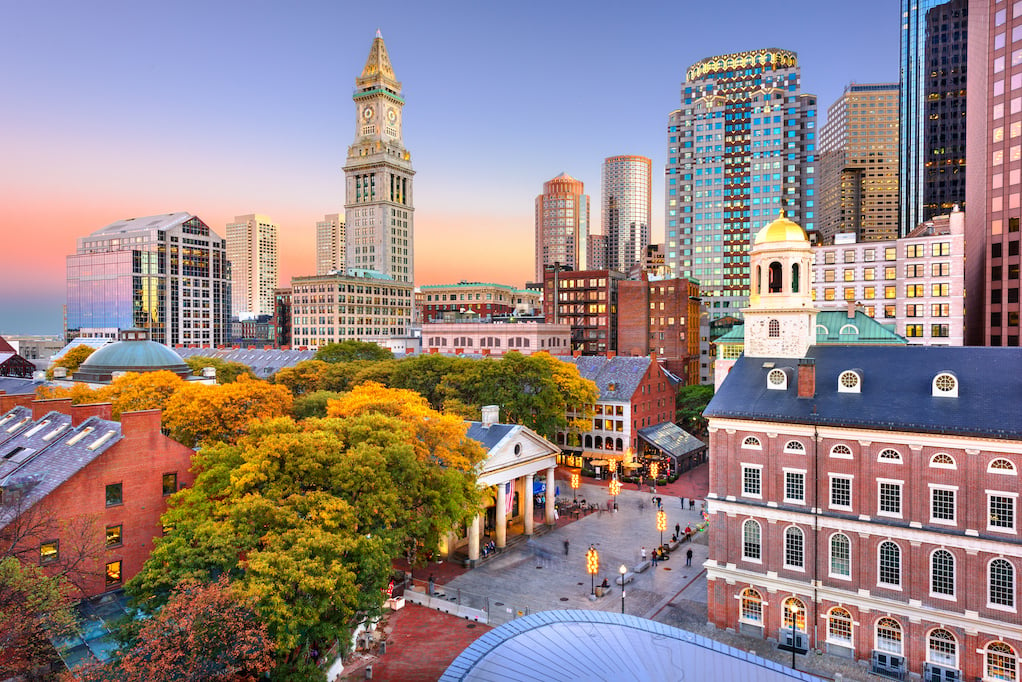 There are few other places in the world where you can find such an impressive density of upper-level degrees. In fact 3 out of the 10 American cities with the most Master's and Doctorate degrees belong to Massachusetts. Such a staggering figure proves that Massachusetts is an undeniable source of knowledge, ingenuity, and hard work.
Not only this, but it is one of the strongest brain trusts in the country. There is perhaps no better place for companies looking to source smart, adept talent. Harvard, MIT, Northeastern, BU, Tufts (to name a few) are some of the secondary education institutions in the Boston area alone. As a result, Mass. is home to one of the most prestigious academic networks in the world. It is a mecca of research, high-performing technology, and life sciences.
Unfortunately, this environment may not hold enough allure for some Mass citizens and businesses.
In recent years, Massachusetts has seen record outbound moves. In fact, it is ranked among the top 10 states experiencing outward migration. Now, couple this with the fact that it falls to the bottom of the list of states people are moving to.
These statistics beg the question: Where is Massachusetts industry going?
The Wealth Migration out of Massachusetts
With outbound moves increasing, the economy persists on shakier grounds.
According to the Boston Herald,
"Massachusetts has seen a net loss of $20 billion to other states, especially New Hampshire and Florida where taxes are much lower."
It seems that COVID and remote working accessibility have sped up the outward migration from Massachusetts, but in reality, it has been in full swing for about twenty years. If you take a hard look at Boston's ability to recruit and maintain a corporate presence- the trouble didn't only start with COVID.
The study discussed by the Boston Herald, found that "Wealthy residents and businesses are leaving the state at a troubling rate" since about 1983.
The sheer amount of outward moves are characteristic of an environment that is not sensible for financial growth. For example, not only does Massachusetts have a high cost of living, but it has one of the highest corporate income taxes in the country.
Similarly, Boston's cost of living is the third most expensive in the country, earning a spot among the world's top 1% of most expensive cities.
And when we look at where Massachusetts ex-pats are going, it makes sense. Over half of the wealth Mass lost flew down south to Florida. Why? Florida is one of the country's most business-friendly states with an affordable living cost and low taxes.
So, people are moving out of Massachusetts, but they are not alone. Massive corporations have decided they are better off relocating out of The Bay State. Just for reference, let's see how much a business could save by moving from Boston to Jacksonville in Florida.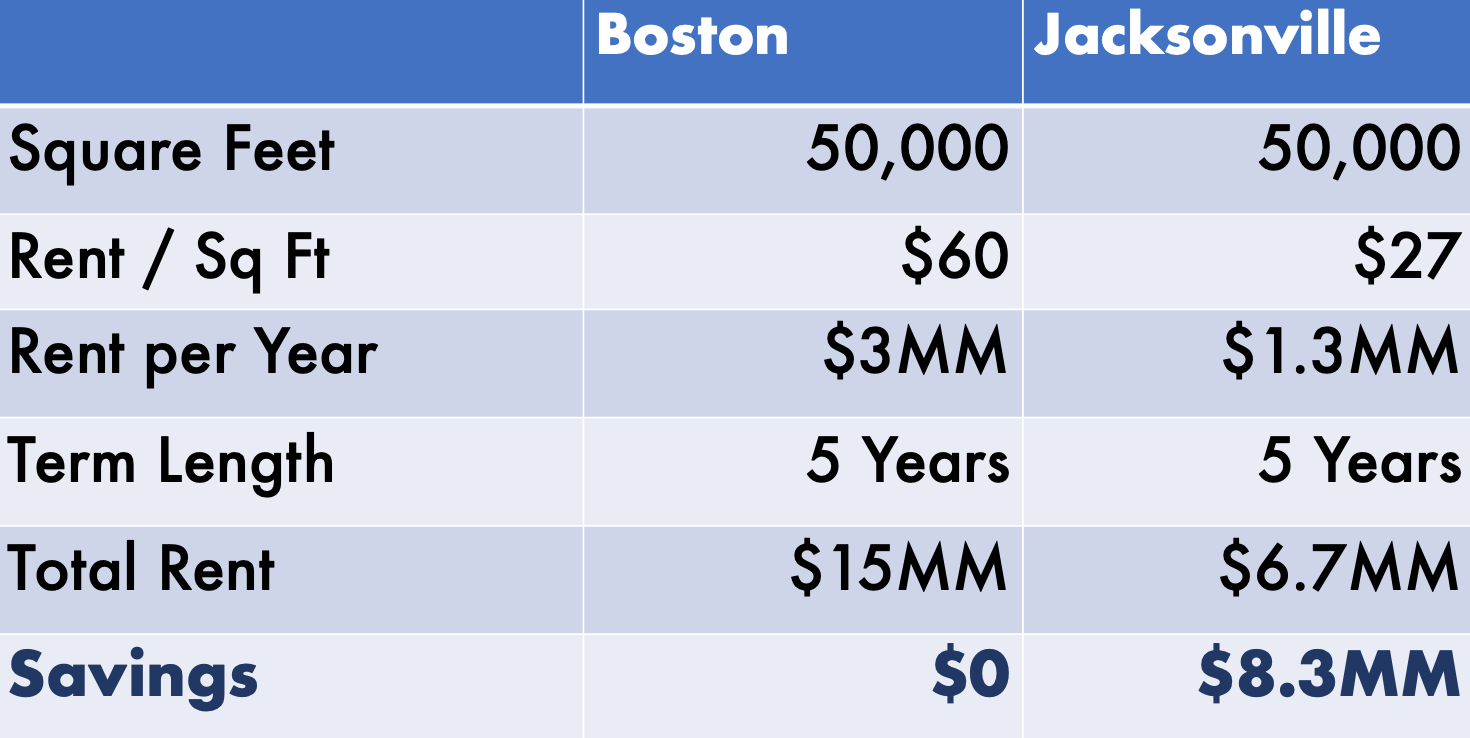 Shocking Business Moves out of Mass.
After 100 years in Massachusetts, Raytheon sold its Massachusetts headquarters and moved down to Arlington, Virginia. The move was unprecedented.
Raytheon, one of the world's largest aerospace and intelligence service providers, disrupted Mass. industry by relocating from its century-old Waltham property. It proved that something has got to give for Massachusetts businesses.
Fortune 500 companies are evaluating their commercial real estate and making moves by analyzing their optimal geography. For many, this means relocating out of the northeast to the sunbelt.
Raytheon disrupted a 100-year-old legacy, proving that you can reassess your CRE at any time- no matter the commitment. For them, relocating was part of an initiative to become closer to their industry. You have the power to make similar, hard looks at your CRE and what you could do to improve it and ensure it fits your company's needs.
Failed Real Estate Moves in Boston
Another case study of Mass' struggle to recruit or maintain its corporate strength lies with General Electric. Back in 2016, the company publicly transferred its headquarters from Connecticut to Boston, lured by the desire to "refashion themselves as a cutting-edge technology company. Locating to a world-class tech center like Boston perfectly fit with that goal."
However, what they found was that it was far harder to expand in Boston than they had planned. About two years later, the company was forced to significantly scale back its Boston location and abandon its expansion.
It scrapped its plan to build an innovative and (expansive headquarters). Because of this, GE was forced to sell properties to reimburse states for grants. So not only did it cut its space, but it returned 87 million dollars in economic incentives to the city.
GE's flashy headquarters was anticipated as a great financial move for Boston, but it fell flat…So, Is this the tale of a company come on hard times or another disappointment for Boston?
It is likely only part of a bigger picture.
Let's look at another giant who considered a Boston headquarters, Amazon.
In 2018, when Amazon announced it was considering stationing its second headquarters in Boston, it was a huge source of excitement for the city. The city's financial sphere rejoiced at the mega-giant's potential presence in Massachusetts.
However, after months of close consideration and research, Amazon found that Boston's cost of living was too high. So, what does this say to you? If Boston is not a wise move for our country's best and brightest in the industry, maybe it does not make sense to locate your CRE there.
Is Massachusetts Right for Your Business
The bottom line is- you have the power to make strategic moves with your geography. You should never feel limited to your immediate region when it's time to consider relocating.
If you're located in Massachusetts, it may be time to reassess whether this is your optimal location. A high cost of living and stringent regulatory environment challenges corporate growth from all angles. But don't take it from us. Look at the numerous case studies of people and businesses cutting ties with the Bay State (and where they're moving instead.)
The migration to business-friendly states is on the rise. Corporations are slashing their overhead by relocating to states like Florida, Tennessee, and Texas. Know that you're not limited to these states, but others have found success and savings moving to the sunbelt.
On the other hand, Massachusetts is one of the strongest brain trusts in the country. We don't blame you if access to this environment is worth the high costs. If you want access to this talent pool, a Boston office could quite literally be an invaluable asset. Know that if you want to remain in Massachusetts, a Tenant Rep can still help you cut your overhead and fine-tune your CRE.
Relocating is not your only option if you want to improve your commercial real estate. As Tenant Reps, we optimize the CRE portfolios of our corporate clients. Whether this means renegotiating existing leases, capitalizing on space utilization, or leveling the playing field against landlords- working with a Tenant Rep can save you millions.
At iOptimize Realty®, we are Tenant Reps with over three decades of experience working only for tenants. This means we have been around long enough to know the best moves for your corporate real estate.
Want to know how we can help you? Talk to one of our Tenant Rep experts today.