With the ongoing uncertainty and economic challenges faced by companies today, many are seeking out new opportunities for growth and expansion. While some businesses have downsized their workforces and reduced their office spaces, others have taken a different approach and have opted to join the mass-corporate relocation to Florida instead. Many of the biggest corporate names in the country have already established a presence in the state, and other companies are following suit.
But why Florida?
Well, let's pose a question. Are you tired of paying the high real estate rent prices, tax burdens, and every other cost associated with being located in a traditional business hub? What about the strict regulations on top of an already unfeasible, high cost of living?
Well, you wouldn't be alone. One of the most prominent reasons why businesses are moving to Florida is due to the state's business-friendly tax policies. But the allure is beyond it's business-friendly tax nature, the state has a lot to offer. From it's low-regulation policies to its high quality of life, we will examine the key factors driving this migration and why it's important to keep an eye on this trend in the years to come.
Low Tax Burden
Compared to other states, Florida's tax burden is relatively low. The corporate income tax rate is 5.5%. New York, for comparison, is 7.25%.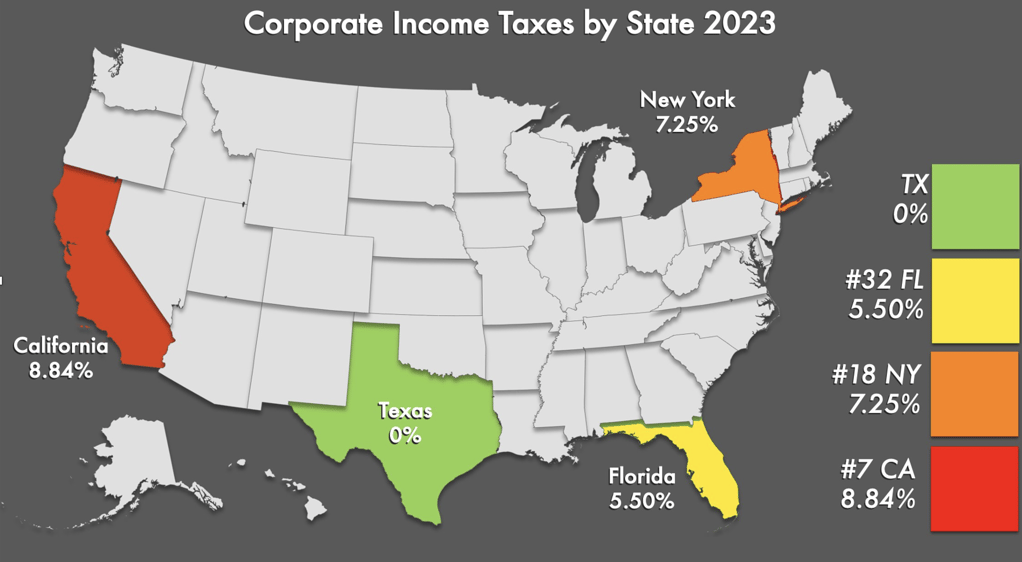 Data according to TaxFoundation.com
And if you guessed that California's is even more, you'd be right. They ring the bell at almost 9%. But, it gets worse. Businesses in Chicago and throughout Illinois are hit with an almost 10% corporate income tax rate. This, of course, translates into significant cost savings for your business if you move your operations or even part of your operations down to Florida.
But of course, it doesn't stop there because Florida is a zero income tax state. This is a huge draw for any team members. Consider Ken Griffiths, founder of Citadel and billionaire. When he moved his operations from Illinois he also reaped the personal benefits from transitioning his residence to a no-personal income tax state. Obviously you don't need to be a billionaire to benefit from living in a no income tax state. The absence of personal income taxes is a significant plus for anyone considering a move.
Low Cost, High Quality
Beyond the tax benefits, consider the positive impact on you and your team should you relocate to Florida. Florida has already gained notoriety as a destination where talented professionals are moving.
The state's high-quality education and warm and inviting atmosphere already make it an attractive location for a talented workforce. People love the high quality of life in Florida, which includes warm weather in the winter, white sandy beaches, local amenities, great restaurants, and much more.
All of this is available without the burden of high crime rates, terrible commutes, and excessive tax burdens that other places have. It's surprisingly affordable, with home prices and apartment rents that are much lower than in places like New York, Chicago, or San Francisco.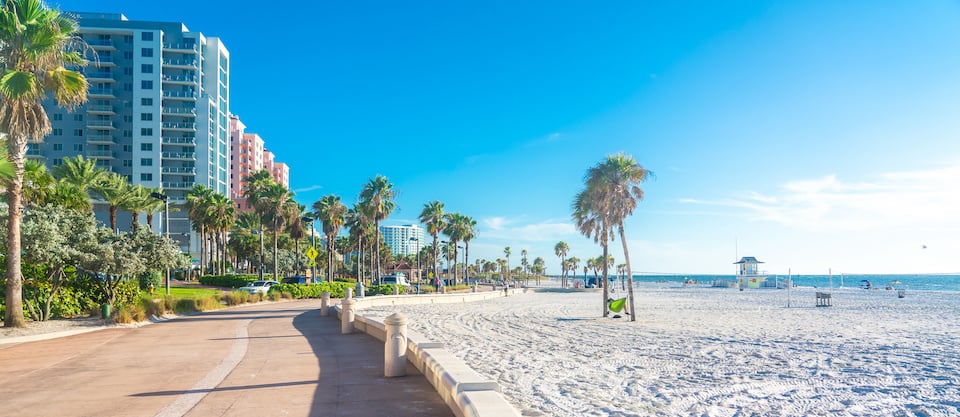 Additionally, due to the state's lower cost of living, average salaries for are lower than in comparable locations. So businesses can benefit from robust talent pools while maintaining relatively low payroll overhead.
Florida is a hub for innovation and creativity, offering a range of cultural events, outdoor activities, great shopping, and excellent restaurants. Many companies have already chosen to relocate or expand their operations in Florida, creating a thriving business environment.
Talent Pools and Access to Education
Florida has quickly emerged as a top destination for businesses and talent alike. One of the key reasons for this is its access to quality secondary education institutions. Across the state, there are several well-respected universities that offer a range of programs in various fields. In Miami, the University of Miami is one of the top schools in the city, with a reputation for excellence in both academics and athletics. Other notable institutions in the area include Florida National University, Barry University, Saint Thomas University, and Miami-Dade College.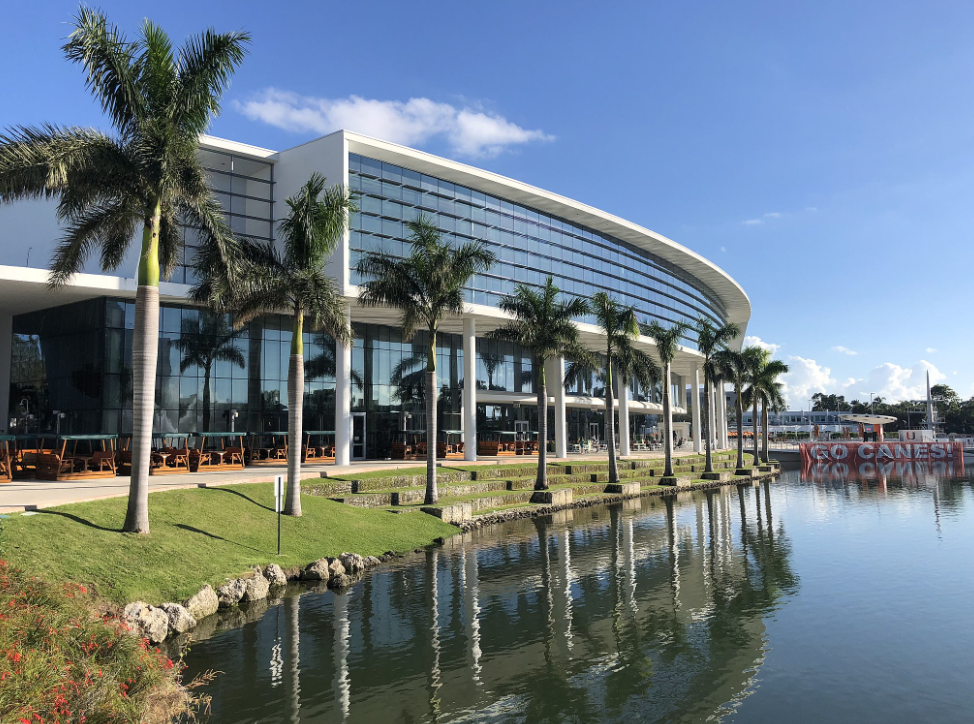 The University of Miami
Fort Lauderdale is also home to top-tier educational institutions such as Nova Southeastern University, which is known for its focus on health sciences and research. Additionally, Florida Atlantic University, Lynn University, and Kessler University have campuses in the area.
In Tampa, the University of South Florida is a leading institution with a large and diverse student body. The university is ranked 97th in the nation and offers a range of programs in different fields.
In Jacksonville, the University of North Florida is one of the top schools in the area, with a strong focus on business and entrepreneurship. Other institutions such as Jacksonville University, Florida State College, and Edward Waters College also have campuses in the city. With a range of educational options and specialties, Florida is well-positioned to continue attracting and retaining top talent in various industries.
Not to mention the flock of employees who have moved South to take advantage of the environment while contributing their own talents.
Low Office Rents
Low office rents in Florida are a significant attraction for businesses looking to relocate. In Tampa, for example, Class AA office rents are around $36 per square foot, which is a very attractive value compared to other major cities like Manhattan where average is closer to $80 per square foot.
Similarly, Fort Lauderdale's Class-A office rents are approximately $44 per square foot, while in Orlando, Class AA office rents go for around $30 per square foot. Even in Naples, Florida, where office space is at a premium, Class AA office rents go for approximately $38 per square foot. These relatively low rents mean that businesses can acquire premium office space at a lower cost compared to other regions which can translate into significant savings.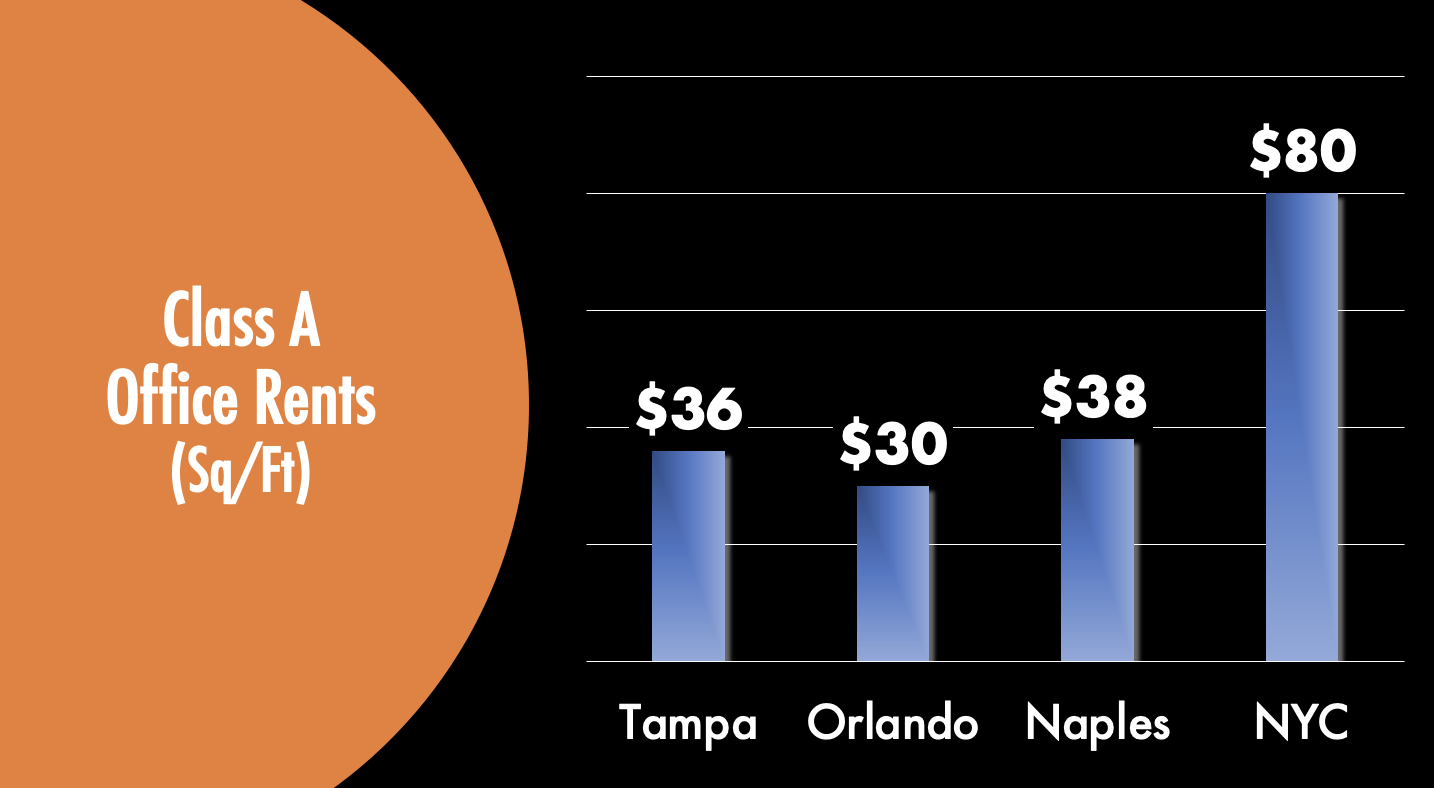 Furthermore, this allows companies to allocate more of their budget towards other critical areas like talent acquisition, marketing, and research and development, which can help them to grow and thrive in the competitive business landscape.
Lower rents are also associated with better or more attractive amenities. This is in part due to the low living cost but also because of the explosive demand for office space in these regions. They have more recently constructed, modern facilities. On the other hand, "More than 70% of office buildings in markets such as New York, San Francisco, Los Angeles, Boston, Chicago and Philadelphia are at least three decades old," according to CoStar.
Is Relocating to Florida Right For You?
So, if you want to relocate to Florida, you can benefit not only your bottom line but the lives of your employees and key stakeholders. If you want help relocating to Florida and where to start, you can work with a True Tenant Rep™. As CRE experts, we can identify the best regions and properties in Florida that fit your needs. Whether this means overhauling your entire portfolio or relocating a singular office to Florida, we are on call. Because at the end of the day, we love Florida. We are licensed experts in Florida (as well as all over the country) and can identify the best opportunities for warehouse and / or office leasing, expansion, and/ or relocation. Because, you don't necessarily need to relocate to Florida to benefit your CRE.
At iOptimize Realty®, we are True Tenant Reps™ who believe tenants have unlimited options to streamline their portfolios. Other than relocating, iOptimize Realty® can provide solutions, including helping you optimize your office space utilization, renegotiating your existing leases, protecting your interests against corporate landlords and more. If you don't want to relocate, we can help you still save money even if you want to remain in a tough market.
If you're ready to talk to a Tenant Rep expert at iOptimize Realty® yourself about relocating to Florida or other CRE solutions in Florida, schedule a brief meeting today.
But, if you want to learn a little bit more about relocating to Florida, Learn The Top 4 Business-Friendly Cities in Florida for Corporate Relocation.