Companies across the country are running from high taxes, expensive housing and gas, and strict governmental regulations.
They are seeking refuge in the Lone Star State, lead by its welcoming business environment. So, if you are tired of the expenses of business-unfriendly areas, it may be time to join them.
How do we know this? As tenant reps, it is critical for us to be aware of where the best locations are for our corporate clients. We have seen how companies struggle due to being stationed in regions that are not conducive to business success. We aren't Texas will provide the right environment for every organization, but it will likely, dramatically reduce costs and improve the quality of life of your employees.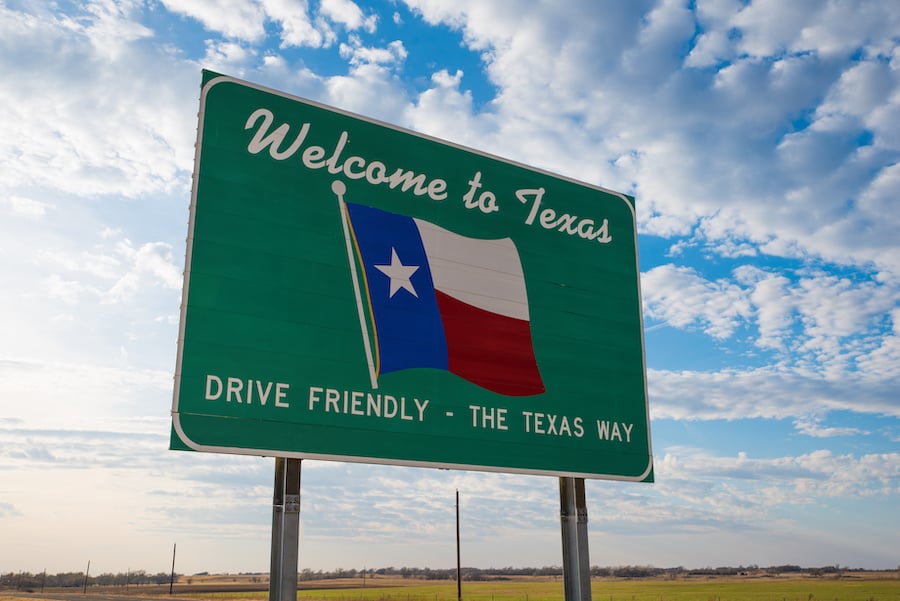 So if you're curious about what a move to Texas can offer you, read on. We will dive into why Texas is a prime location for businesses and the top cities you should be considering in the state, including:
Why Move to Texas?
Texas is the source of more corporate relocations than any other state, and there is no secret as to why. It is consistently named the "Best State for Business" by our nation's top CEOs. Not even for three or five years, but seventeen consecutive years.
The country's largest state is also the ninth-largest economy out of the world's nations. Its environment is characterized by business advantages, including a highly skilled workforce, booming infrastructure, reasonable regulations, incredibly low tax burdens, and a reasonable cost of living.
Texas is a hotbed of industry, encouraging the growth of Fortune 500 companies and small businesses alike. It is also one of the fastest-growing states in the country, with a reputation that attracts the best and brightest skilled talent.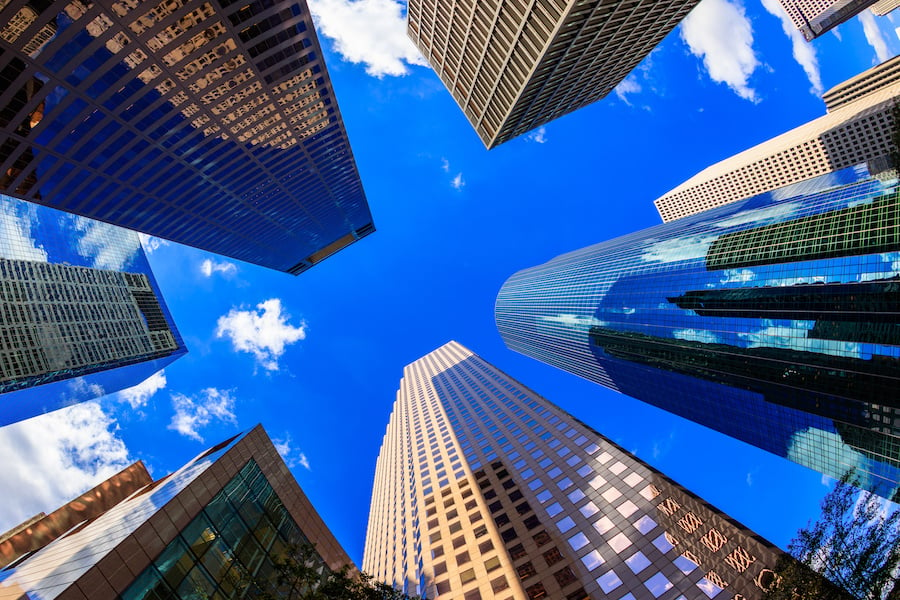 It also simultaneously provides opportunities for culture and natural recreation while maintaining a relatively low cost of living. These factors and more elevate the quality of life experienced by Texan citizens.
Austin
Austin provides a fair yet fiercely competitive and pro-business working environment. It is host to entrepreneurs, small businesses, startups, and tech giants. Would Amazon, Oracle, and Apple call Austin home without reason?
The city is repeatedly ranked as the best place to live in America by the U.S. News and World Report. It also earns the reputation as one of the best cities for young professionals with among the highest concentration of college-educated adults. The Austin area is the perfect source for recruiting highly skilled talent, as the city accommodates 25 colleges and universities.
Austin ensures a robust business sphere by investing in the growth of its companies. In 2019, 1.9 billion dollars was invested in its startups. As a result, it was named one of the top 25 high-growth U.S. cities.
Let's take a closer look at the numbers that make Austin so attractive to businesses:
County Sales Tax – 0%

City Sales Tax – 1%

Estate Tax – 0%

Personal Income Tax – 0%

Corporate Income Tax – 0%

Class A Office Rent per square foot – $48
Dallas
Known popularly as the "financial hub of Texas," Dallas supports its businesses. The tax-friendly location is a junction for major international and national trade. It also offers multiple incentives and programs designed to stimulate its economy, including job training, tax exceptions, and renewable energy incentives.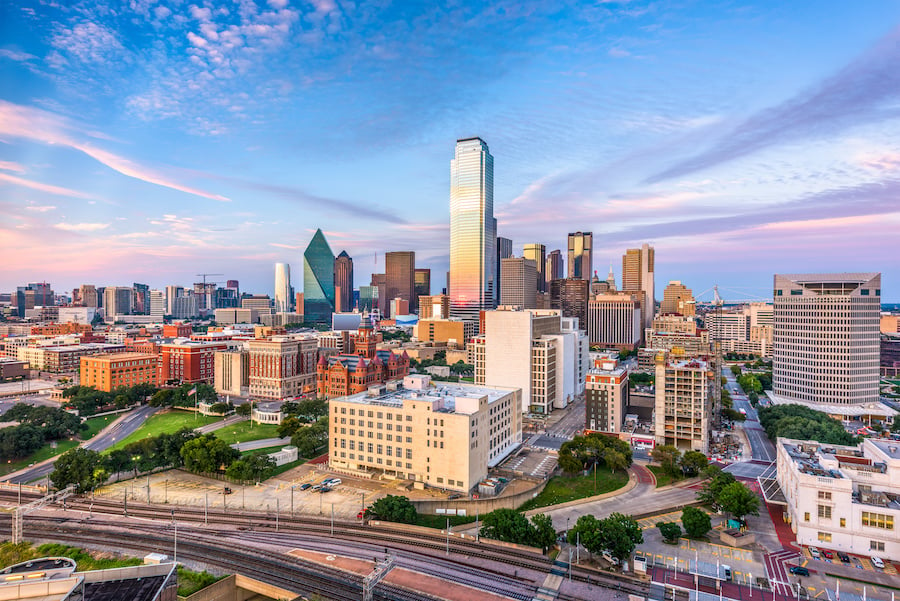 As a result, Dallas is an excellent city to conduct business in. Home to over two dozen Fortune 500 companies, the city also accounts for one-third of Texas's $1.8 trillion economy.
Dallas has also sustained significant population growth. In fact, from July 2020 to July 2021, it accounted for the largest population boom of any U.S. metro area.
Let's look at some stats that make Dallas a premier business location:
County Sales Tax – 0%

City Sales Tax – 1%

Estate Tax – 0%

Personal Income Tax – 0%

Corporate Income Tax – 0%

Class A Office Rent per square foot – $32
San Antonio
The second-largest city in Texas offers an equitable mix of industry and small-town culture. It is ranked as one of Texas's most affordable urban cities while securing a reputation as one of Forbes' "next boomtowns."
The city offers numerous incentives dedicated to keeping its major industries performing well. It invests in its infrastructure while keeping property taxes low. San Antonio's top focus areas include healthcare and bioscience, aerospace, IT, and energy.
The city also offers an abundance of skilled talent, with over 30 institutions for secondary education. As a result, it is a mecca of young grads and entrepreneurs. In addition, much of the city is highly educated and bilingual.
San Antonio is also highly cost-affordable despite being among the top 10 largest cities in the continental U.S. It is also renowned for its rich cultural heritage and quality of life.
To get a better idea of why San Antonio is so business- friendly, let's look at some numbers:
County Sales Tax – 0%

City Sales Tax – 1%

Estate Tax – 0%

Personal Income Tax – 0%

Corporate Income Tax – 0%

Class A Office Rent per square foot – $32
Houston
The nation's fourth-largest city, Houston, is home to over 20 Fortune 500 companies. Houston adopts a pro-growth attitude concerning individual and mass-corporate relocations. As a result, it has solidified itself as the city with the most rapid population growth among the ten most heavily populated U.S. metro areas.
Despite the booming population growth in recent years, the city has maintained a reasonable cost of living under the national average. Accordingly, it is a hotspot for businesses looking to cut overhead costs in rent, taxes, gas, and other general expenses. Similarly, the low cost of living strengthens the dollar's buying power. This, in turn, raises the quality of life as citizens have more spending power.
Houston supports its businesses by providing world-class infrastructure and transportation, highly skilled workforces, economic incentives for corporate relocation, and a general pro-business environment.
Now, let's look at the numbers that seal Houston as a business-friendly city.
County Sales Tax – 0%

City Sales Tax – 1%

Estate Tax – 0%

Personal Income Tax – 0%

Corporate Income Tax – 0%

Class A Office Rent per square foot – $34
Why Consider a Move to Texas Now?
Corporations have more freedom than ever to assess their use of physical space. The work from home movement showed the nation that expensive offices in New York City and San Francisco are no longer required to retain productivity and prestige.
As a result, household names have launched successful moves to Texas, where they have slashed their overhead costs while providing their employees with a higher quality of life.
How a Tenant Rep Can Assist a Texas Relocation
A corporate relocation can feel incredibly overwhelming. As a tenant, you may not know your rights during this process or even where you should take your first steps.
Working with a real estate professional like a tenant rep can close in on this uncertainty. They are equipped with decades of market knowledge and experience critical to finding the best properties and isolating the most optimal terms.
Tenant reps will help you from the initial stages of corporate relocation. They will be a powerful sounding board and can point out if you would even stand to benefit from a move to Texas. If not, they can direct you to the locations that will suit your organization's unique climate and demands.