When the office sector was struggling, the tech sector represented a glimmer of hope. Massive expansion demanded appropriate (and premium) office space to satisfy the demand for rapid tech evolution and amenities that would keep top talent happy.
But unfortunately, no industry has been immune to the market downturn of the last few years. Major tech forces have been cutting down on their footprints and personnel to survive the recessionary storm. But, since tech was such a premier player behind the drive for office demands, its pullback has had huge implications on the overall vacancy rates.
Tech office leasing has hit a tailspin, driving property devaluations in major metropolitan hubs like New York, San Francisco, and Los Angeles. But on the upside, commercial tenants have more leverage than ever to find the perfect office space for a highly affordable price.
Learn about the downturn in tech leasing, its influence on the overall office sector, and which cities have been hit the hardest.
What's Going on With Big-tech Office Leasing?
Back in the fourth quarter of 2021, the tech sector represented 21.5% of the total demand for office space. Since then, a lot of things have changed.
Companies everywhere are being more careful about their spending decisions. Meta, Twitter, Yelp (to name a few) cut into their footprints. Because since commercial real estate it is typically the second most significant cost a company has, it garners a lot of attention when it's time to reduce costs. This is even more so because for many organizations, it is unclear where the future of commercial space lies. With so many large-scale companies cutting down their spending by shedding underused space, the tide has turned to limited in-person offices that are closer to their ideal space utilization.
Learn how to find the Right-sized office space for the right price in the free course below.

And tech is in a unique position that the nature of the work does not demand a physical presence, like is the case with the life science industry. So on a mass-scale, companies are realizing its more sensible to cut and run than fight for the value of in-person, office collaboration right now. Because employees often don't want to adhere to mandatory return to office edicts when they have the freedom to work from home, and this is something that will likely never go away. According to Mr. Wonderful, Kevin O'Leary, it's best that businesses go with the flow considering that the tide has irrevocably shifted. "40% of the staff approximately are never coming back to the office and if you think you can force them back, they're just going to work for somewhere else."
Back in February, even Google announced it will incur $500 million in costs related to slashing office space in the first quarter of 2023 alone.
"In the first quarter of 2023, leasing for the tech category represented only 8.7% of office demand, representing a huge dip from the fourth quarter of 2021 when the sector
represented 21.5% of the total demand for office space."
-GlobeST
And the trouble for landlords is that even if tech companies are signing leases, they're a lot smaller square footage than what they used to be. There were zero tech leases signed over 20,000 square feet in hotspots: Atlanta, Denver, Los Angeles and Austin. Even in Boston, another major player in the tech field, only one lease above that size was signed.
San Francisco Office Leasing
This relationship is harming the overall leasing activity in (previous) tech hubs. And when we talk about hurting tech hubs, we'd be remiss not to mention San Francisco.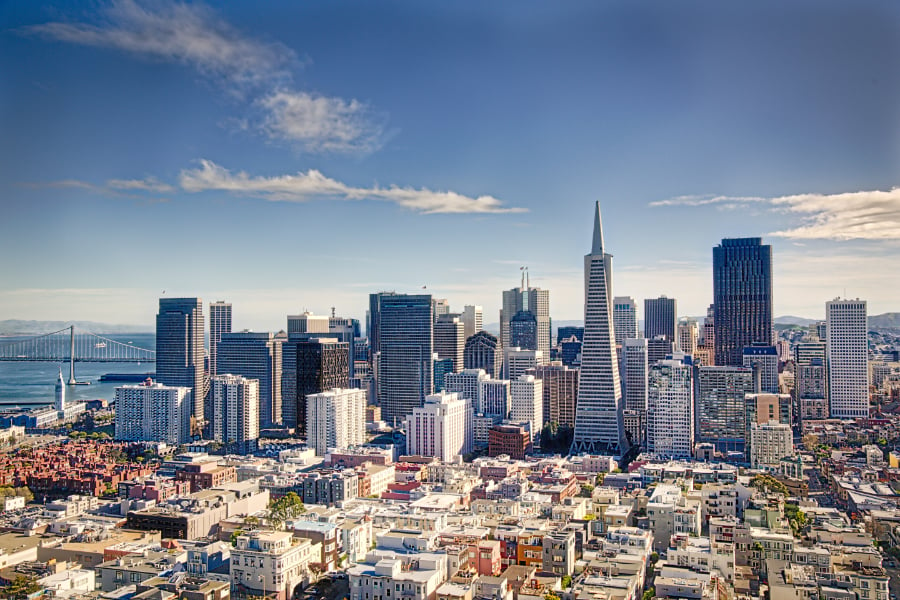 With tech titans closing offices, subleasing, and relocating from the previous empire, the vacancy rate in the city climbed 10% throughout 2022. Now, empty offices haunt the city, encompassing 27 million square feet. This figure represents eight times what it was in 2019 when the vacancy rate lingered around 5%.
The wildly oversaturated market is driving down property valuations to a fraction of what they were priced at in the Silicon Valley Gold Rush.
Most recently, the 286K SF tower at 350 California Street, (which had been on the market since 2020) sold for a 75% discount. The original asking price of $250 million was downgraded to just $60 million.
75% of sale at The 350 California Street Tower in San Francisco. Everything must go.
More fire-sales are anticipated on the horizon. And when the market is the ultimate decider of a property's value, more distress is in store for the former tech haven. But it's not just in San Francisco that this is occurring.
Big tech is pulling out of NYC, driving up a record-setting vacancy rate crisis.
New York City Office Leasing
The story rings similar to San Francisco's fate. The cities both come with pricy living costs, expensive taxes, and strict regulations. Pressure mounted by rising crime and decreasing living quality have driven away citizens and businesses from these Northern metros. CBDs are increasingly becoming plagued by violent crimes and thefts. Businesses investing huge sums into corporate real estate don't want to funnel their capital into locations that may put their team members at risk.
Prominent software and tech companies have largely downsized their office space in Manhattan, if they don't sell or sublease it altogether. Because of this, NYC is on pace for the slowest year for CRE sales since 2009.
"The Q1 2023 total of $2.2B in commercial real estate investment sales involving 108 properties in New York City is a 59% decline across the trailing four-quarter average and a 53% decrease from Q4 2022,"
-GlobeST
The most recent name in tech to slash into its NYC footprint is Spotify. It recently announced that they would vacate four of the five floors they occupied at Manhattan's 4 World Trade Center.
"Our focus has shifted more towards optimizing our current portfolio and reviewing our real estate needs around the world as opposed to significant expansion of our presence in current markets," Spotify Chief Executive Officer Daniel Ek, said in April.
And when companies don't see the financial worth occupying a presence in The World Trade Center, this has huge symbolic significance to the severity of Manhattan's commercial property devaluation.
Record high vacancy rate and glut of sublease space are plaguing property owners and investors in the big apple. But investors everywhere aren't taking any chances as they brace themselves against the ramifications of $1.5T in maturing CMBS loans coming due by 2025.
What this Means for Office Tenants
Commercial tenants should view the current downturn in property valuations and the upturn in vacant space as a valuable opportunity to secure real estate at significantly lower prices.
Especially in markets like San Francisco, tenants have the potential to acquire properties for a fraction of their previous cost. Moreover, this presents an opportunity for future appreciation as the market eventually rebounds. Taking advantage of the current situation, tenants can negotiate harder deals and secure more favorable lease terms, benefiting from concessions offered by landlords. Alternatively, they can explore the increasingly flexible leasing sector, allowing them to find a space that perfectly aligns with their square footage requirements.
To navigate the complexities of the commercial real estate market and maximize the advantages presented by the current downturn, commercial tenants can greatly benefit from the expertise and guidance of Tenant Representatives. But, Tenant Representatives aren't made equally.To extract as much value from your tenancy as possible you need to work with a party who has your sole interests at heart. Enter: True Tenant Reps™
True Tenant Reps™ are experienced professionals who specialize in representing the interests of tenants during lease negotiations. They possess in-depth knowledge of the market and can provide valuable insights on pricing trends, property availability, and landlord concessions. By working with one tenants can leverage their expertise to secure the most advantageous deals and ensure their interests are protected throughout the leasing process.
To learn more about trending CRE topics and tools tenants have to leverage the value of their business, subscribe to our blog.