The nation's current economic state is in turmoil. Across the country, people and corporations alike are suffering from unprecedented inflation levels.
However, some states and cities have it worse than others. These business-unfriendly areas worsen the economic crisis with higher living costs, complicated regulations, and severe tax rates. For many, a breaking point has been reached, causing them to cut their losses and plan relocations to environments that foster fiscal success.
So if you're interested in doing the same, read on. We will discuss where these business-friendly areas are, who spearheads the corporate migration to these places, and the benefits you can expect from joining them.
How do we know all this? As tenant reps, we specialize in finding our corporate clients the best properties at affordable prices. The key to doing this right is securing the most advantageous geography. So you can find the best geography for your CRE, learn:
Where are the Country's Business- Friendly Areas?
This seems to be the question of the hour. And, for the most part, the answer lies right along the sunbelt.
States in this area like Florida and Texas offer premier circumstances for developing and maintaining corporate profits. However, you're not limited to this region. For example, states like Tennessee, Nevada, and Montana also host environments welcoming to businesses.
However, the most popular and recognizable names in the migration to business-friendly states are Florida and Texas. What makes them so great?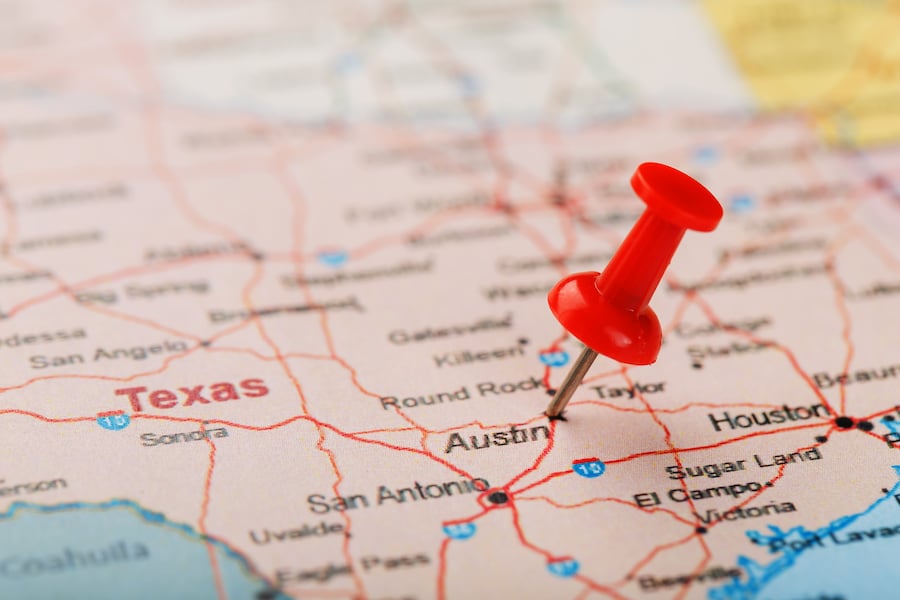 Well, Texas is consistently ranked as the best state for business in the country. Its massive GDP, skilled labor force and favorable tax regulations make it extremely attractive for corporate relocations. Not to mention that its link to the country's oil industry keeps gas prices relatively low.
Close but not far behind, we have Florida. The Sunshine State has gained a new reputation, "The Wall Street of the South." The generally low living cost and favorable business climate have caused over 300 financial services firms to launch corporate relocations to the state.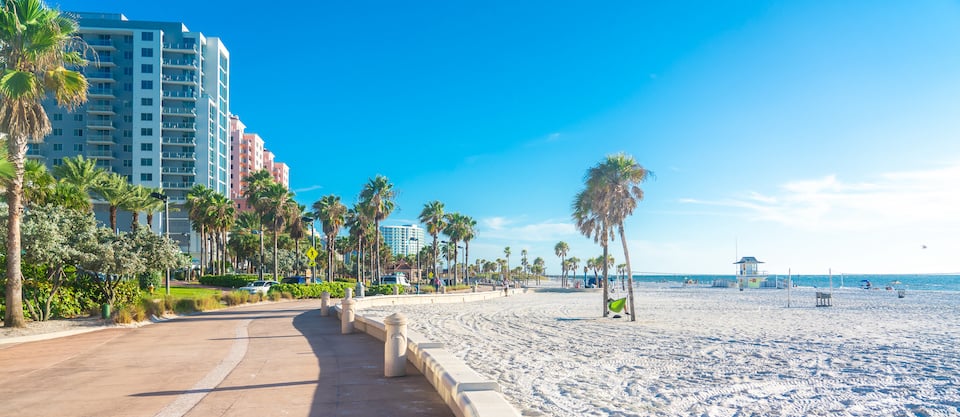 Again remember that you are not limited to Florida and Texas. There are numerous business-friendly states and cities that improve corporate success.
Major Corporations That Launched Business-Friendly Relocations
Pioneering organizations have already proved that business-friendly relocations can be extremely successful.
Recent Florida transports are big names like Goldman Sachs, Citadel, Arch Investments, and Blackstone. With their moves, they brought in thousands of jobs and opportunities to local Floridian economies. As a result, the state remains a supportive party in prolonging the corporate relocation.
Texas has seen similar circumstances. While already hosting more Fortune 500 companies than any other state, its favorable business environment is luring in more large-scale organizations. Chevron, Hewlett Packard, Oracle, Amazon, and Tesla have all opened commercial real estate locations in Texas or transferred their headquarters to the state.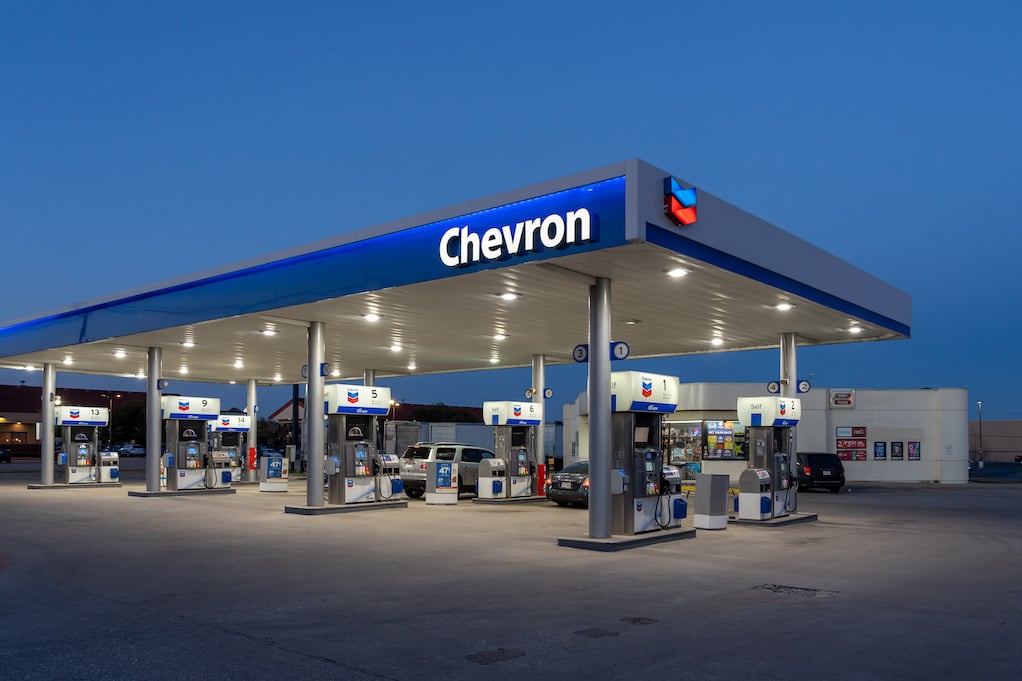 And the most recent gamechanger to make headlines by considering a massive Texas expansion? None other than Goldman Sachs. The leading banking and investment firm has proven itself to be on the cutting edge of CRE trends.
It has consistently recognized and capitalized on opportunities to improve its bottom line through sharp real estate moves. After leading the financial pack down to Florida, they are digging their heels further into the business-friendly migration by introducing the possibility of a new campus in Dallas.
Again, in this case, the local municipalities are highly supportive (to say the least). They offered Goldman Sachs $18 million in economic incentives to move to the Dallas area.
The country's biggest financial firms are plotting long-term growth in business-friendly locations... Pay attention
It also invalidates the claim that corporate migration is a temporary opportunity introduced by the WFH and hybrid movements.
Our game changers are changing the tide away from traditional business hubs like New York and California that stifle commercial success with excessive taxes, strict legislature, and egregious living costs. As the recession worsens, the economic state in those areas will further deteriorate. That is why so many leading companies have been gradually cutting their ties to those locations.
Benefits of Relocating to a Business-Friendly Area
So now we know who is moving and where they're moving. Now, let's get more context as to why.
Low Taxes
Companies benefit from more reasonable tax rates in business-friendly areas (not limited to Florida and Texas). Corporate income, personal income, sales tax, etc. are far more affordable.
For example, Tennessee, a top state for business, has one of the lowest tax burdens in the country. It doesn't stand alone, though. The following states levy a corporate income tax below 5%.
Arizona

Colorado

Kentucky

Mississippi

North Carolina

North Dakota

South Carolina

Utah

Washington

Wyoming

South Dakota

Nevada

Texas

Ohio
Look at the tax rates of some popular business-friendly states and Florida compared to the worst states for business. The difference is staggering. In a recession, the last thing we need is more taxes. Avoid this fate by considering a relocation.
Corporate Income Tax Rates Across America Courtesy of the Tax Foundation
Low Living Cost
What you save in taxes is not the end of your cost benefits. Business-friendly areas have much lower living costs. As a result, the price of any good or service is far more affordable. Again, there has never been a more critical time to save.
Reducing your overhead by being located in an area of low living costs can save your business from making cuts to talent or other integral departments.
These areas also have far more reasonable gas prices. While the national average is still higher than its ever been in history, relocating to a business-friendly state will dramatically reduce your gas prices. When you consider how intertwined gas is in commercial operations, gas reductions will quickly add up. Everything from consumer goods to shipping to operating expenses will be less expensive.

Gas Prices across America (as of July 7, 2022) Courtesy of AAA
Shifting operations to places like Houston, Jacksonville, Memphis, etc. will save you big in taxes, gas, and rent costs. This increases your overall profit margin and is better for your bottom line.
More Affordable Real Estate
Perhaps one of the most staggering differences in costs from business-unfriendly to friendly areas is the price of rent. Commercial real estate is highly affordable in the states mentioned above.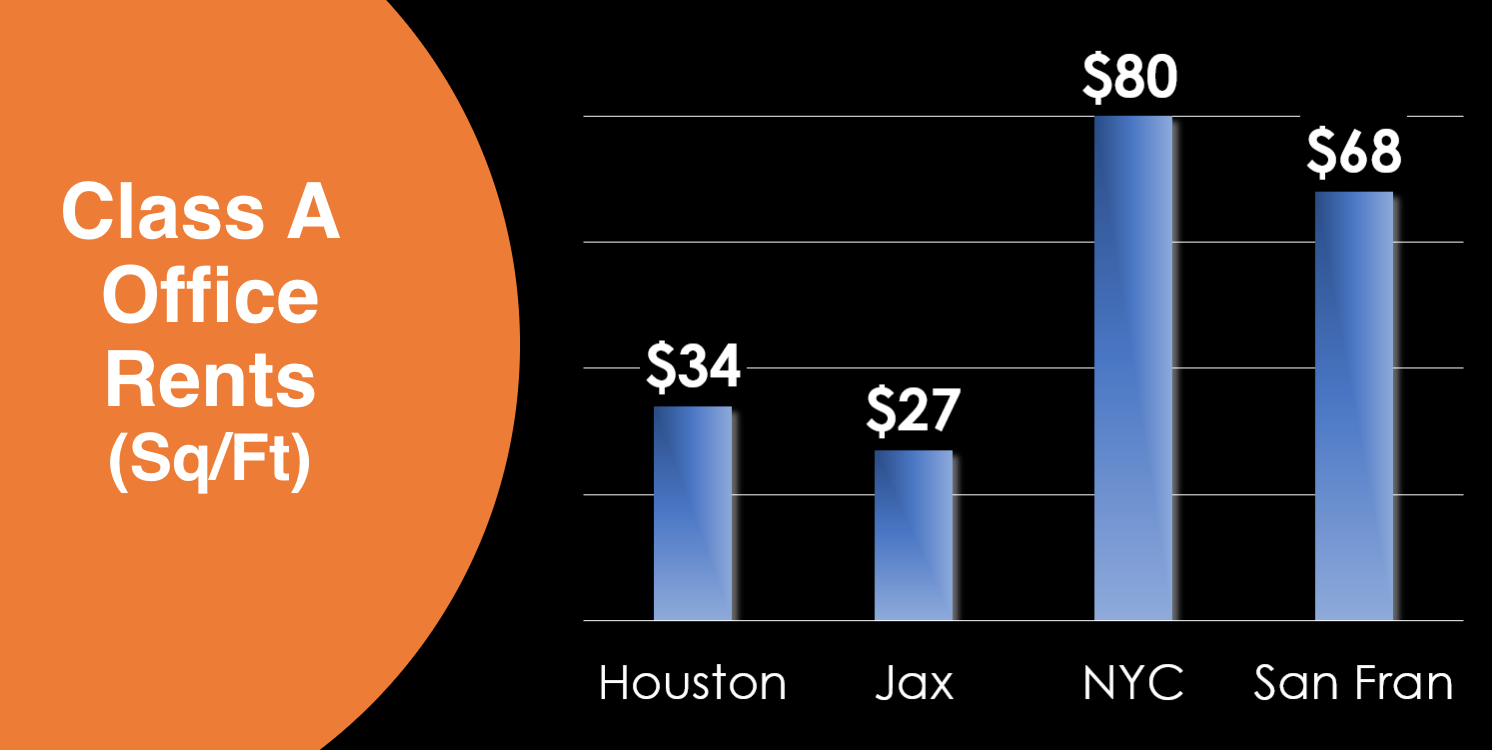 The numbers speak for themselves. In Houston and Jacksonville, rent prices average around $30 per square foot. By contrast in New York, one square foot of Class A office space is $80, while in San Francisco, it is $68.
Real estate is typically one of an organization's highest costs, so money saved here will greatly reduce your overhead. Over the term of a lease, going from $70 or $80 per square foot to around $30 will literally save your company millions.
How to Capitalize on Business-Friendly Geography
Our country's economic system has been flipped on its head. However, wise organizations are staying ahead by making critical adjustments to their geography.
The important thing to remember is that you have options. You don't need to shift your headquarters or entire operations to one of these states. Many companies like Goldman Sachs are retaining their presence in traditional business hubs like NYC. They are doing what works for them but still taking advantage of this unique opportunity to slash overhead through (major or minor) relocations.
If you need help doing the same, you can work with a tenant rep. A tenant rep can guide you through a corporate relocation, from getting started to negotiating with your new landlord. In addition, they can pinpoint the best spots for your company by considering your own unique culture in conjunction with evolving real estate trends.
In a recession, the right geography is more important than ever. So don't waste any more time and weigh your options today.